AUSTIN — A neighborhood fresh market created last summer by West Side teens has returned, and this time the creators are pushing to grow the project into a year-round food resource.
The student-run Austin Harvest fresh market is open 2-6 p.m. Mondays, Wednesdays and Fridays at 423 N. Laramie Ave. Fruit, vegetables and fresh-cut flowers are sold at affordable prices.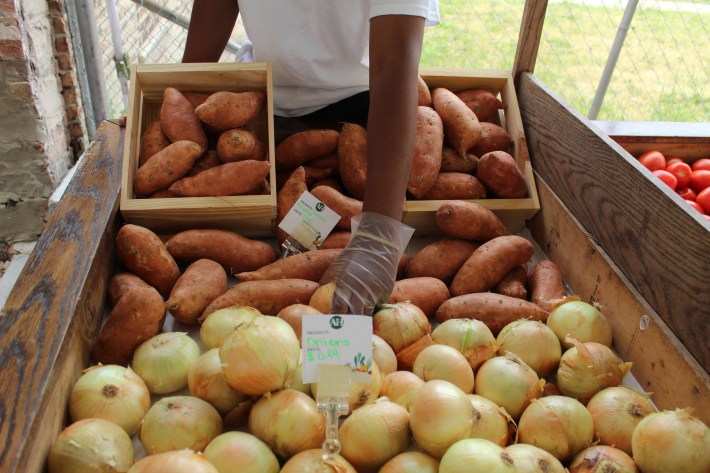 Teens created the Austin Harvest market in the aftermath of the civil unrest that followed police killing George Floyd in Minneapolis. The project grew out of conversations convened by By The Hand Club for Kids that gave students a platform to envision solutions to the systemic issues youth experience on the West Side.
A chief concern for young people was the food insecurity many people on the West Side live with, which is tied to the massive disparities in health outcomes and life expectancies Black Chicagoans face. The city's public health department last week released a report on racialized health disparities that showed the lifespan of Black people in Chicago is an average of 9.2 years shorter than non-Black people.
"A lot of that as a result, not only from systematic occurrences, but a big part of that is the food. In my community … we don't have a hospital near us, but we have a dialysis center. We don't have a grocery store, but we have something to help you once you do get sick. There's no prevention towards it," said Azariah Baker, one of the teen founders of Austin Harvest.
When the teenagers came up with the idea to take one of the many liquor stores in the area and turn it into a fresh produce market, they found financial support from By The Hand as well as from former Bears linebacker Sam Acho and other Chicago athletes.
When Austin Harvest launched in August, it was initially supposed to last just 12 weeks. But there was such a dire need for more local grocery options that the market was extended, running until just before Christmas.
The group is now taking measures to ensure the program can sustain itself year after year — and even through the winter months, when most outdoor markets shut down.
Austin Harvest is raising money to build a permanent structure at the site of the outdoor market. Construction could begin by the fall. To make a donation to support the building, go to the Austin Harvest fundraiser page.
The original cohort of teenagers who created Austin Harvest also recruited younger students to carry the torch since they will eventually graduate. Four teens joined the group to run the market and carry on all the valuable lessons picked up by the founders through the process of launching Austin Harvest.
"Austin Harvest isn't just a food market. It's a legacy and it's a mission toward the community. We're going to definitely need people who are going to lead and take initiative to serve the community like we're doing," Baker said.
One of the new team members is Alanna Choice, who will be a freshman in the fall. Choice heard about Austin Harvest last year when it launched, and she was amazed local teens could have such a big impact on their community, she said.
"I thought it was really cool 'cause young people, really young people don't get that much opportunity," Choice said. "I thought it was really cool and I really wanted to join and help the community out."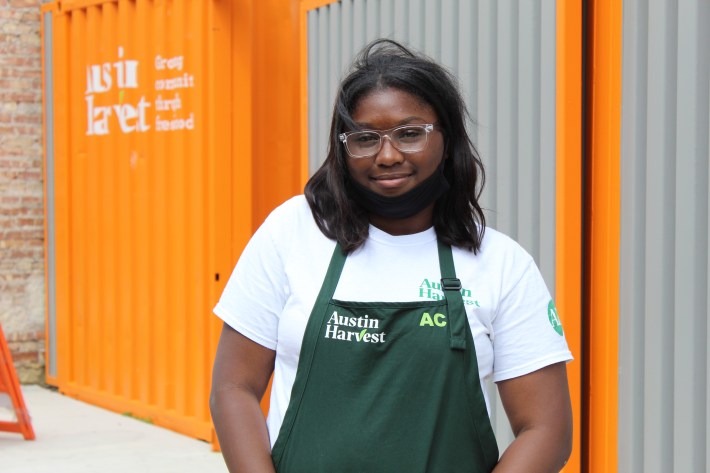 Choice is excited to help the market to continue to grow, and she hopes her younger brother will eventually be able to participate too, she said. Austin Harvest is Choice's first job, she said, and it's helping her learn essential work skills and sparking an interest in entrepreneurship.
Encouraging young people to pursue entrepreneurship is one of the greatest impacts of the program, said Rodney Williams, director of entrepreneurship for By the Hand. The market partnered with the Hatchery Chicago and Alt_ to offer training and workshops to young people on business skills like social media and marketing, he said.
"When you train them on entrepreneurship, now you have kids dreaming of starting their own business," Williams said.
The project has also opened teens' eyes to the broader systemic issues that create problems like food insecurity and health disparities on the West Side, Baker said.
"We also want to start a reeducation of what fresh food means. Educating people on a systematic level how they don't have the same benefits as people that live in more developed communities and realizing that … for anybody in the community, you should see that and want to take charge," Baker said.
Subscribe to Block Club Chicago, an independent, 501(c)(3), journalist-run newsroom. Every dime we make funds reporting from Chicago's neighborhoods.
Already subscribe? Click here to support Block Club with a tax-deductible donation.