CHICAGO — The city is home to dozens of businesses owned by LGBTQ+ people, ranging from entertainment and nightlife to food, boutiques and more.
One way to support the LGBTQ+ community is to patronize these businesses year-round — not just during Pride Month.
Block Club rounded up more than 70 LGBTQ+-owned businesses across the city and mapped them out for people to easily find which businesses they can support in their neighborhoods.
This list is not exhaustive. If you know of an LGBTQ+-owned business we should include, email reporter Jake Wittich at Jake@blockclubchi.org.
Cafes and Restaurants
1308 Chicago: A southern comfort food restaurant with a vegetarian focus. 1308 N. Elston Ave.
A Taste of Heaven: A bakery and cafe offering cakes, scones, cupcakes, breakfast and other light bites. 5401 N. Clark St.
Ann Sather: A Swedish breakfast restaurant owned by former Ald. Tom Tunney. 909 W. Belmont Ave., 3415 N. Broadway and 1147 W. Granville Ave.
Build Coffee: A coffee shop and bookstore in the Experimental Station in Woodlawn. 6100 S. Blackstone Ave.
Chicago Sugar Daddy: This Lakeview sweets shop, which opened in October, offers everything from traditional cakes, brownies, truffles and cupcakes to savory options like breads. 3243 N. Broadway.
Drew's on Halsted: This Lakeview restaurant has served American classics with an extensive cocktail bar since it opened in 1996. 3201 N. Halsted St.
D.S. Tequila Company: This full-service Tex-Mex restaurant and bar pairs its signature margaritas and house tequila drinks with tavern digs. 3352 N. Halsted St.
Edgewater Mexican Café: An upscale restaurant on the Bryn Mawr strip with regular live music, comedy and other entertainment. 1055 W Bryn Mawr Ave.
Eli Tea Bar: A specialty tea shop and sober bar with late-ish hours. 5507 N. Clark St.
Etheria Cafe: A Humboldt Park coffee shop with an indoor playspace for kids. 2800 W. North Ave.
Jennivee's Bakery: Jennivee's Bakery was founded by Jenni Vee, a home baker who emigrated from the Philippines with a lifelong dream to open her own patisserie. The shop offers cakes by the slice, cupcakes, cookies, brownies and other pastries. 3301 N. Sheffield Ave.
Lady Gregory's Irish Bar & Restaurant: In the heart of Andersonville, Lady Gregory's is an Irish gastropub with a menu full of Irish-inspired foods and more than 300 whiskeys. 5260 N. Clark St.
Milky Milky Ice Cream: This online ice cream business was founded after the owner bought an ice cream maker on a whim and it fostered a pandemic project.
PROXI: The sister-restaurant to Sepia, which celebrates chef Andrew Zimmerman's love of all things vibrant and bold on the menu. 565 W. Randolph St.
Rad Joy: Rad Joy is a pastry studio specializing in painted, botanical cakes and pastries. The business is owned by V, a cake and pastry artist who's a queer, second-generation, Vietnamese femme.
R Public House: R Public House is a community-oriented restaurant and bar owned by longtime Rogers Parker Renee Labrana. 1508 W. Jarvis Ave.
Sepia: A Michelin-starred restaurant with seasonal menus rooted in tradition using natural ingredients that are organic and sustainable. 123 N. Jefferson St.
Sfera: This local farmers market staple known for its arancini recently opened a brick-and-mortar restaurant in Edgewater. Sfera specializes in Sicilian street food and is open for breakfast and lunch. 5759 N. Broadway.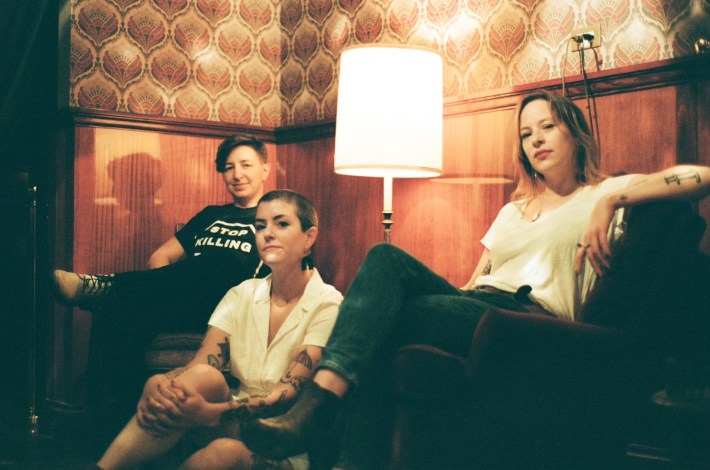 Split-Rail: Split-Rail is an American comfort food restaurant that offers everything from fried chicken to cocktails. Everything on the menu is nut-free. 2500 W. Chicago Ave.
The Dearborn: Founded by sisters Amy Lawless and Clodagh Lawless, the Dearborn unites the owners' passion for heartfelt service, a welcoming ambiance and classically rooted food. The menu includes traditional American tavern fare made with seasonal ingredients. 145 N. Dearborn St.
The Lunchroom: This 40-seat restaurant and cafe within the SPACE 519 concept store in the Gold Coast was founded by business partners Lance Lawson and Jim Wetzel. 200 E. Chestnut St.
The Polo Inn: This four-suite bed and breakfast, situated above the Polo Café Dining Room, offers the best in hospitality by chef, owner and inkeeper Dave Samber. 3322 S. Morgan St.
Two Hearted Queen: With cafes in Roscoe Village and Northalsted, Two Hearted Queen is an LGBTQ-owned coffeehouse and roaster. In addition to its selection of drinks, the cafe serves pastries, teas and breakfast sandwiches. 1201 W. Roscoe St. and 3500 N. Halsted St.
Vincent: A cozy American bistro with specialty mussel dishes and an extensive gin list. 1475 W. Balmoral Ave.
Wilde Bar & Restaurant: Lakeview's literary-themed upscale Irish pub offers an extensive beer list paired with American bar fare. 3130 N. Broadway.
Willies 'n Waffles: This late-night Northalsted restaurant serves penis- and vulva-shaped waffles with comical names and presentations. 3706 N. Halsted St.
Wood: Wood, a six-time Michelin Bib Gourmand Winner, pays homage to owner Franco Gianni's father, who was a woodworker for more than 50 years. The restaurant offers a range of shareable plates on a frequently rotating menu for dinner and Sunday brunch. Wood uses locally grown produce, house-butchered meats from responsible Illinois purveyors, house-made charcuterie and bread from the wood-fired oven. 3335 N. Halsted St.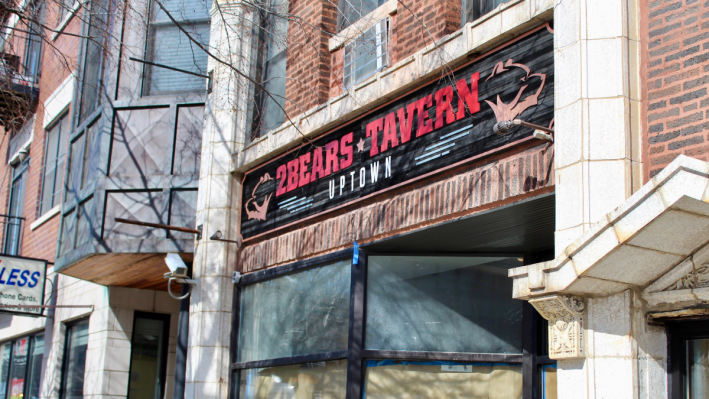 Bars
2Bears Tavern: Uptown's latest LGBTQ+ late-night bar, which opened in February, offers a queer-friendly gathering space with pinball and video games just off the Wilson Red Line stop. 1140 W. Wilson Ave.
Atmosphere: A neighborhood gay bar with trivia and bingo nights, live DJs and dancing that's been around for more than two decades. 5355 N. Clark St.
Big Chicks: Big Chicks has served Chicago's LGBTQ+ community since it opened in Uptown in 1986. 5024 N. Sheridan Road.
The Cauldron: An immersive cocktail lounge that offers potion-making classes. 1612 W. Division St., lower level.
Charlie's Chicago: Northalsted's Western-themed bar and dance club with late-night hours featuring drag shows, live DJ sets and more. 3726 N. Broadway.
The Closest: The Closet Bar was launched in 1978 by two lesbians and introduced as a place where women could proudly drink and be themselves. Over the years, the dive bar has become a popular spot for gay men, as well. 3325 N. Broadway.
Dorothy: This lesbian-owned cocktail lounge in Ukrainian Village reopened in 2022 in a renovated space underneath the Split-Rail restaurant. 2500 W. Chicago Ave.
Hydrate: Hydrate is an energetic gay dance club with themed nights, drag shows and late hours. 3458 N. Halsted St.
Jackhammer: An LGBTQ+ bar with dancing, darts, adult entertainment and more. 6406 N. Clark St.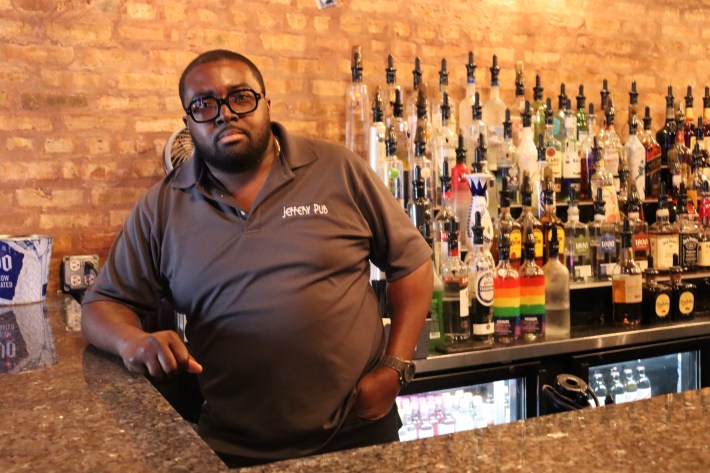 The Jeffery Pub: This South Side bar is one of the longest-running Black-owned gay bars in Chicago. Jeffery Pub has been a neighborhood stalwart since the '60s and serves as a safe haven for Black and Brown queer people. 7041 S. Jeffery Blvd.
La Cueva Nightclub: This historic LGBTQ+ site in Little Village is known as the oldest Latino drag bar in the country. 4153 W. 26th St.
Lucky Horseshoe Lounge: The Lucky Horseshoe is a divey and casual male strip club at the south end of the Northalsted strip. 3169 N. Halsted St.
Marty's Martini Bar: Marty's Martini Bar is a chic, low-lit lounge with an extensive menu of cocktails and gaudy decor. 1511 W. Balmoral Ave.
Meeting House Tavern: This Andersonville LGBTQ+ gathering place has pool, darts, skee-ball, board games and more. The bar also hosts drag shows and other events. 5025 N. Clark St.
Max's Place: A dive bar purchased by bar owner Micah Hilgendorf (Atmosphere) that's been converted into an LGBTQ+ gathering place with darts, a jukebox, cheap drinks and a back patio. 4621 N. Clark St.
The North End: This Northalsted sports bar has been open since 1983, offering space to play pool and darts. 3733 N. Halsted St.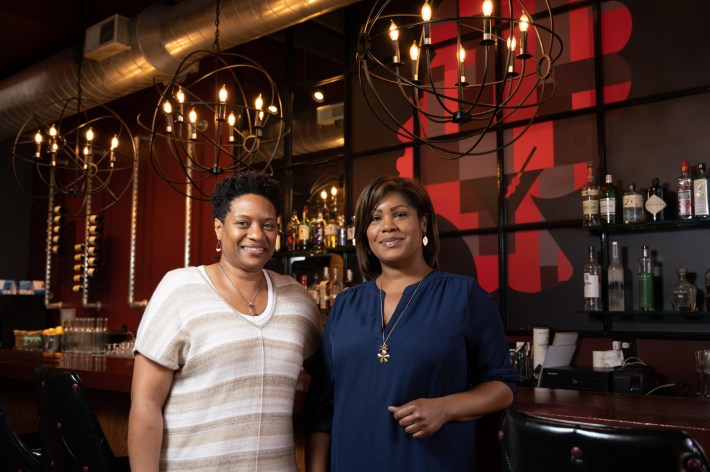 Nobody's Darling: Nobody's Darling is a Black woman-owned queer cocktail bar in Andersonville that opened to much fanfare in summer 2021. 1744 W. Balmoral Ave.
Rogers Park Social: This industrial bar offers craft beers and seasonally inspired cocktails in an inviting atmosphere. 6920 N. Glenwood Ave.
Roscoe's Tavern: Located in the heart of Northalsted, Roscoe's Tavern is one of the largest dance clubs and meeting spots. The bar hosts regular "RuPaul's Drag Race" viewing parties, drag shows and live DJ sets. 3356 N. Halsted St.
Sidetrack: A prominent gay bar known for its showtune nights and alcoholic slushy drinks. The bar also has a roof deck for nice summer days. 3349 N. Halsted St.
The SoFo Tap: A neighborhood bar from 2Bears Tavern Group with darts, board games, themed nights and an outdoor patio. 4923 N. Clark St.
Touché: An LGBTQ+ leather bar that's been open since 1977. 6412 N. Clark St.
Web Pub: A corner bar in Bucktown founded in 1947, but bought by couple David Schaplowsky and Eric Johnson after its founders died. 2026 W. Webster Ave.
Whiskey Girl Tavern: A woman-owned whiskey bar in the heart of Edgewater. 6318 N. Clark St.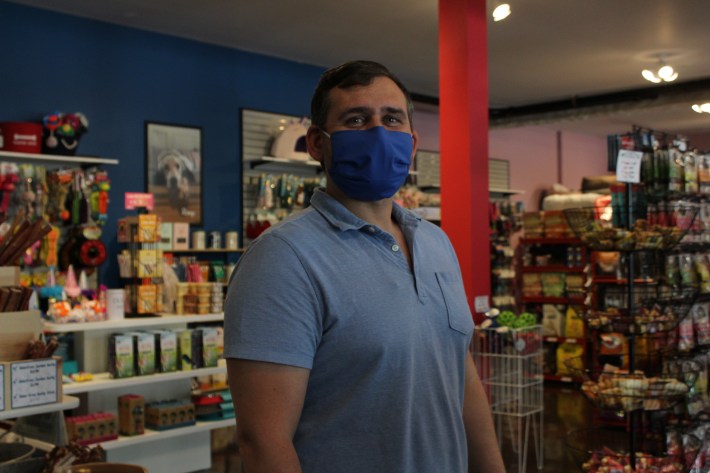 Retail
Barks N' Rec: This LGBTQ+-owned pet store is focused on pet education, healthy food options and various treats and toys. 3030 N. Lincoln Ave.
The Brown Elephant: Howard Brown Health's Brown Elephant resale shops carry clothing, home decor and other vintage items. 5404 N. Clark St., 3020 N. Lincoln Ave. and 217 Harrison St. in Oak Park.
Cowboys & Astronauts: A clothing, lifestyle and supplies shop in Andersonville. 1478 W. Summerdale Ave.
CRAM Fashion: This Lakeview boutique sells seasonal shirts, shorts, swimwear and more menswear items. 3331 N. Broadway.
Early To Bed: Chicago's feminist sex shop has been helping people of all genders have better sex since it opened in 2001. 5138 N. Clark St.
Edgewater Candles: A store selling locally hand-poured candles made with all soy wax and unique fragrances. 1050 W. Bryn Mawr Ave.
Full Kit Gear: An adult shop selling toys, lube and lingerie. 5021 N. Clark St.
Here Here Market: This woman-, Indian- and queer-owned e-commerce startup highlights food and beverage products from Chicago chefs.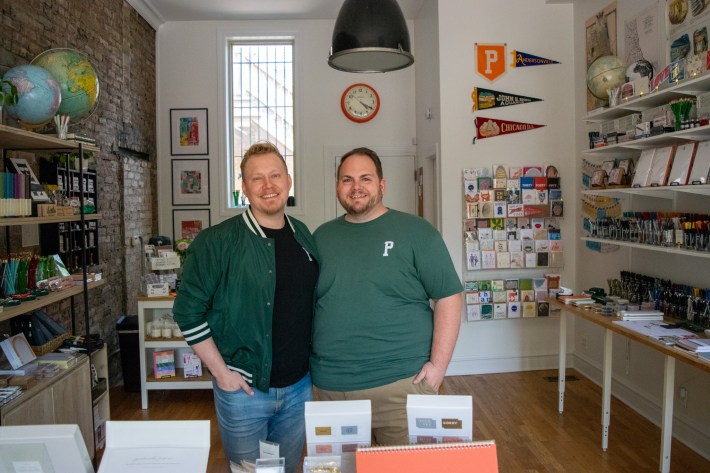 Men's Room: Men's Room Chicago offers fetish gear, leather harnesses, handcuffs, underwear, sex toys and more. 3343 N. Halsted St.
Paper & Pencil: A stationary shop that opened in 2023 that sells writing utensils, stationery and more from women-owned and LGBTQ+ brands. 1480 W. Berwyn Ave.
Petty Butter: Petty Butter's handcrafted skincare products are all-natural and made with the goal of uplifting Black people, especially those in the LGBTQ+ community.
Provisions: A store focusing on locally made gifts, craft spirits, beer, wine and more. 6928 N. Glenwood Ave. and 4812 N. Broadway.
Rattleback Records: This Andersonville music store offers a variety of new and used vinyl, CDs, cassettes, movies and more. The LGBTQ+-owned store also offers cash for used records and other merchandise. 5405 N. Clark St.
Rebirth Garments: This local fashion company is dedicated to creating gender non-conforming clothing and accessories for people of all genders, sizes and abilities.
Seek: A resale shop selling vintage clothing, housewares and furniture. 1433 W. Chicago Ave.
Soundoff: This Edgewater-based streetwear brand offers T-shirts, sweatshirts, hats and other accessories.
SPACE 519: Opened more than a decade ago, SPACE 519 is a boutique offering women's ready-to-wear, home decor and furnishing, all-natural beauty products and accessories. 200 E. Chestnut St.
Leather64Ten: This store is a go-to destination for leather fetish clothing, custom leather outfits, sex toys and other gear. 6410 N. Clark St.
Unabridged Bookstore: This long-time bookstore offers a variety of books, ranging from children's literature to LGBTQ-related titles. 3251 N. Broadway.
Women & Children First: This Andersonville bookstore is known for its feminist and kid-friendly focus, featuring regular visits from authors. 5233 N. Clark St.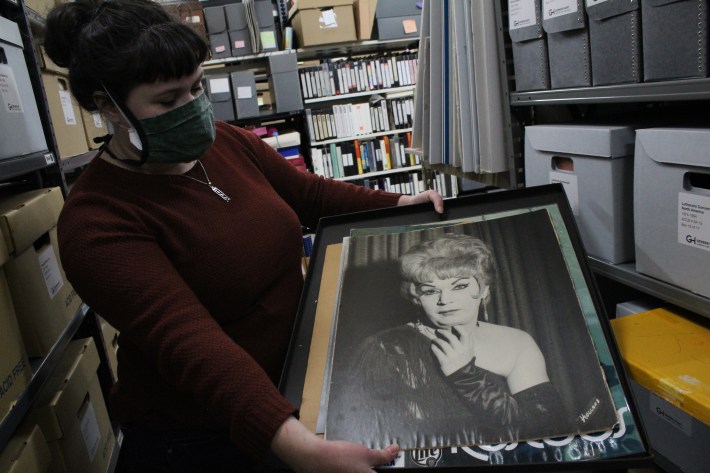 Entertainment And Culture
The Chopping Block: The Chopping Block is a queer-owned recreational cooking school that combines entertainment with education. 4747 N. Lincoln Ave.
E3 Radio: E3 Radio is an online radio station that plays queer and independent music in high rotation.
Gerber/Hart Library and Archives: Located in the Howard Brown Health Clark building, the Gerber/Hart Library and Archives is the largest circulating library of gay and lesbian titles in the Midwest. The library and archives also recently launched a queer history podcast that pulls from its collection. 6500 N. Clark St.
Get in the Kitchen: Known as the "party school of cooking classes," Get in the Kitchen hosts fun-filled cooking lessons like Kooking & Karaoke, Dinner & Dancing Lessons, Cooking & Comedy and Cooking & Drag Queens. 3617 N. Broadway.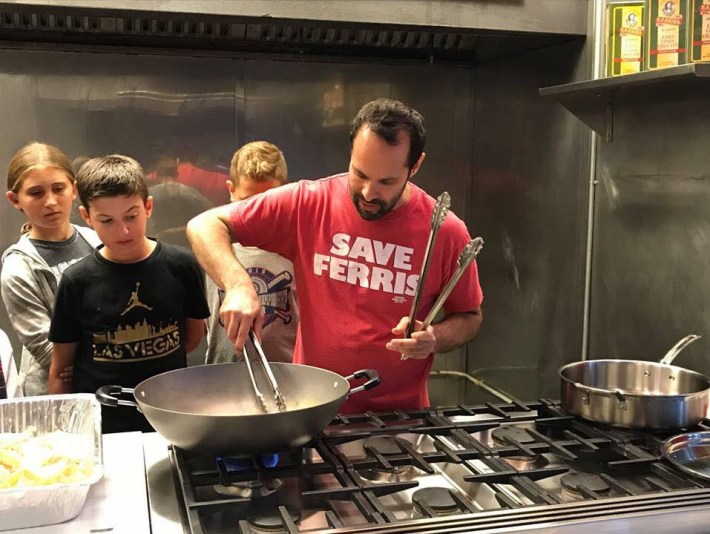 Leather Archives & Museum: This library, museum and archives collects items pertaining to leather, fetishism, sadomasochism and other alternative sexual practices. 6418 N. Greenview Ave.
Pride Arts Center: The Pride Arts Center is a home to queer theater, film, visual arts and other community projects. 4139 N. Broadway.
SlayYo App: SlayYo is an LGBTQ+-owned ticketing platform for artists to share upcoming art experiences happening across Chicago.
Transit Productions: A trans- and queer-led film production company that's produced viral videos like Denali Foxx and Kahmora Hall's "Chicago Drag Excellence" clip.
Windy City Times: The Windy City Times has been the go-to source for LGBTQ news for 31 years. 5315 N. Clark St.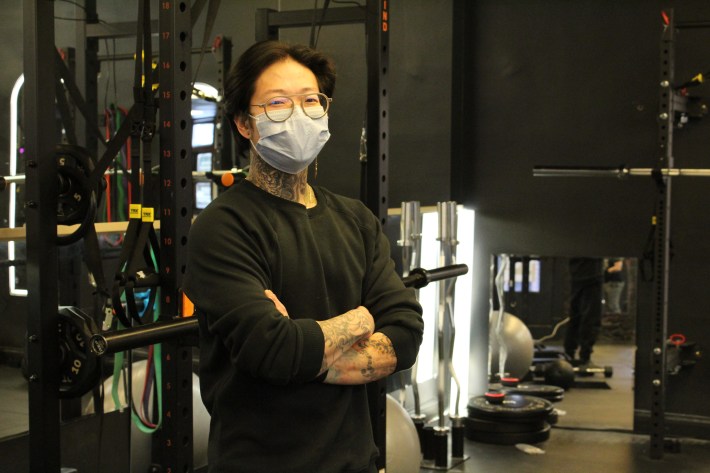 Professional Services
Barbara&Barbara Salon: This hair salon fosters a safe, inclusive environment where people can get their hair done in a welcoming atmosphere. 2925 W. Diversey Ave.
Bodybar Pilates: A gym offering classes for all ages and lifestyles. 1474 N. Milwaukee Ave.
Brush Park Gym: Brush Park Gym, a family-friendly gym, was founded by a Lincoln Square mom who needed a space to work out with good child care. The business has held multiple events for the queer community. 4646 N. Rockwell St.
Chicago Male Salon: This salon offers a full range of hair styling, facial skincare treatments and body hair removal services for all genders. 3418 N. Halsted St.
Christy Weber Landscapes: For more than 30 years, Christy Webber Landscapes has offered award-winning landscaping services, including at prominent locations such as Soldier Field, Millennium Park and Navy Pier. 2900 W. Ferdinand St.
Goals Not Dreams Training: This Black- and queer-owned gym offers a wide range of nutritional guidance, strength and conditioning training and mindset coaching. Opening soon in the West Loop.
Han Training: This Asian- and transgender-owned gym fosters an inclusive space where people of all backgrounds, body types and genders can train to get stronger. 743 W. Irving Park Road.
Inclusive Funeral Care: A funeral services company specializing in inclusive practices of LGBTQ+ folks and other people. 4880 N. Clark St.
Pointerway: A life-coaching business that helps gay, bisexual and queer men live authentic, full lives.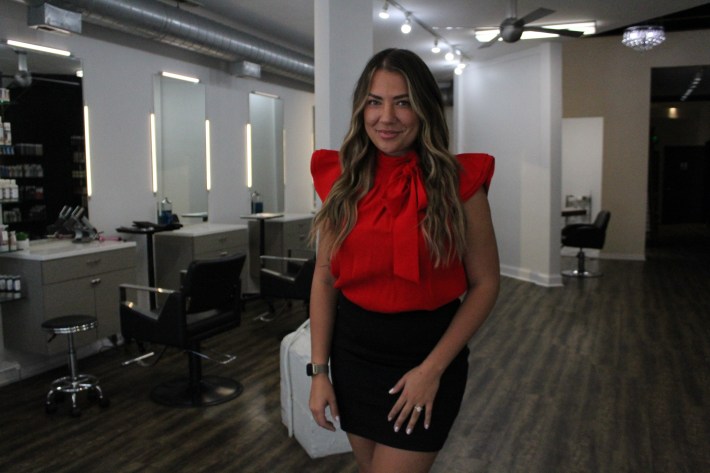 Salon Glow: Salon Glow is a lesbian-owned hair salon that specializes in blonding and extension services. It celebrated its 10th anniversary in 2022. 2766 N. Lincoln Ave.
Urban Pooch Canine Life Center: A pet food and supply store with grooming, daycare and boarding services. 4501 N. Ravenswood Ave.
Wish Me Luck Tattoo: This Black- and trans-owned tattoo shop aims to create a tattooing space that's safe for LGBTQ+ people and people of color. The shop also doubles as a training lab for aspiring Black, Brown, Indigenous, queer and trans tattoo artists. 3323 W. Armitage Ave.
Yoga Horizons: A Ravenswood studio focused on yoga in the Iyengar tradition. 4619 N. Ravenswood Ave.
Watch our "On The Block" TV show on The U, CW26 and MeTV.
Listen to "It's All Good: A Block Club Chicago Podcast":