LOGAN SQUARE — Tattoo artist Faith has struggled to find their place in the Chicago-area tattooing scene the past four years.
Faith, who is Black, transgender and queer, felt unwelcome and unsupported working for a handful of tattoo shops in the Chicago suburbs. They had a much better experience working as a guest artist at city shops, but it proved difficult to find full-time artist jobs, Faith said.
"Most shops — not just in Illinois and in Chicago — are run by cis white guys that are homophobic, transphobic and racist," said Faith, who only goes by their first name.
In an effort to dismantle that narrative, Faith is opening their own tattoo shop, which will double as a training lab for aspiring Black, Brown, Indigenous, queer and transgender tattoo artists getting their start in the industry.
The shop, called Wish Me Luck Tattoo, is located in Logan Square at 3323 W. Armitage Ave. Faith plans to formally open the shop, billed as the first Black-, trans- and queer-owned tattoo shop in Chicago, as soon they pass health inspections, hopefully in about two weeks.
"I want to change the culture of tattooing," Faith said. "I want to carve out space for Black people, Indigenous people, Brown people, queer people … a place that we can call our own."
'Make A Way For Myself'
For Faith, tattooing is a "lifelong obsession."
When they were just 6 years old, their dad brought them to a tattoo shop and they were awestruck watching the tattoo artists work.
Growing up, Faith worked various 9-5 jobs — "the same jobs any teenager had, in food service and in grocery stores," they said. But Faith was always focused on making art and playing music. They are also a professional musician.
Faith's journey to becoming a small business owner wasn't an easy one.
Faith, 37, experienced homelessness from age 13 to 30. They called the shop Wish Me Luck because that's something they would say as they traveled from one city to the next looking for a place to stay.
"Ten years ago, I was homeless with a couple of sketches. And I've worked really hard and just leaned into my passion and because of community and mutual aid, I was able to make a way for myself," Faith said.
Faith has worked as a tattoo artist for nearly 15 years. Originally from Los Angeles, they got their start at Ink Divine Tattoo Co. and worked for shops in California until about four years ago, when they moved to Chicago.
This summer, after police killed George Floyd in Minneapolis, Faith came to the realization they were done working for other people and it was time to open their own shop.
Faith said they were fed up with "coworkers who were flat-out racist or co-workers who were complicit in their silence in what was going on, [those who would] call me a friend and didn't check in and at best were doing performative things so they could save face in front of their clientele."
"They felt like they were doing the work because they posted a black square, that it absolves them somehow," they said.
About two months ago, Faith launched an online fundraiser to make their dream shop a reality. The fundraiser was a success, pulling in a little more than its goal of $14,450.
Within a day of talking to the broker and neighboring business owners, Faith signed a lease on the Logan Square storefront.
Faith has been hard at work transforming the "white box" into a tattoo shop with style. The work has ranged from substantive renovations, like building pony walls and installing flooring and sinks, to cosmetic fixes, including painting the ceiling black and hanging a "really bougie" chandelier.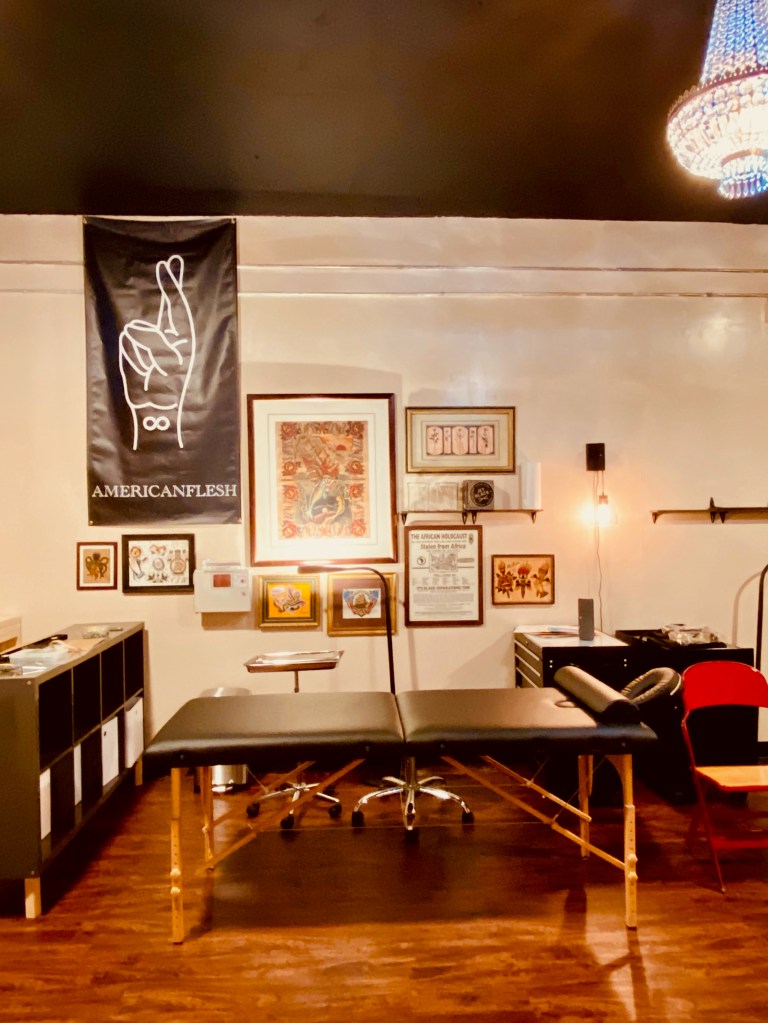 Faith has submitted all of the required city paperwork and is waiting for health inspectors to give them the green light to open. They're eager to open so they can start working with clients and build a community of tattoo artists of color.
Faith wants to bring together seasoned and aspiring tattoo artists so people who have been shut out of the industry can learn "all of the things they need to legitimately and safety tattoo," such as proper sterilization techniques and the certification process.
"The story of how we got here is important, but what this place means is more important," Faith said.
"We're going to teach interdisciplinary arts, open to all but specifically to Black, Indigenous, Brown and queer people, and give people who otherwise wouldn't feel safe tattooing in a space dominated by cis men, to be able to come in and learn from seasoned tattooers that look like them."
Check Wish Me Luck Tattoo's social media for opening updates.
Subscribe to Block Club Chicago. Every dime we make funds reporting from Chicago's neighborhoods.
Already subscribe? Click here to support Block Club with a tax-deductible donation.