SOUTH SHORE — For Black and Brown LGBTQ Chicagoans, finding belonging on the North Halsted strip formerly known as Boystown long has been a struggle.
But they've long found a home and fellowship inside an unassuming bar in South Shore — one of the only Black-owned LGBTQ bars in Chicago. 
Sitting across from a former bank, Jeffery Pub has been a neighborhood stalwart since the 1960s. It quickly became a safe haven for Black and Brown queer people, particularly on the South Side, and it's maintained its notoriety in large part because there are no other establishments like it. Places like Jeffery Pub, 7041 S. Jeffery Blvd, are especially notable as Black-owned LGBTQ bars vanish across the country.
By filling a much-needed cultural void, the bar cemented its place in Chicago history, owner Jamal Junior said.
"This area here was filled with, like, doctors and lawyers and a lot of other professionals," Junior said. "And teachers, you know. So, back then, this was their place to come, where they felt safe in the neighborhood. Now, I would say it's still the same thing."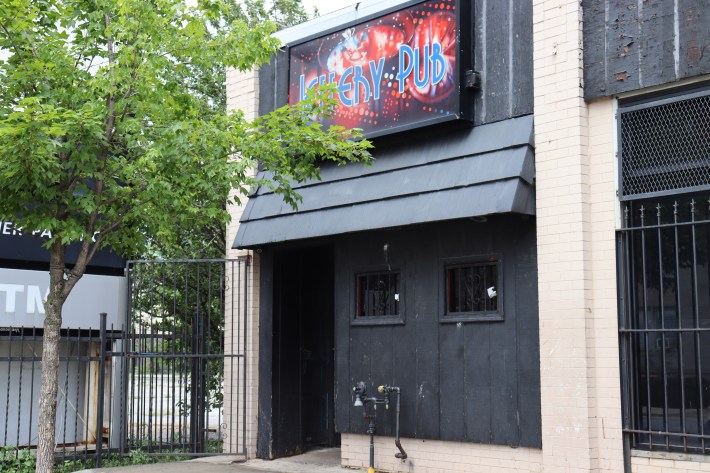 Junior, a longtime businessman, took over Jeffery Pub fifteen years ago after the previous owner of the pub asked if he'd like to add another business project to his repertoire. 
"We were actually having an aldermanic runoff campaign party for the alderman of the 16th ward at the time, Shirley Coleman, and we were at my grandmother's original business, the one I'm rebuilding in her honor," Junior said. "The previous owner, he was at the event and he asked me 'hey, would you be interested in taking on another project.' I said 'well, I'm looking at some things now; what are we talkin' 'bout?'"
Teaunto Stephens, a friend who helps Junior manage and maintain the bar, says one reason it has remained popular over the years is because of its location.
"A lot of people that live south have to travel north to Northalsted [to find a gay bar]," Stephens said. "Also, we cater to all but also specifically to the Black LGBTQ part of the community. I think it's important because if we're spending our time or our money at a place, then they should be catering to our needs, our likes."
The building is all-black wooden slats and iron bars, front-facing windows giving the curious a peek inside. Inside, it is filled with multi-colored lights and pulsing beats, and rainbow flags whipping around while patrons dance and mingle.
These days, the bar maintains its legacy with weekly events. Longtime bartenders — "startenders" as they're affectionately called — like Tahesha, Lee, Smoke and George have all been working at the bar for at least 10 years, and attract regular patrons who come back weekly to chat and enjoy specially-made drinks. Dance parties with local DJ's spinning beats often go into the early morning hours.
The bar draws people across all ages, Junior said. Regardless of who is there, Junior says they appreciate having somewhere they can be themselves.
"Everytime I see them, they say: 'Hey, man. Thank you for keeping this place open for us,'" Junior said. "Because a lot of a lot of them don't feel comfortable in other places. And they feel that they're not respected in other communities. But I try to let them know this is a safe haven for them."
Stephens says despite the progress that's been made, places like Jeffery Pub are greatly needed, especially with so many people like the bar's customer base facing hardships and struggles.
"It's still very difficult for a lot of members of the Black and Brown LGBTQ community, with being homosexual or just being who they are," Stephens said. "It's still very difficult in our community — in our own homes. So seeing something positive like Jeffery of something like it will help, I believe, the Black and brown part of the LGBTQ be more accepting of themselves and dream bigger and better."
Taking on the historic pub and becoming a business owner
When Junior stepped in to lead the bar, it was another step in cultivating his career as a business owner, something he saw himself doing since he was young. 
"I come from a history of family-owned bars," Junior said. "My family has been in the industry throughout the years with different businesses.
Junior spent a lot of time with his grandmother and her business, William's Inn Pizza, which she opened in 1969. The restaurant which specialized in deep-dish pizza has since closed, but as a child, Junior often would go with his grandmother on her errands for the pizzeria. He remembers going with her to pick up the liquor license, going to the bank and being around for other key business moments.
"I was, like, the grandchild she kept around," Junior said. "I'd get out of school. She'd pick me up. If she had to make a business run, I was with her."
His grandmother gave him more responsibility as he got older, like bartending and managing, until he eventually became the owner. While he didn't see himself being in this career field, Junior says it where he always ended up returning. The work remains rewarding, especially getting to see people have a good time in a place they feel comfortable.
"[I've done] a lot of jobs, a lot of different things," Junior said. "But for some reason, I always keep getting pulled back."
Like for many bars and restaurants, the pandemic posed several challenges for Jeffery Pub.
Junior's bartenders couldn't work due to city-mandated business closures. Hours were shortened. Several customers died from COVID-19. Since the pub doesn't serve food, that delayed its reopening.
But Junior and his staff have slowly been getting back on track in recent months.
"We've been very fortunate," Junior said. "Business is picking back up. People are happy. When, we were first allowed to open back up, it was a bit sketchy. You only had vaccinated people. Folks still had to wear their masks and things of that nature. A lot of people still question if we're open. We get a lot of those phone calls. But things are picking back up. It's becoming good again."
Junior also is working to reopen his grandmother's original pizzeria, which was previously located at 5701 S. Ashland Ave. The new location will be at 2210 S. Michigan Ave. in the South Loop and he's waiting on city licenses to proceed.
Junior would also like to expand the pub into a "much grander space" but there aren't any concrete plans just yet. Though, he'd still like to see it happen. He says Chicago's Black LGBTQ+ community deserves it.
"I think this place has done good by us for many, many years. But, I'd like to be the one to take it to the next level," he said.
Subscribe to Block Club Chicago, an independent, 501(c)(3), journalist-run newsroom. Every dime we make funds reporting from Chicago's neighborhoods.
Already subscribe? Click here to support Block Club with a tax-deductible donation. 
Listen to "It's All Good: A Block Club Chicago Podcast" here: