RAVENSWOOD — When Jojo Ybe saw a deal for an ice cream maker in 2019, she snagged it on a whim.
Multiple ice cream cookbooks and a commercial machine later, she's selling small batch, hand-packed ice cream through Milky Milky, bringing flavors inspired by her Filipino background to customers via deliveries, pop-ups and partnerships with local shops.
"Ice cream just brings such nostalgia to people," Ybe said. "It puts them in a specific time and place when they have flavors that they recognize or flavors that bring back memories."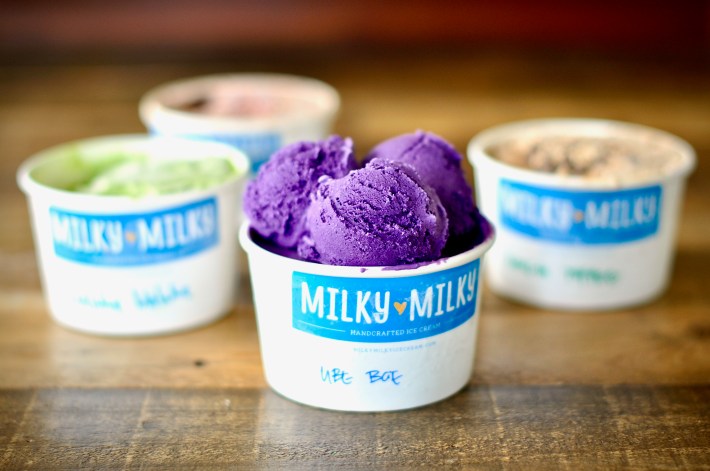 Ybe didn't have a culinary background when she started making ice cream. She grew up watching her mother and lola — "grandmother" in Tagalog — cook for their families. Cooking and feeding people is her primary love language, she said, and she's always made meals and treats for her friends and wife.
But it wasn't until during the pandemic that Ybe's ice cream obsession really took off. Her day job as a creative director for a financial firm went remote, and the group fitness classes she taught became virtual, so she spent most of her nights dreaming up flavors and testing them on her wife and roommate. 
Ybe starts all of her ice cream creations with a simple milky base made without thickeners or gums. Then, depending on the flavor, she'll make cake and cookie mix-ins from scratch — except for Oreos, which she loves as-is.
Ybe offers dairy and non-dairy flavors like milk chocolate, strawberry basil, minty chocolate chip and "Cookie Crunchie." But her signature is the "Ube Bae" and its spinoffs, made with the bright purple yam from the Philippines. 
"When it came to thinking about 'what kind of flavors do I make?,' ube was certainly at the forefront," Ybe said. "It was so close to me as something I grew up with that I wanted to share more broadly with a community that might not be so familiar with it. There's so much to love about the nuanced flavors, the color, and the fact that it's ice cream and everybody can come together over ice cream — I knew I would knock it out of the park."
Ybe began to sell her ice cream online in summer 2020. Once she decides on a date to drop a batch, her shop opens Mondays for orders. You can follow along on Instagram to find out when Milky Milky is taking orders and what flavors are available. She delivers and offers curbside pickup Saturday afternoons.
When Ybe started, she was thrilled to see friends and family lining up for orders. She was surprised when the names on the orders quickly became unfamiliar and she found herself driving to a stranger's address in the West Loop to drop off ice cream.
After participating in a pop-up hosted by Francis Almeda of Side Practice Coffee, her customer base only grew. She also sells Milky Milky at Chicago farmers markets and at L&M Fine Foods in Lincoln Square.
"It's been really cool to see the support that people will throw to local makers and artisans," she said. 
Since Milky Milky launched, Ybe also has collaborated with local businesses. For Hugo Tea, she created a vanilla rose flavor and ube; for Athleta, a strawberry and ube; and for Side Practice Coffee, a matcha and ube. 
"I just like pairing things with ube!" she said with a laugh. "I'm just like putting it in people's faces like, 'This is ube! This is Filipino! It's so good! It doesn't taste like a sweet potato! You should try it!'"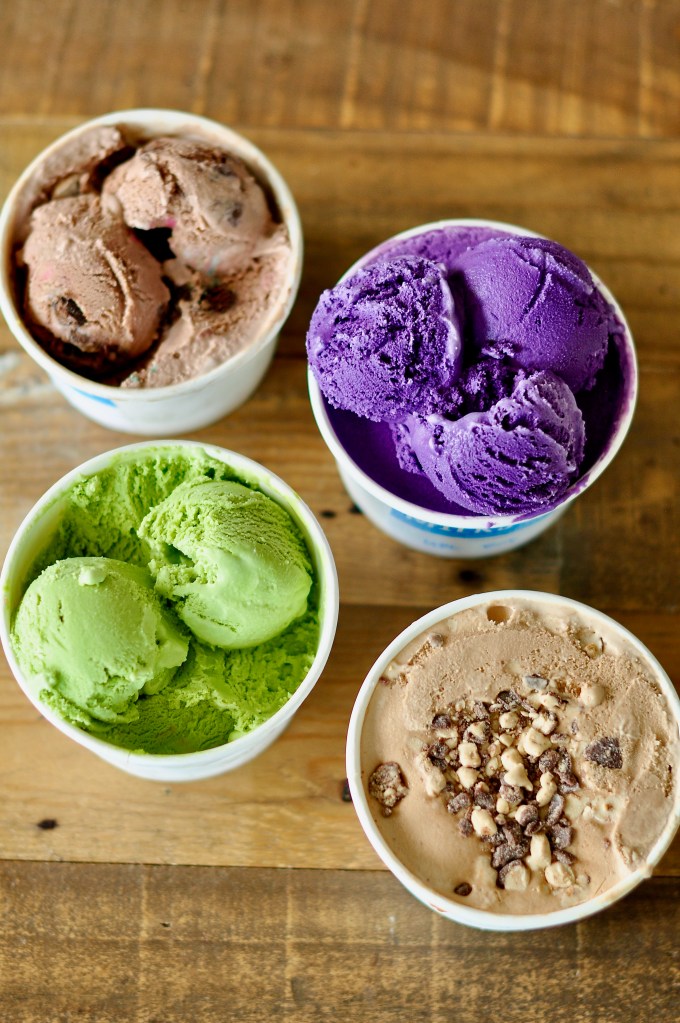 But perhaps the most meaningful Milky Milky flavor is "My Feelings," made with fudge brownie bits, Reese's cups, salty pretzel bits and M&Ms in a chocolate ice cream. The creation was inspired by Ybe's friend and roommate, Adam Snow Bramski, who told her she should create a comforting and decadent flavor for someone in the mood to eat their feelings.
Bramski, who unexpectedly died in his sleep in October, was Ybe's No. 1 cheerleader and an enthusiastic participant in her creative process, she said. Proceeds from My Feelings have gone to the Trevor Project, a nonprofit Bramski cared deeply about, as well as to a GoFundMe for his two beloved nieces.
"He was such a positive light and a really big driving force in getting Milky Milky off the ground, and a reason I want to continue making Milky Milky a name going forward," Ybe said. "I want to make it successful because I want to make him proud and I know he is proud of what I've done so far."
In the future, Ybe hopes to make other Filipino-inspired flavors, like one with turon, a caramelized banana or jackfruit egg roll dessert, and one that riffs off flavors found in a Filipino mocha cake. 
"It's so fun to share my heritage and my upbringing with everyone and to have them broaden their taste buds when it comes to ice cream," Ybe said. "It's not weird food. It's beautiful food. It's food that should be shared and is gorgeous. I'm just so happy, pleased and humbled by the fact that folks are liking Milky Milky."
Subscribe to Block Club Chicago, an independent, 501(c)(3), journalist-run newsroom. Every dime we make funds reporting from Chicago's neighborhoods.
Already subscribe? Click here to support Block Club with a tax-deductible donation.
Listen to "It's All Good: A Block Club Chicago Podcast" here: