DUNNING — More than 300 people moved into a Northwest Side college this weekend after the city turned its gym and atrium into a temporary shelter.
Wilbur Wright College, 4300 N. Narragansett Ave., is the newest city-run shelter for migrants, and 300 people — all families — began moving in Sunday, said Ald. Nick Sposato (38th). The space can accommodate up to 400 people, and more families could continue to move in, the alderman said.
The shelter comes as Chicago faces a "humanitarian crisis" as Texas Gov. Greg Abbott sends Central and South American migrants to Chicago, pushing the city's shelter system to its limit. Hundreds of migrants have been sleeping at police stations in recent weeks while the city has been trying to find large facilities to turn into shelters and respite centers.
The city took people who had been staying at the 16th Police District station and moved them to the college, Sposato said.
The 16th Police District is now free of migrants, though a few homeless individuals from the community are sheltering at the station, said Katharina Koch, a volunteer at the Jefferson Park station who has helped organize meal trains and donations for the families staying there.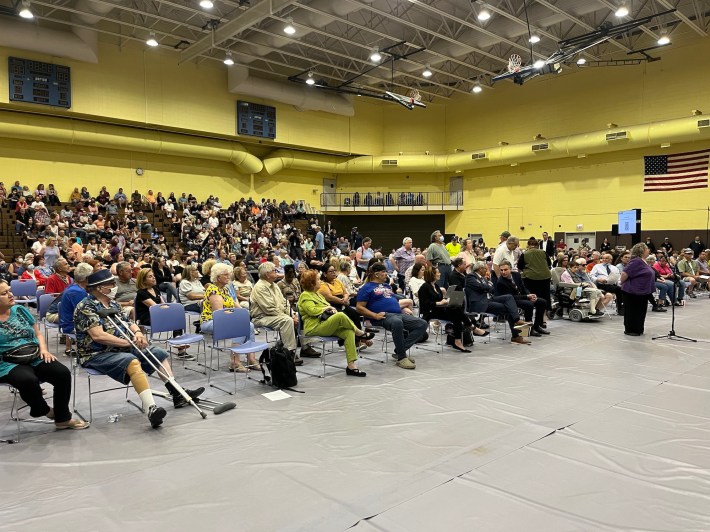 Nearly 9,000 people have arrived in Chicago since August, many fleeing economically and politically devastated nations like Venezuela and Colombia in hopes of finding jobs to provide for their families, many have told Block Club.
Migrants will sleep in Wright's gym and atrium until Aug. 1 and receive social services support, health care, mental health support and other assistance while they wait to get asylum and eventually a work permit, city officials said at a contentious meeting last week regarding the city's plan to use the college as a temporary shelter.
People staying at the shelter must abide by city rules: No visitors, no illegal drugs or alcohol, they must check in and out at the front desk and must abide by an 11 p.m. curfew. The city is partnering with SkyTech Security Services to have 24/7 security at the building, and there will be regular visits from police officers.
Neighbors have donated clothes, toys and other items for families living on the campus, according to ABC7. The city has partnered with Instituto del Progreso Latino to create an Amazon wishlist where people can buy supplies for migrants, including pants, shoes, shirts, hoodies, backpacks, razor blades, shower shoes and laundry bags.
Donations made through the wishlist will assist people staying in Dunning, Jesús Del Toro, project manager for the city's Office of New Americans, said at last week's meeting.
RELATED: Here's How To Help The Latest Wave Of Migrants Coming To Chicago
Volunteers like Koch are also trying to figure out ways to continue helping the families now living in the college, though she anticipates the 16th district station could see more migrants soon, she said.
The neighborhood is split on having the migrants stay at the college. Some neighbors at last week's meeting voiced support, while others criticized the city for not engaging with the community before deciding to shelter migrants there.
Sposato said he's received backlash for the plan, but he wasn't made aware of it until it was already approved. He said residents should stay in the know and understand the situation is complex.
"People need to be patient, see what is going on and communicate," Sposato said. "We are telling people to say if there is something you're not happy about, call us."
Instead of being angry at the city or Abbott, people should put pressure on the federal government to send resources and expedite work permits for the new arrivals, Sposato said. He wants to see more federal funding that could expedite the shelter and work permit processes so migrants can enter the workforce and help struggling businesses.
"People should be furious that these people can't work. … I could find 10 jobs for these people to work," he said. "We are taking them in so we need to give them resources. These people will turn their lives around because these people want to work."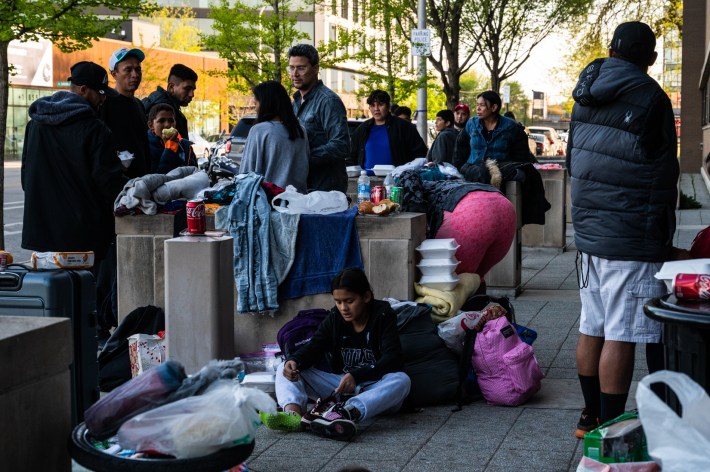 City Council plans to vote Wednesday to earmark $51 million to help migrants, a measure which was delayed from last week. Sposato said he will only support the measure if the Mayor's Office amends it to include funding for homeless people, not just migrants seeking asylum.
The $51 million is intended for staffing, food, transportation and legal services at temporary shelters. But the measure should include assistance for homeless Chicagoans who are struggling, Sposato said.
Wright College is at least the third respite center opened by the city to get families out of police stations. Officers have told Block Club having migrants sleeping in stations is a strain on their work, and they want to see the city open more shelters, even if they're temporary.
Officials said they hope to find permanent housing for families before they have to leave Wright College in August while they wait to apply for work permits — although the need for affordable housing, especially on the Far Northwest Side, is already huge.
Subscribe to Block Club Chicago, an independent, 501(c)(3), journalist-run newsroom. Every dime we make funds reporting from Chicago's neighborhoods.