DUNNING — The city's plan to turn a local college's gym into a temporary shelter for migrants drew fierce pushback — and support — from neighbors on the Northwest Side Tuesday night.
More than 500 people packed into the gym at Wilbur Wright College, 4300 N. Narragansett Ave., and cheered, shouted and jeered at city officials who shared plans to turn the spot into a shelter for up to 400 people. People could move in in as early as Saturday and stay until Aug. 1, officials said.
The temporary shelter comes as Chicago faces a "humanitarian crisis" as Texas Gov. Greg Abbott sends Central and South American migrants to Chicago, pushing the city's shelter system to its limit. Hundreds of migrants have been sleeping at police stations in recent weeks while the city has been trying to find large facilities to turn into shelters and respite centers.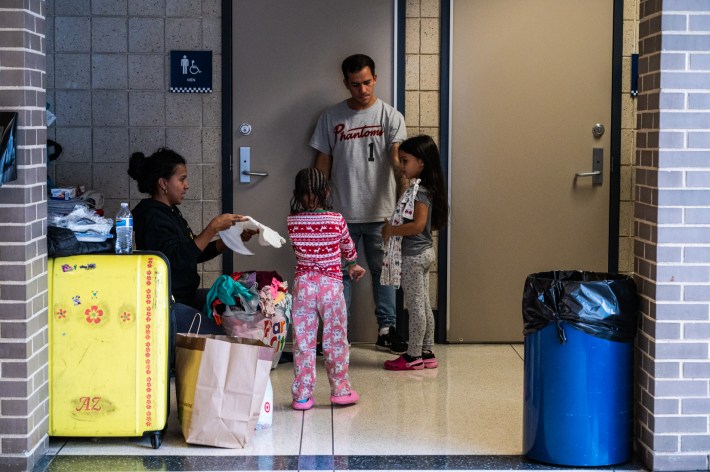 Wilbur Wright College's gym and atrium will be used to house at least 250 migrants through Aug. 1 under an agreement with City Colleges of Chicago and the city's Office of Emergency Management and Communications, said Matt Doughtie, an emergency coordinator with the city's agency. Families will be given cots, health care, showers, mental health support and other services, city officials said.
People staying at the shelter will need to abide by city rules: No visitors, no illegal drugs or alcohol, they must check in and out at the front desk and must abide by an 11 p.m. curfew. The city is partnering with SkyTech Security Services to have 24/7 security at the building, and there would be regular visits from police officers.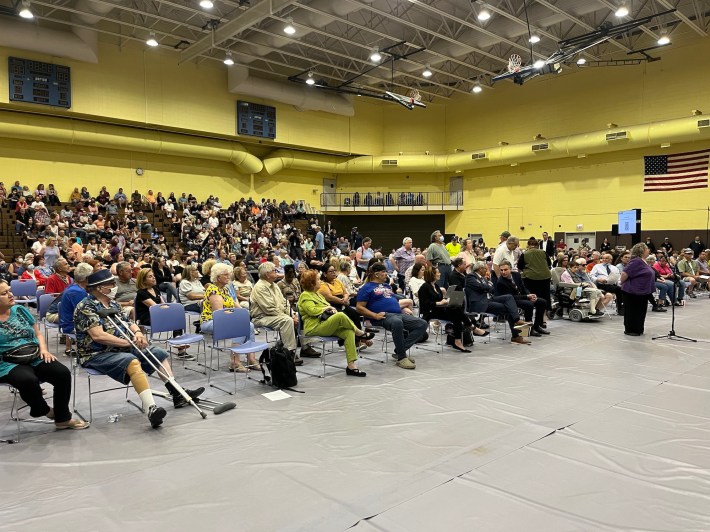 The large crowd, made up mostly of 38th Ward residents, had a lot to say about the plan. Some neighbors voiced support while others criticized the city for not engaging with the community before deciding to shelter migrants there.
Jake Kaczynski, a lifelong 38th Ward resident and graduate of Wright College, commended the city's plan to help migrants and said the college has the facilities needed to become a shelter.
"The city must have a reasonable solution to help bridge the gap from where we are today to a more permanent plan going forward," Kaczynski told the crowd.
Other neighbors at the meeting said city officials are making decisions without their input, and they questioned if migrants could negatively affect the neighborhood.
"It seems to be this whole thing was dumped on us. We pay taxes …. and we should have a say," said Mary Reinhardt, of Schorsch Forest View.
City officials said the crisis also "fell on our laps" in August, which led to heckles from the crowd.
When people spoke up in favor of the shelter and asked how to help migrants, some in the crowd shouted things like, "Give them the keys to your house," and "Turn the buses around."
Most migrants have come to the United States from Venezuela, which has struggled with political and economic upheaval. Others are from Middle Eastern, African and European countries, city officials said.
The city is seeing about 700 migrants arrive daily, and another bus from Texas is scheduled to arrive Wednesday afternoon, Doughtie said.
Some neighbors made xenophobic and anti-immigrant remarks throughout the meeting, interrupting people's speeches and dividing the crowd. Some attendees held signs that read, "No shelter," while others had signs in support of the migrants that read, "Welcome," and "Our community cares."
After a series of heated exchanges, longtime neighbor Laura Wilson took the mic and turned to address the attendees.
"We teach our children to have compassion and to have empathy, and I am very sad to see no compassion or empathy from our community," Wilson said.
Ald. Nick Sposato stayed mostly quiet during the meeting — though he tried to encourage the crowd to be respectful without much success. He told Block Club the shelter would alleviate pressure on overcrowded police stations.
Others suggested using Navy Pier or McCormick Place as a respite center, an option some alderpeople have suggested — but former Mayor Lori Lightfoot said earlier this month those locations are not appropriate as shelters.
One woman said she believes Chicago wants to "welcome" and "love people," but questioned how much the city is spending on caring for people who recently arrived seeking asylum. Some in the crowd cheered in response.
"And all you guys clapping," she said, referencing neighbors who supported for the shelter, "to open your doors and take in some of these families," she said.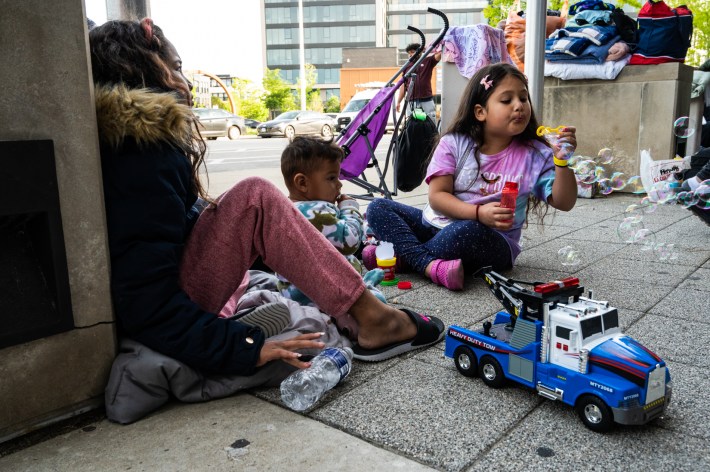 Doughtie said using Wright College is "the right solution" as it has the appropriate facilities, is large enough to hold hundreds of families and is already city-owned. He was asked multiple times how much the plan would cost taxpayers but did not give an exact number except to say it is using corporate city funding.
"I will say the cost for a college will be significantly less than some of our other shelters, such as hotels, and that's why it's such an attractive option," Doughtie said.
City officials said funds are not being taken away from homelessness outreach and stressed that elected officials keep pressuring the federal government for more financial support.
Wright College President David Potash told Block Club the respite shelter will not affect the summer semester, as students will not need to access the gym and atrium. The college's spring semester ended May 13, and there will be far fewer students on campus for summer, school officials said.
Wright College will be at least the third respite center opened by the city to get families out of police stations. Officers have told Block Club having migrants sleeping in stations is a strain on their work, and they want to see the city open more shelters, even if they're temporary.
Officials said they hope to find permanent housing for families before they have to leave Wright College in August while they wait to apply for work permits, although the need for affordable housing, especially on the Far Northwest Side, is huge.
Subscribe to Block Club Chicago, an independent, 501(c)(3), journalist-run newsroom. Every dime we make funds reporting from Chicago's neighborhoods.