CHICAGO — As the city scrambles to find housing for the recent influx of migrants, police officers — along with neighborhood volunteers — have ended up on the frontlines of the crisis.
As migrants sleep on the floors of police stations, officers said they feel inclined to do what they can to help — but they have no resources or guidance from city officials or the Police Department.
Nearly 9,000 migrants have arrived in Chicago since August, many fleeing economically and politically devastated nations like Venezuela and Colombia.
A South Side officer, who requested to remain anonymous, has gone out of her way to give families sleeping on the floor of her district basic supplies like baby formula, clothes for children and hygiene kits. She's helped organize meal trains alongside faith groups and volunteers and other officers have chipped in with money and donations for the families.
"I've spent well over $300," she said.
Officers in various districts have also helped with laundry and medical transport. They added mini food pantries to district lobbies so families have easy access to supplies. A mobile shower unit with ShowerUp has come to stations so families can wash up. One officer gave families an old DVD player to watch movies while they wait, he said.
Police officers call 311 every morning hoping to find shelter space, but the answer is always the same: Shelters are full and the wait list is long, a Northwest Side officer said.
"I feel bad for them but there's not much we can do," she said. "We're told nothing. … We don't know when the next van will show up."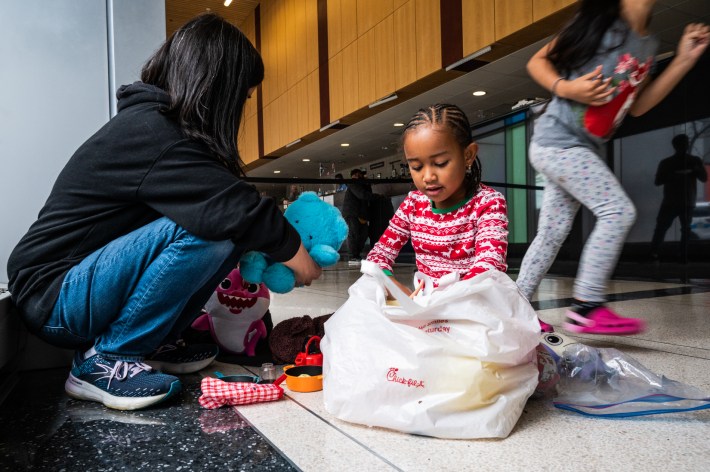 'You Can't Turn A Blind Eye'
While volunteer support has greatly helped the chaotic situation, having migrants sleep on the floor, use the district's community room and facilities has put an added strain on police officers' jobs, the South Side officer said.
"The station is a shelter in an emergency [situation] for maybe a day but we are housing them for multiple days," she said. "When you have 30 people in the station and parents asking questions and kids screaming and crying, there are only so many hours you can dedicate to doing your job."
The situation is also a health and hygiene issue, as many stations have sent migrants to the hospital because of fevers, stomach pains and rashes, volunteers, police officers and migrants told Block Club.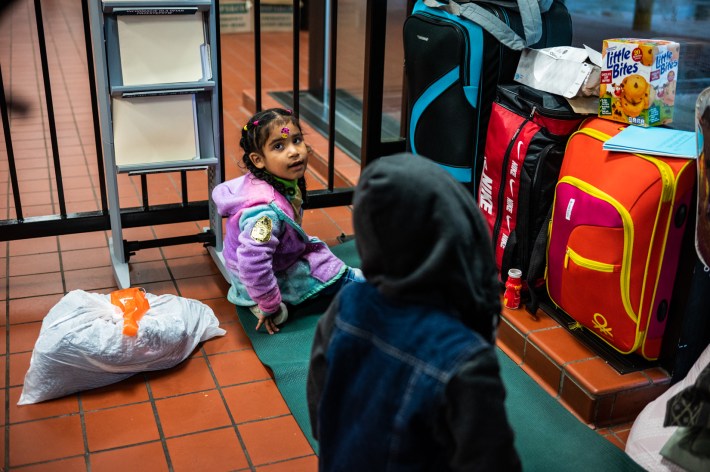 John Catanzara, the president of the Chicago Fraternal Order of Police, told the Sun-Times bed bugs have been "a consistent issue." A lice problem was present at the Near West District, as well as cases of chicken pox at the Shakespeare District, according to Catanzara, who said it's "improper" to use police buildings and resources to house immigrants.
Ald. Nick Sposato (38th) said he is in contact with Jefferson Park police about the station's migrant families, but said their role is not to take care of migrants and they should not be staying in stations.
"Some are helping and bending over backwards and for others, it's impossible to do their jobs," Sposato said.
The extra work for officers comes as the department faces an officer shortage.
According to a 2022 analysis, about 3,300 officers retired, resigned, were fired or died since 2019. The city has struggled to replace them, hiring only about 1,600 officers since.
The situation has also brought out anti-immigrant sentiment and created a further political divide between some officers. At the South Side station, people have come in to yell at the migrants, the South Side officer said.
However, it's also opened up conversations among officers on diverse political spectrums to find common ground and work together to try and solve the problem, she said.
"When someone has a need in front of us, you can't turn a blind eye. Look what's here, it's children," she said.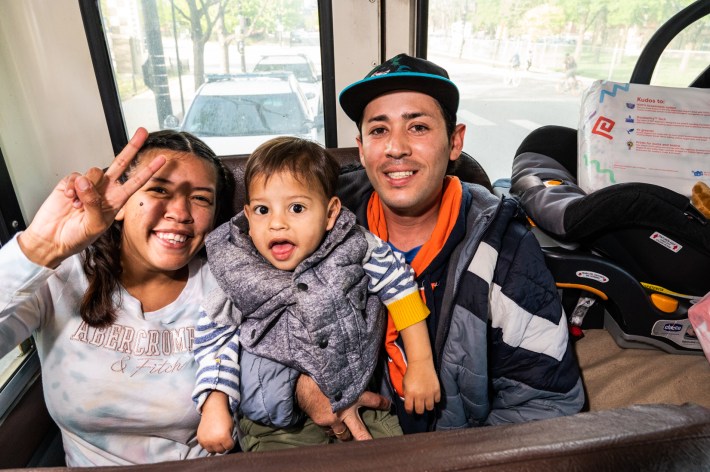 Officers have received no communication from the city or the police department on what to do, except to be told not to transport migrants in department vehicles due to liability issues, the South Side officer said. They've also been told to avoid giving migrants things like over-the-counter medicine — since they could be responsible for any repercussions, she said.
"There needs to be a point person for every area [and] watch because there are tons of questions," the officer said. "There needs to be a better supply of food without relying on districts to figure it out. We are flying by the seat of our pants and it's been months and months now. I don't think our city was prepared at all."
Her station received food from city officials only once, and it was expired, she said.
Other officers and volunteers said they were explicitly told not to help the families, they said.
When asked about this, a Chicago Police Department spokesperson referred questions to the Mayor's Office. Mary May, with the city's Office of Emergency Management and Communications, said the city is "working around the clock to respond to the growing number of new arrivals we are receiving on a daily basis."
"One of our top priorities is to decompress the police stations to provide safe spaces for the asylum seekers," May said in a statement. The city is working with community groups and officials to open temporary respite centers and new Mayor Brandon Johnson is pushing for more federal support.
Sposato wants to also see more federal funding that could expedite the shelter and work permit processes so the migrants can enter the workforce and help struggling businesses.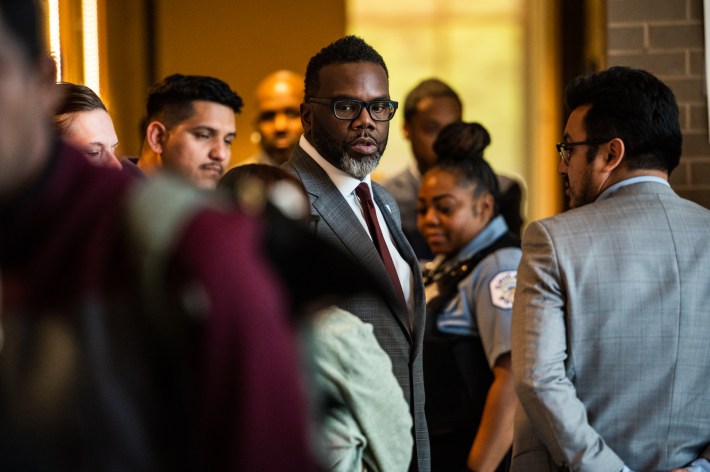 'Background Magic'
When the migrant influx began earlier this year, officers were the first to organize food distribution and call on help from the community, volunteers and officers said. Many reached out to mutual aid groups to organize meal trains, stayed late at work to feed arriving families and gave migrants money to do laundry.
Desiree Velásquez, a migrant from Venezuela who stayed in the 17th District (Albany Park) police station with her 2-year-old son, Luciano, for eight days, told Block Club she had a positive experience with police officers who helped her, despite the horrid living conditions she was thrust into at the station.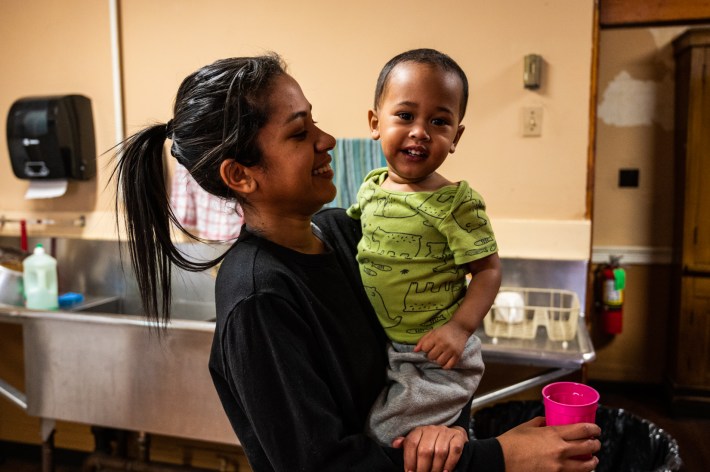 "The police officers gave us excellent attention … and they were helpful because they spoke Spanish and helped with food, sweets and checked on us," Velásquez said.
She said she received no city support but thanked the officers and community volunteers who went above and beyond to help her until she found temporary housing at an Albany Park church.
"Police at the 16th District have done a tremendous job in helping the migrants; I have to shoutout CAPS in general – they're doing some background magic," said Katharina Koch, a volunteer at the Jefferson Park station who helped organize meal trains and donations for the families staying there. "At 16, they have been helpful in answering questions, they sometimes take people to the laundromat and help with quarters, and they allowed a small table to have supplies."
In Beverly, 19th Ward Mutual Aid has organized a meal train for the families staying at the 22nd District. Some officers have donated meals and kept volunteers informed of the needs, said Tim Noonan, former aldermanic candidate and meal train organizer.
Despite the chaotic situation that has thrusted volunteers and officers to make it up as they go, the collaboration between community groups and police officers shows the human side of law enforcement, volunteers said.
"The humanity of the situation compels people to act," Noonan said. "Some people don't take the time to get to know [the migrants] and turn a blind eye but there are police who have been very helpful. This is an opportunity to see the benevolence of other police officers."
Subscribe to Block Club Chicago, an independent, 501(c)(3), journalist-run newsroom. Every dime we make funds reporting from Chicago's neighborhoods.