WASHINGTON PARK — A South Side Save A Lot abruptly closed over the weekend after multiple break-ins, redirecting customers to shop at a recently opened store in Englewood, a co-owner said Monday.
Save A Lot, 344 E. 63rd St. in Washington Park, closed after at least two break-ins over the weekend, co-owner Michael Nance said. Nance is the co-founder of Yellow Banana, which operates the Washington Park location and six others in Chicago.
"There was a series of pretty bad break-ins at the site over the last couple days," Nance said. "Windows were broken, security cameras were stolen, merchandise was stolen — there's a lot of damage to the store. We are in the unfortunate position of not being able to operate that store in its current condition."
At one point, employees were cleaning up from the first break-in when "people came back in with weapons," Nance said.
Nance said he had not personally spoken with the employees who witnessed the break-in to check up on their well-being or offer resources. Yellow Banana CEO Joe Canfield "has been in communication with these folks," Nance said Monday.
Chicago Police confirmed one break-in at the Washington Park Save A Lot this weekend. An employee who had showed up for the start of her shift Saturday morning reported a brick thrown through the front window and items taken from the store, spokesperson Michelle Tannehill said.
No one is in custody as of Monday evening, Tannehill said.
Yellow Banana is working to "resolve the situation as quickly as possible," but there's no timeline for reopening, Nance said. He did not commit to reopening the store.
"We're going to do everything we can" to reopen, but "there's not enough information to know right now" whether that's possible, Nance told Block Club Monday evening
But Yellow Banana executives have assured city officials that the store will reopen, and the city doesn't expect the closure to last "for very long," Stephen Crano, a spokesperson for Mayor Brandon Johnson, said Tuesday morning.
Yellow Banana received a $13.5 million in TIF funding and another $13 million in New Market Tax Credits and private funding last year to buy and revitalize six closed Save A Lot on the South and West sides. The Washington Park location was not included in that funding.
The company initially was approved for a community development grant, but city officials felt the revamp of the stores was a better fit for TIF funding, a mayoral spokesperson said.
The Johnson administration doesn't plan to require the Washington Park store's reopening as a condition of Yellow Banana receiving millions in city funding for its other Save A Lots in the city, as "we want to have faith" in the company's partnership, Crano said.
A sign on the boarded-up store told customers to go to the new Englewood Save A Lot less than 2 miles away at 832 W. 63rd St.
Other nearby grocery stores include Jewel-Osco, 6014 S. Cottage Grove Ave. in Woodlawn, and Aldi, 620 W. 63rd St. in Englewood.
"This is not a situation where a store was closed because we didn't want to operate a store there," Nance said. "It is not currently operational or safe, so that's why the store has been closed for the time being.
"We are all for opening up stores in some of Chicago's hardest-hit communities, so it's tough when we're forced to keep a store from opening just because a store was damaged," Nance said.
The Englewood store quietly opened less than two weeks ago, after residents rallied for months to have a different grocer replace the Whole Foods which left the neighborhood in November. Organizers who opposed the store did not find out about the opening until four hours after the store welcomed its first customers.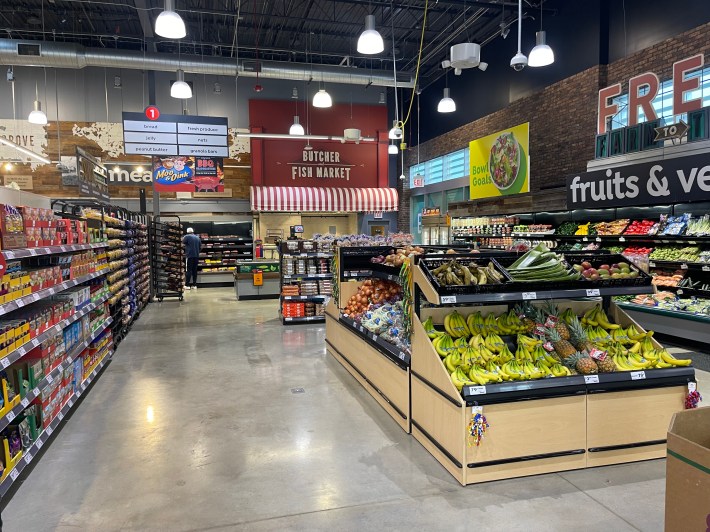 Critics of the new location have raised concerns with Save A Lot's quality and cleanliness and said Yellow Banana officials cut them out of the conversation about opening in Englewood.
Residents repeatedly said they wanted something like an Aldi, Walmart or Mariano's to replace the Whole Foods, but city contracts show the options for what store could take over the space were limited.
The company's efforts to engage neighbors "were not reciprocal," as protestors have "refused to come in to even see" what the Englewood store had to offer, Nance said earlier this month.
Yellow Banana is "engaging in conversations with local leadership and police" to ensure the Englewood store is secured against break-ins like the ones that led to the Washington Park location's closure, Nance said Monday.
The Englewood Save A Lot is "absolutely" prepared with the inventory and staffing needed to serve a potential influx of customers from Washington Park, Nance said.
Listen to "It's All Good: A Block Club Chicago Podcast":