ENGLEWOOD — Englewood's Save A Lot opened with little fanfare Thursday, offering fresh produce, a bakery and more — but some neighbors blasted the debut as a sign of the company's "blatant disrespect for the community."
Some neighbors have for months pushed back against the Save A Lot, 832 W. 63rd St., which replaced a Whole Foods that closed in November. Neighbors told city leaders at meetings again and again they wanted a grocery store — but not a Save a Lot, citing concerns about the chain's quality and cleanliness and saying its owners had cut them out of the conversation about opening in their neighborhood.
Neighbors protested last month when the store's owners tried to host a soft opening, and now some are planning a boycott.
But Save A Lot's owners said they are trying to do better by neighbors. The Englewood store has a hot food section, coffee kiosk and bakery, which other Save a Lot locations don't have, employees and customers said.
Michael Nance, CEO of Yellow Banana, which is operating the Save a Lot, said the store opened 8 a.m. Thursday after efforts to engage the community "were not reciprocal." He said last month's protestors "refused to come in to even see what was there."
"The only ask from organizers has been, 'Don't open the store,'" Nance said. "There's been no room for collaboration."
Yellow Banana informed community organizers in an email about the opening 12:05 p.m. Thursday, hours after the opening, according to emails obtained by Block Club.
Asiaha Butler, founder of the Resident Association of Greater Englewood, said the quiet opening disrespects neighbors who have voiced concerns about Save A Lot at several meetings. Her group is organizing neighbors to boycott the store.
"What's most alarming is that after the town hall, when Yellow Banana heard from all types of people in Englewood with reservations, they said they'd go back and talk with leadership, and then didn't," Butler said Friday. "They're doing business as usual, because you're losing money if you're not operating."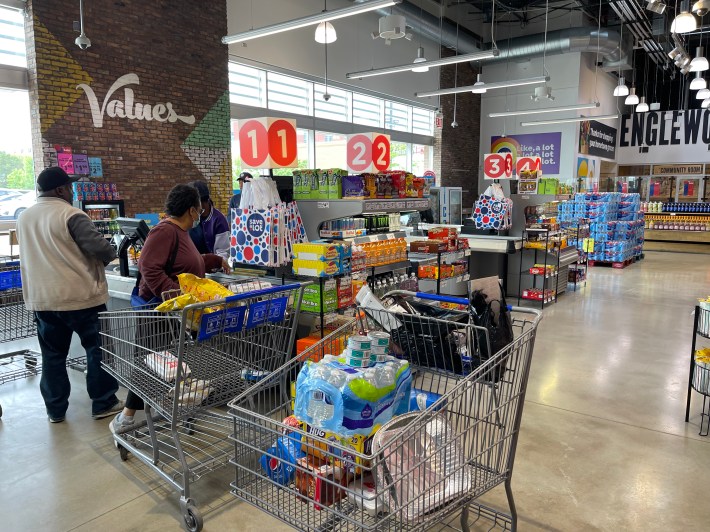 But Nance said he's already seeing support from some neighbors.
Several hundred people shopped at the Save A Lot on its opening day, Nance said. The store has offered promotions to neighbors, like $5 off certain items, in hopes to draw more customers who may be on the fence, Nance said.
"The reality is that people are already coming in and voting with their feet," Nance said. "Genuine voices in Englewood have not been heard because of a very vocal minority."
The store's standalone amenities, like the hot food bar and coffee stand, will be run by small, local vendors, Nance said. They will open soon, he said.
Several shoppers who came to the store Friday said they were drawn in by low prices, impressed by the store's design and cleanliness and were greeted by a helpful staff.
South Shore resident KM Milton said she regularly shops at another Save A Lot location, and the Englewood store is "nicer because they kept the Whole Foods setup."
"The issues we had in our communities is that we weren't informed or a part of the planning, and they shouldn't just throw stuff at us. It's miscommunication," Milton said. "But they'll get over it because people need to shop."
Customer Mae B. Douthet was helped by an employee, who took down a list of items she wanted the store to add. Douthet said she lives at a senior home nearby and never shopped at the Whole Foods because prices were too high.
"I'm glad Save A Lot is here," Douthet said. "I'd prefer another store, but a store is a store, as long as there's reasonable prices and they can accommodate what you ask for."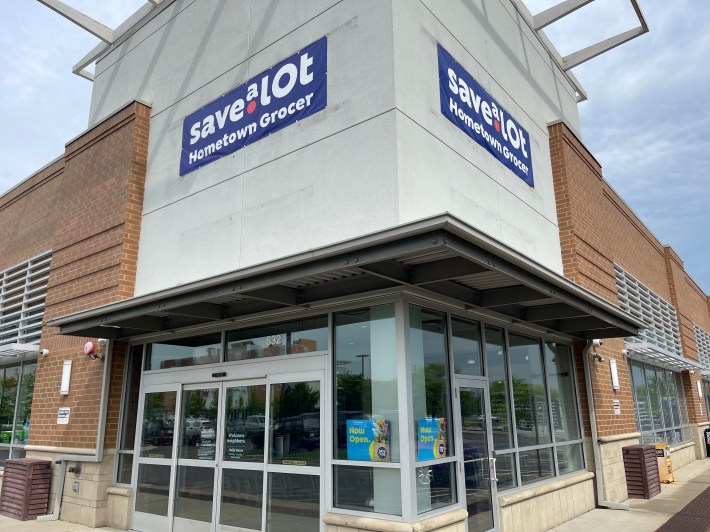 Produce manager Cliff Fields said the staff of about 20 are all from the neighborhood, and several employees — including him — worked at the Whole Foods.
"But Whole Foods is not here anymore, and people need to face reality," Fields said. "We're still family-oriented, and we want to make this work."
Yellow Banana received $13.5 million in city funding to improve six Save a Lots on the South and West sides.
But Englewood residents repeatedly expressed wariness about the store opening in the neighborhood.
After Whole Foods closed, neighbors hosted community meetings demanding the next grocer be affordable, provide healthy options and remain accountable to the community.
Nonprofit Teamwork Englewood found a majority of neighbors in a survey wanted an  Aldi, Walmart or Mariano's in the vacant space. 
Residents were clear that Save A Lot — which residents said had poor-quality food and unkempt stores on the South and West sides — shouldn't be an option. 
Yellow Banana, which owns and operates stores under the Save A Lot name, signed a lease for the vacant building in December. Once it became clear the store would be a Save A Lot, Englewood neighbors blasted officials for ignoring the community's opposition and finalizing a deal behind closed doors. 
Neighbors requested organized meetings with Yellow Banana's leaders but were rebuffed; when they prepared a list of vendors they wanted the company to consider using, officials chose grocers without the community's consent, Ald. Stephanie Coleman (16th) previously said.
Developers and city officials previously said Whole Foods Market had the right to find a replacement tenant. Despite efforts to market the store to other grocers, there were no other takers, and Whole Foods settled with Yellow Banana, officials said.
Nance said he's heard community members concerns', but Yellow Banana's Save A Lots will be different — starting with the Englewood store.
City funding will be used for new flooring, freezer cases, refrigeration, shelves and check-out lights at other Save A Lot locations, with those rehabs starting "in the coming weeks," Nance said.
"There's a reputation issue that predates us," Nance said. "The Englewood store will be a hallmark of the kind of store we want to run in Chicago."
Butler said Yellow Banana was fortunate to have a "fancy place to move into" and substantial financial assistance from the city.
R.A.G.E. members would still like to see a "small grocer with a majority of fresh foods" move into the space, Butler siad.
The Save A Lot will be open 8 a.m.-9 p.m. daily.
Listen to "It's All Good: A Block Club Chicago Podcast":