ALBANY PARK — An Albany Park church has opened its doors to a group of migrants, and its leaders are urging other churches do the same as city police stations and shelters become overcrowded with people in need.
Five migrant families, mostly from Venezuela, are living out of Christ Lutheran Church at 3253 W. Wilson Ave. Longtime pastor Tom Terrell, other church leaders, Ald. Rossana Rodriguez-Sanchez (33rd) and dozens of neighbors helped make the arrangements, moving most of the occupants from the 17th Police District station.
At the church, families have private rooms, beds and access to the church kitchen, bathroom and shower. Neighbors and volunteers help families run errands and keep the church stocked with essentials. The families can stay until they find apartments, get jobs and can start their lives in Chicago, Terrell said.
"Families have not had privacy for who knows how long," Terrell said. "They're all in a space they can close the door. And I'm so happy to give that to them."
Nearly 9,000 migrants have arrived in Chicago since August, many fleeing economically and politically devastated nations like Venezuela and Colombia.
City officials are struggling to manage the influx. Hundreds of people and families have spent days or weeks sleeping on the floors of police stations. City officials are turning park field houses and other buildings into respite centers as they scramble to place families in established shelters.
The city's handling of the crisis has also come under fire. In South Shore, residents filed a lawsuit in an effort to block the city from opening a respite center at a former neighborhood high school.
Albany Park leaders say they hope the church is a stabilizing force for families who made long, perilous journeys to the United States, Terrell said.
Some of the migrants, like Maikel Lombano, said they've been overwhelmed by the generosity.
"I'm so grateful with how people have been treating us so well since we got to Chicago. I can't believe it," Lombano said.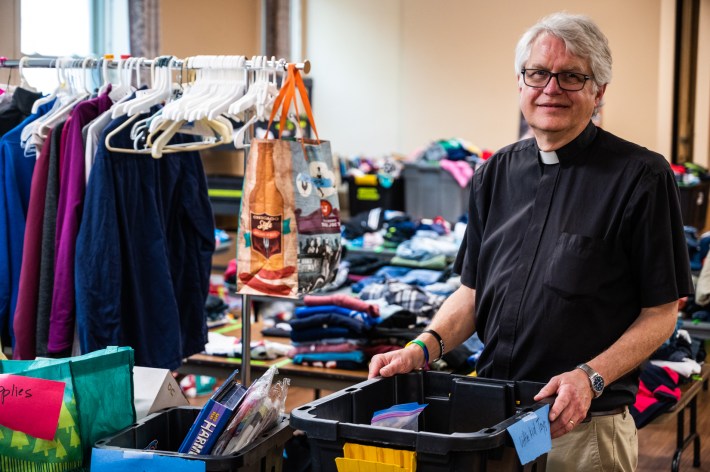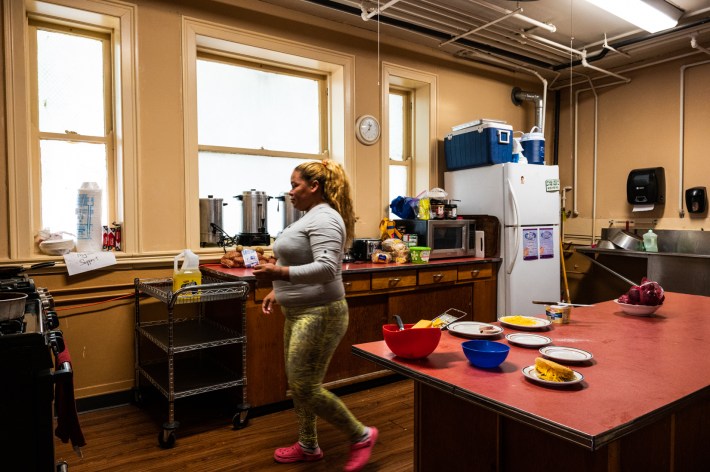 'We Were Afraid Of Losing Our Spot On The Floor'
Lombano and her partner, Wolfgang Villegas, came to Chicago this month after a month-long journey across South and Central America where they trekked through jungles and mountainous terrain.
Traveling through the roadless jungle between Panama and Colombia was one of the most dangerous parts of the journey for Villegas and his family, he said.
The group they traveled with ran out of clean drinking water and had to drink river water to avoid dehydration, but they got sick with rashes and indigestion, he said.
They didn't encounter anyone armed during their journey, but a panther briefly stalked their group as they crossed the dangerous mountainous terrain, Villegas said.
A woman they were traveling with lost her footing trying to escape the panther, and her baby died from the fall, the couple said.
Thankfully, it didn't attack or follow them as they continued north, Villegas said.
"It was like God was illuminating our path," he said.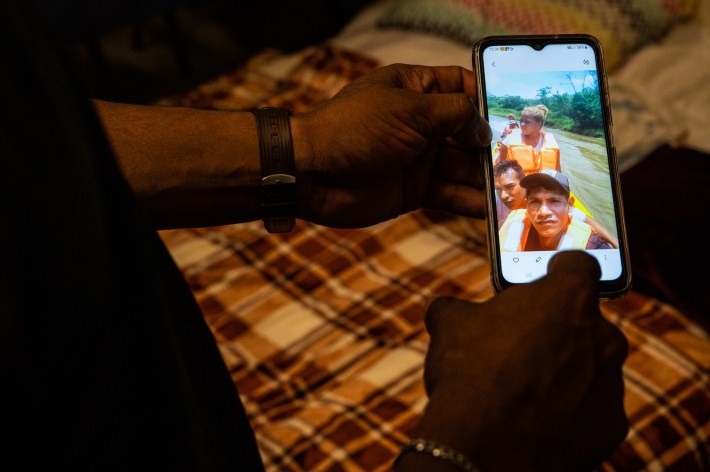 The couple stayed at the police station for four days, they said. Lombano said the Northwest Side officers and neighbors were welcoming and friendly. Still, the two worried they might lose their small corner of space at the station to another family when they'd go for walks to get air.
"We really couldn't leave the station because we were afraid of losing our spot on the floor," he said.
Organizers offered the couple a room at the church after learning Lombano, who is seven weeks pregnant, was sleeping on the floor with only a thin blanket.
"Two weeks ago, we got the report that there were pregnant women sleeping on the floor of the police station. That was enough for me to say, 'OK, we need to open up our church,'" Terrell said.
Initially, Terrell thought he would have migrants staying on the floor of the church gym. But he took a closer look at the building and realized some spaces could be repurposed into private rooms.
"We just went to the police station. I really didn't have a plan. … But we walked through [the church], and I was like, here's a space, and then here's a space. And all of a sudden I thought, 'I've got some spaces,'" Terrell said.
Villegas and Lombano said they were "overjoyed" when they got to leave the crowded and uncomfortable police station.
Villegas' face lit up talking about the church, Terrell and other leaders and neighbors who guided them into more stable housing. He said they're "very content" staying in the church's community meeting room sleeping on an air mattress with a thick, fuzzy blanket.
"I feel grateful because I'm seven weeks pregnant, and it's so much more tranquil here at this church," Lombano said. "We may still be on the floor, but here we have a mattress and not just the floor. We have privacy. I'm taking medical supplements for the pregnancy and filling out paperwork in order for my family to stay."
Villegas said they came to Chicago for better job opportunities. In Peru, where the couple lived after Venezuela, Villegas made about $68 a week working long hours at a fish market, he said.
He said he's hopeful his background will help him land a stable job.
"The truth is I have a lot of skills. I know about construction and being a mechanic, how to repair things like computers and phones. Here in the United States, there are opportunities for me to progress and come out successfully," Villegas said. "I haven't had a chance to work yet, but talking to other people from my country already here, I know there are more opportunities. I know I can make more money than I did in Venezuela for me and my family's future."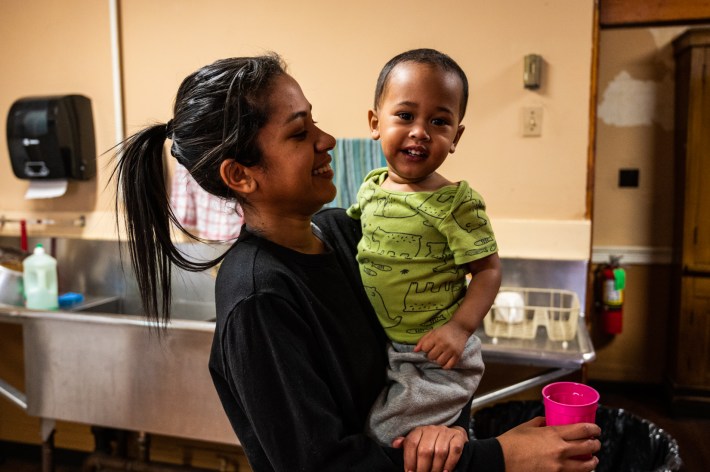 Desiree Velásquez, who lives in the church with her 2-year-old son, Luciano, said she, too, was drawn to Chicago for better employment and greater stability.
Velásquez left Venezuela in 2018 while in college following a protest that ended with masked men on motorcycles fatally shooting student protesters, she said in Spanish. She and her husband fled to Peru and then Chile, but neither country provided the support and resources they needed, and her husband was at risk of being deported, she said.
Selling most of their belongings and migrating to the United States was "the best option we had," Velásquez said.
Once they crossed the border in Texas, they stayed with family in Atlanta, Velásquez said. They continued onto Chicago because they'd heard there might be more jobs here, Velásquez said.
They arrived in the city May 1, she said.
Like Villegas and Lombano, Velásquez said the church has given them a sense of peace they hadn't felt in weeks, maybe months.
On Tuesday, Velásquez made her son a liver and cheese sandwich for lunch in the church kitchen. Luciano munched on the sandwich as he watched videos on his mother's phone.
Velásquez said she looks forward to finding a job and moving into an apartment with the city's help.
"I can't stress how grateful I am for all of these people for helping us get to this point," she said in Spanish.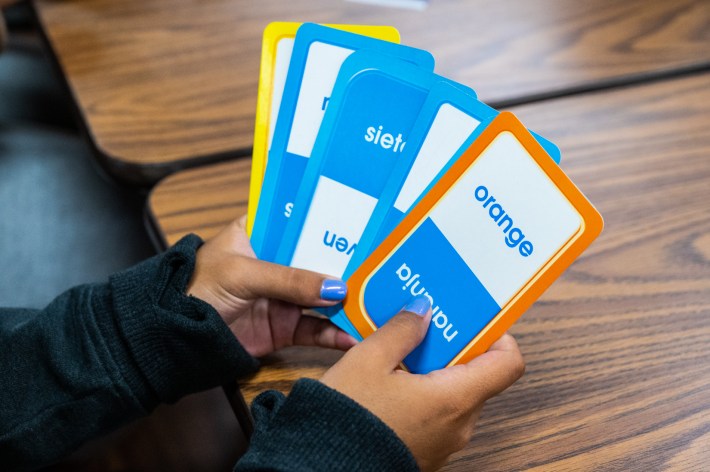 In addition to the private spaces, families are still getting support from neighbors. Volunteers take families on trips to the store to pick up groceries for traditional Venezuelan meals, while the church recreation room is filled with bags of donated clothes, toiletries and toys.
Church leaders and neighbors threw a Mother's Day event for migrants at the church over the weekend, and families were treated to desserts and manicures.
RELATED: Here's How To Help The Latest Wave Of Migrants Coming To Chicago
Church leaders across the city should consider opening their doors to migrants as they are uniquely positioned to offer shelter and community to people in need, Terrell said.
"Churches in particular — if they have the space that they can take folks in — what a privilege to be able to do that," Terrell said.
"The city is trying so hard to take care of people in respite centers and shelters, but I think if churches are able to open up, families can have a little more privacy, a little more support, a little more security. The families here — they're cooking their own meals now, they're setting up a cleaning schedule. It's just a better way to wait for whatever awaits them."
Listen to "It's All Good: A Block Club Chicago Podcast":