CHICAGO — Migrants temporarily living inside Chicago's police stations have relied on the kindness of volunteers for clothing, food and transportation as they wait for more permanent shelter.
One mutual aid group with more than 100 members, dubbed the Chicago Volunteer Police Station Response Team, is active at the 13 stations where the most migrant families have been staying. The group is one of several that have brought homemade meals, extra clothing, bedding and medical assistance to families sleeping on floors and benches.
Now, the volunteers have sent a letter to alderpeople demanding City Council "relieve us from the overwhelming work we have been doing in the absence of city, state and federal resources" and provide meals, medical assistance and transportation to shower facilities for migrants as necessary. They sent the letter Wednesday.
The group is also calling on the city to open more appropriate locations for migrants for short-term stays. The city is converting Brands Park fieldhouse at 3285 N. Elston Ave. into a shelter, but volunteers said the city's response is too slow and not keeping pace with the arrivals.
"We see the work you're doing and thank you for ramping up efforts to meet and try to address these issues, but as each day passes and more people arrive, us volunteers are the ones feeling the strain — we are tired, we are running out of our own money, and we are incredibly worried about what's to come unless we see major developments from our government now," volunteers wrote in the letter.
RELATED: As Migrants Wait For Shelter Openings At Police Station, Northwest Side Neighbors Flock To Help
More than 8,000 migrants have been sent to Chicago since late August — and officials have said the number of people coming has jumped in recent weeks, leading to the struggle for shelter. But they expect even more people to arrive in the days ahead.
Heather Kofke-Egger, who co-signed the letter as a volunteer with the group helping at the 25th Police District, said the group wants to see more local legislation that can address the issue.
"We want aldermen to push harder for federal and state funding and pass local legislation that addresses these needs to redirect budget and mitigate this humanitarian crisis," Kofke-Egger said.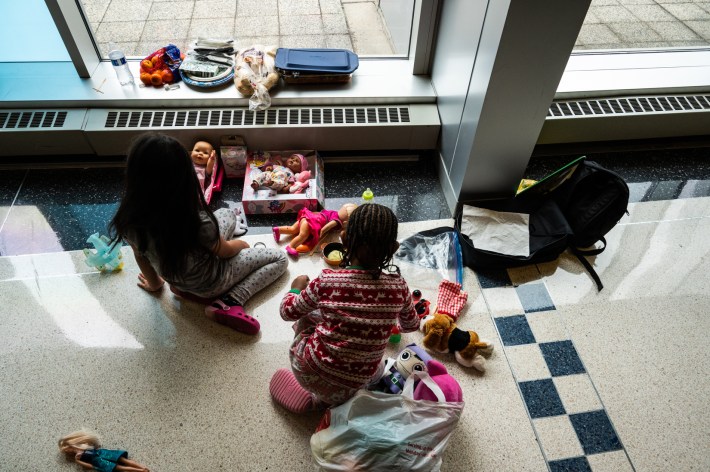 Some current and incoming alderpeople have responded to the newest wave of the migrant crisis by partnering with the volunteers, collecting donations for migrants, coordinating meal trains for police stations and voicing support for the migrants.
Ald. Maria Hadden (49th) told the Sun-Times this week the city needs to create a large, central location for migrants instead of "playing whack-a-mole" in the neighborhoods.
She told the paper McCormick Place would be a good start.
Local and state officials have asked the federal government for more money.
Gov. JB Pritzker said earlier this week federal dollars to assist Chicago could be coming soon. But volunteers helping the migrants said they're disappointed with the city's response and infrastructure.
"As a citizen, I am disappointed in the state, federal and city [government]," said Dave McNaughton, the organizer for the St. Vincent De Paul Society Conference. "There does not seem to be a plan. From a former lifetime, I know there are facilities and resources available."
McNaughton, a former 16th District commander, has delivered breakfast to the migrants staying at the 16th District in Jefferson Park. The station has seven people after two families were transferred to a shelter Wednesday after sleeping at the station for about two weeks.
With help from St. Elizabeth parishioners, McNaughton's group has delivered more than 200 meals to migrants around the Northwest Side since January, he said.
McNaughton also wants to see more shelters open in places like Illinois National Guard armories, YMCAs and downstate facilities to lesson the burden on Chicago, he said.
"It's heartbreaking to see this. … It's not only affecting refugees, but homeless people, too," he said.
RELATED: Here's How To Help The Latest Wave Of Migrants Coming To Chicago
With the impending expiration of Title 42, which gave officials standing to send people back across the border due to public health concerns, Mayor Lori Lightfoot has said the city is expecting even more new arrivals to come to Chicago.
Last week, Lightfoot sent a letter to Texas Gov. Greg Abbott — who kicked off the effort to bus migrants to Chicago and other Democrat-led cities — blaming him for the crisis and saying bussing migrants to Chicago is "inhumane and dangerous" as the city has already reached a "critical tipping point" in its ability to help people.
The city has worked with partners to transport people to a shelter once space is available and has tapped community organizations to help with temporary shelter and other services, Lightfoot spokesperson Ryan Johnson said.
Volunteers said while the collective mobilization and aid coming to migrants is a great community effort, the response to the crisis should have been better planned out, since migrants have been arriving for months.
"I think it's really hard to know that people are living in conditions just down the street from you that you wouldn't find acceptable for anyone," Kofke-Egger said. "It's really awesome to be a part of this kind of mobilization. I just wish that the need was being met in a way that was more sustainable."
Subscribe to Block Club Chicago, an independent, 501(c)(3), journalist-run newsroom. Every dime we make funds reporting from Chicago's neighborhoods.