ENGLEWOOD — Neighbors and organizers frustrated with a plan to open a Save A Lot in Englewood confronted Mayor Lori Lightfoot and local leaders during a groundbreaking for a nearby affordable housing project led by the same developer Tuesday.
City officials joined representatives from development firm DL3 Realty to break ground on Thrive Englewood, a 108-unit affordable housing project slated to replace vacant land at 914 W. 63rd St.
The $40.2 million mixed-income housing project — donned the "beacon" along 63rd Street by developers — is the "final phase" of Englewood Square, a $20 million development also spearheaded by DL3 Realty. Thrive Englewood is going up on vacant land behind Englewood Square.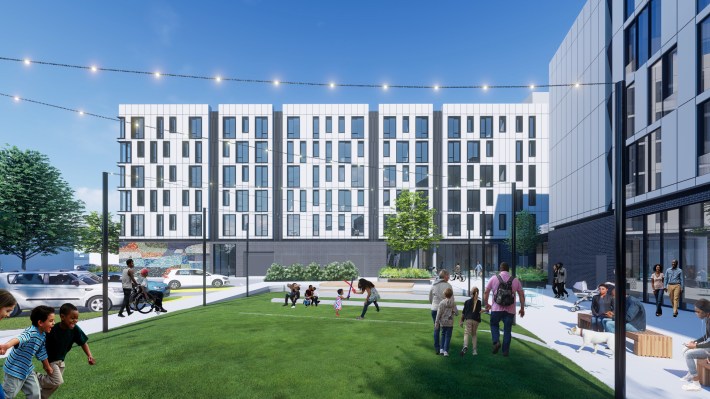 As local officials touted a new future for Englewood, some neighbors said they knew very little about the project in their backyards. 
Asiaha Butler, founder of the Resident Association of Greater Englewood, said the last time many neighbors were made aware of the multimillion-dollar housing was when a version of the project was proposed to overhaul a nearly 100-year-old former firehouse near 63rd and Halsted.
The city ultimately chose Englewood Connect, a $14 million eco-food hub, for that site, while the affordable housing project moved forward in December. Officials hosted a ceremonial groundbreaking for the culinary hub in September. 
The city revived the housing plan in May. City Council approved a redevelopment agreement with the developers in October, records show.
City officials and developers have had "ample opportunities" to engage with residents at community meetings, Butler said. But some neighbors only found out about the affordable housing development days before the groundbreaking, Butler said.
"What we're seeing happening is they talk to certain groups — most of which don't live in this community — and then they move forward," Butler said. "There's been no conversations where anyone in the community said, 'This is what we want here.'"
Leon Walker, the managing partner for DL3 Realty, said the project was over two years in the making. There were multiple community meetings about the project, both in person and virtually leading up to its presentation before the City Council, including one at a 16th Ward community meeting, Walker said.
"It's a milestone. It's the first new, contemporary family housing built in Englewood in 75 years," Walker said. "I understand that there's been a history of not-great-quality, not-well-designed affordable housing, but this was a complete break from that. We want to bring working families … we want to bring the best here with design and quality."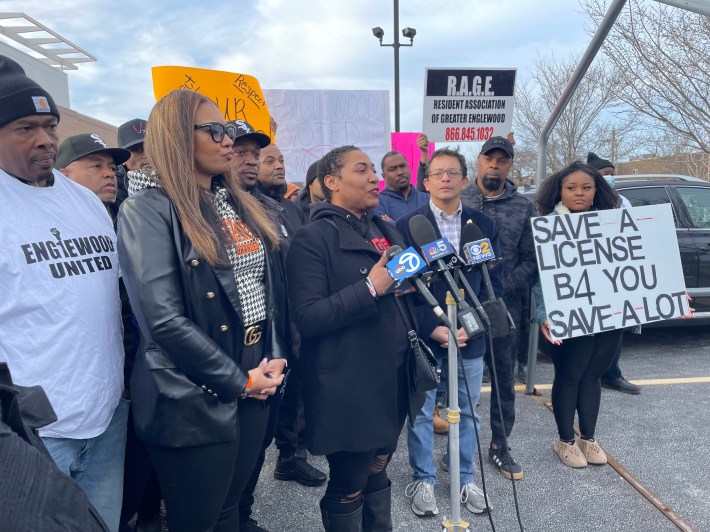 Residents confronted Lightfoot and Walker on Tuesday as they ended a tour of the nearby Save A Lot grocery store — another development met with controversy.
Dozens of neighbors and alderpeople protested the Englewood store, 832 W. 63rd St., last week, when officials at Yellow Banana, which owns and operates stores under the Save A Lot name, hosted a "preview" event for select guests.
Many residents, including Ald. Stephanie Coleman (16th), whose ward includes the grocery store, said they didn't find out about the event until the day before. Some weren't invited. 
Yellow Banana CEO Joe Canfield delayed the opening of Save A Lot after speaking with Coleman and residents at last week's protest. An opening date has yet to be determined.
Butler hopes they can also delay the affordable housing development until neighbors have a chance to say their piece, she said.
In a video posted on social media, Butler also blasted city officials for a stipulation in the contract for the former Whole Foods store, a detail first reported by WTTW.
The lease stipulates if Whole Foods left the Englewood building, "right of first refusal" to replace the store would go to Saver's Fresh Market. That is a now-defunct company run by Walker, of DL3 Realty, the store's landlord.
In the video, Deputy Mayor Samir Mayekar asks Butler and the group if they want to tour the store, which the group refuses, as they did during last week's protest.
"We built this store and designed this store as Whole Foods. A lot of blood, sweat and tears came from the the Englewood community. We do not want to walk in with the Save A Lot brand attached to it. We will continue to protest; this is not our preference," Butler says in the video.
"This community, as you well know, there's so many people that are literally starving for food, and so, this is an option. … You don't want to patronize, you don't have to patronize," Lightfoot says before walking away. 
Englewood residents are "tired" of being ignored, Butler said.
"Enough is enough," she said. "The message we wanted to make today and last Wednesday is that it's not going to be business as usual where you are plopping these initiatives or these developments without a real deep dive into community engagement."
Walker defended the project and said he and his team welcome neighbors' ongoing input. He praised Lightfoot's administration for supporting the project, saying it will help create a bustling residential and commercial area at 63rd and Halsted.
"It's a well-thought-out, well designed building by one of the top architects not only in the Chicago, but the world. … It's something for everyone to be proud of," Walker said. "We're not going to get out of this divestment … by discouraging more investment."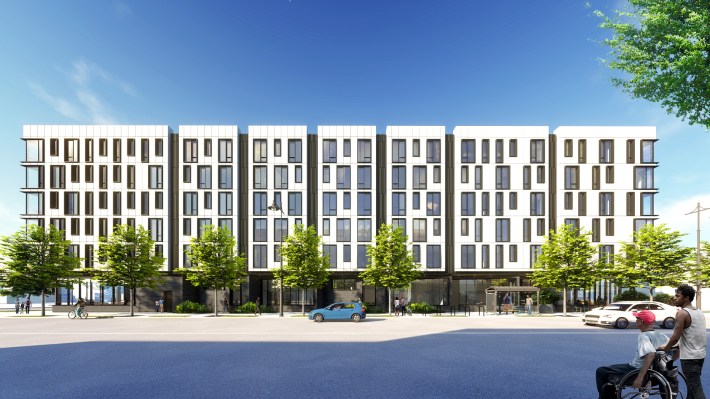 Thrive Englewood will be built in two phases. 
The first phase will focus on a six-story building with 62 one- to three-bedroom apartments and two work/live units, according to a news release. Fifty-one of the units will qualify as affordable.
The six-story building will also have a fitness room, bike storage and laundry facilities on each floor, according to a news release.  A ground-floor commercial space is "anticipated to include casual dining options," according to the news release.
The second phase will include a five-story, multi-family residential building with 44 apartments, according to the news release. A 65-space parking lot will serve both buildings. 
More than 80 percent of units will qualify as affordable, said housing Commissioner Marisa Novara.
"Thrive Englewood will help build a vibrant and walkable community that encourages both families and businesses to re-invest in the future of this proud and historic community on the South Side of Chicago," Walker said in a statement.
Developers received $13.5 million in multi-family loan funds, $5 million in tax-increment financing, $1.5 million in low-income housing tax credits and $240,000 in donation tax credits from the city to build Thrive Englewood, according to a news release.  
Butler hopes Walker and city officials will "pause on the project" and take the time to communicate with neighbors first, she said. The community is best served when all voices are heard, she said. 
"It's a real disrespect and disregard of active residents in this community," Butler said. "These are the people you want on your side — people who are going to read data, learn where our dollars are going, examine TIF funding and make sure our voices are heard.
"If this is going to happen regardless, we need to have a conversation about what this looks like." 
Listen to "It's All Good: A Block Club Chicago Podcast":