WEST TOWN — Most photo studios focus on human subjects — but one Chicago business is photographing the city's furry residents and the families who care for them.
Candice Cusic has run her West Town pet photography business for several years at 1821 W. Hubbard St. While most of Cusic's customers bring dogs and cats to their sessions, Cusic said she welcomes all sorts of pet. 
Cusic's studio also partners with local animal rescues to photograph adoptable animals for their websites for free, she said.
Cusic's background is in photojournalism, which helps inform her approach to creating intimate and heartwarming pet photos, she said.
"I've always been a vegetarian and animal lover, so moving to capturing moments of dogs was a joy to embrace," Cusic said. "But it's by far the most challenging thing I've ever done in my career, and I've photographed a lot."
Cusic worked for the Tribune for 11 years, covering the 2004 tsunami that devastated India and 2005's Hurricane Katrina. She pivoted to other types of photography after two decades in journalism and teaches photojournalism at Northwestern University.
Before Cusic's business transitioned to primarily photographing pets and their owners, Cusic worked on a portrait series aimed at highlighting ways the community can support small businesses. The series started in 2020 after the onset of the COVID-19 pandemic and returned this fall.
"After leaving the Chicago Tribune, I documented weddings for 10 years, and I opened my first portrait studio," Cusic said. "We had a storefront studio on Chicago Avenue. That's where I photographed families and pets, and then, during COVID, we actually moved and upgraded our studio twice."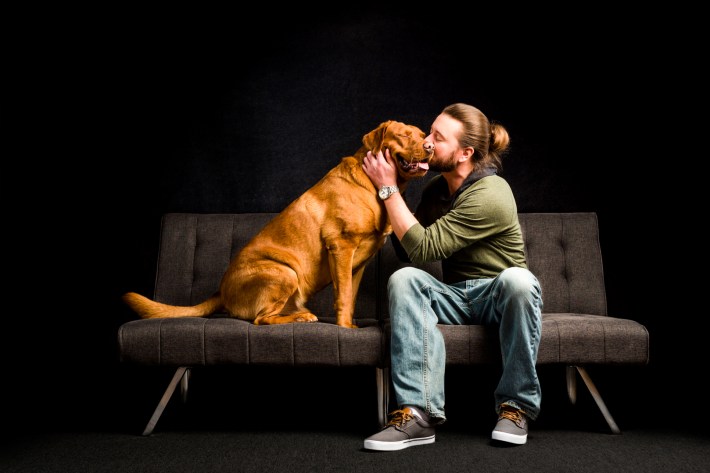 There are challenges when photographing animals that don't often occur with human subjects, Cusic said. Animals can be hard to guide and often don't listen to directions, so it takes lots of patience to get the perfect shot, Cusic said.
Cusic has also developed a protocol to get the most out of the pets she's photographing, she said. It usually starts with a call between Cusic and the pet's family so she can learn more about the animal's temperament and what the family is looking for in photographs, she said. 
Families are given a tour of the Cusic's studio, and pets can let their animal instincts out by playing, running around and getting treats and belly rubs, Cusic said. That helps them be more relaxed and excited when they return for the actual photos, she said.
"I love photographing owners and our animals, just cuddling. 'Show me how you cuddle your dog at home. Let me photograph that for you,'" Cusic siad. "Because these moments are what my clients will put on their walls, and these are moments that will make you smile every day when you walk past it, because this is your fur baby.
"This is a permanent example of your love. What we really specialize in is capturing love and love stories."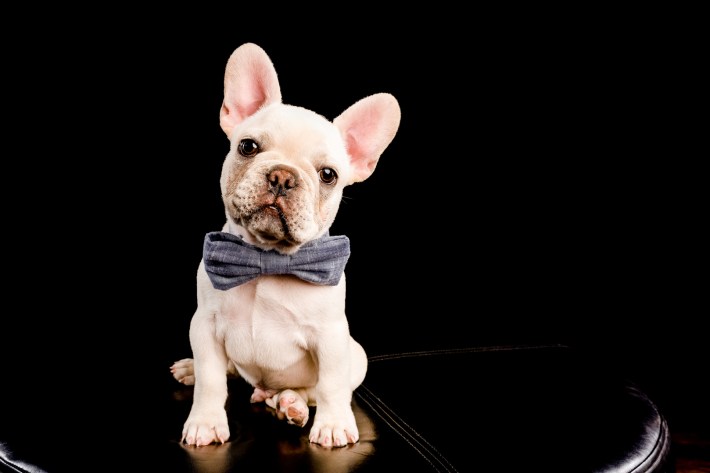 Cusic's interest in photography began when she received a toy camera when she was 4. By 6, she'd begun using her father's old Minolta SLR camera, she said.
Cusic said it's a privilege to take photos that many families will keep for years to come, and there are many pets she's met whose stories have stuck with her, she said. 
This includes a client who recently wanted to be photographed with his neighbor's dog, Cusic said. The man was initially scared of dogs but learned to like them by spending time with his neighbor's dog and sharing responsibilities for its care, she said.
"This guy is taking the dog to the vet, this guy's buying professional art, and it's not even his dog," Cusic said. "These are the love stories that just make me work harder in asking questions about some of our clients and having those phone conversations leading up to our photoshoot. These are the stories that helped me do a better job in capturing these moments of their families."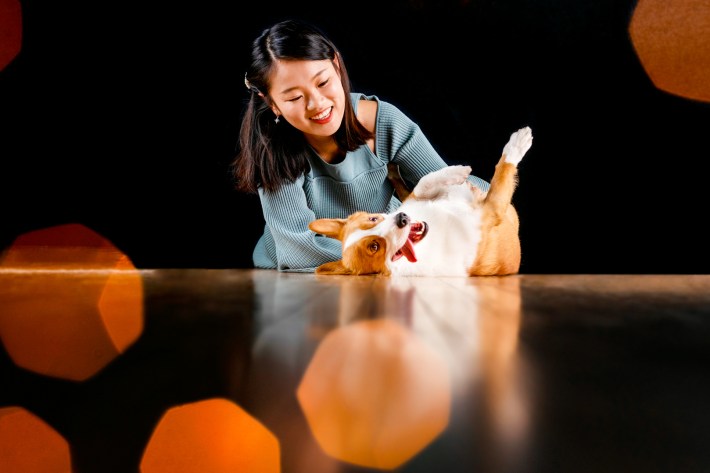 Cusic said potential clients can expect a more relaxed environment if they're looking for photos with their furry friends.
"A lot of people don't understand what portrait studios could be, as opposed to the one where a photographer is like, 'OK, look here. Look here. Smile here," Cusic said. "That photograph of everyone smiling and cheesing for the camera is typically the last photo I take because there's so many incredible moments that are stronger than posed photos."
You can book Cusic for a session through her website.
Listen to "It's All Good: A Block Club Chicago Podcast":