WEST TOWN — A West Town photographer who created a portrait series encouraging people to support local businesses during the pandemic is back at it, showing how those business owners are faring in 2022.
When the COVID-19 pandemic began, West Town photographer Candice Cusic watched as businesses all over the neighborhood — including her own — were forced to close.
Cusic's primary work through her company, Candice C. Cusic Photography, 1821 W. Hubbard St., has been taking what she calls "moment-driven" portraits of people and, increasingly, their pets. Those appointments screeched to a halt during the early months after COVID-19 hit. But Cusic, a former Tribune photojournalist, felt compelled to put her skills — and love for her longtime neighborhood — to use.
In spring 2020, Cusic started reaching out to business owners on Chicago Avenue and all over West Town, asking if she could take their photo for what would become her Save Local portrait series.
Ahead of each photo shoot, Cusic would speak on the phone with the business owner, asking them how they were weathering the early stages of the pandemic.
Cusic posted the images on Instagram and Facebook, and eventually photographed more than 50 small business owners in the larger West Town area. Each one was accompanied by a brief account of their unique challenges, concerns and fears.
"I did this not only for my own sanity, to keep myself busy during this uncertain time, but I also just wanted to keep West Town in the public eye. I wanted the public to see the faces behind all these locked doors. Because if you actually went up and down Chicago Avenue at that time, nobody was open," Cusic said.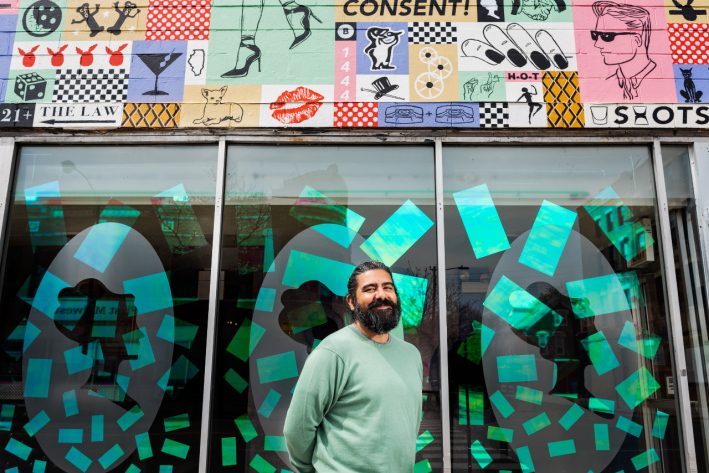 Cusic photographed the owners of all kinds of West Town businesses, including Alcala's Western Wear, Chicago Truborn gallery, Beauty Bar, Odge's Restaurant and many more — all for free, and all by herself.
By necessity, the first wave of photo shoots in 2020 were quick, often only lasting a few minutes and held outside to reduce the risk of spreading the virus.
"I just tried to keep it as streamlined as possible. It was just one camera, one lens, one light," Cusic said. "Masked, gloved and each shoot would take less than five minutes. I would shoot the business owner in front of their business with their signage.
"So that led to a collection of photos that are very bright, very colorful, very punchy, with a lot of reflections in windows."
Now, more than two years later, Cusic's photography business is once again running at full steam, she said. But amid her busy schedule, she's decided to return to the photo series, relaunching it on social media as Save Local Business: Two Years Later.
So far, Cusic's checked back in with about 30 of the people she photographed in 2020 and has done second shoots with them.
Cusic posts each new photo online side-by-side with its 2020 counterpart, including reflections from each business on the highs and lows of the past two years.
"It's a lot of work, but I think I wanted to see the happy ending. I really wanted to reconnect with all these beautiful faces, and now we're all too busy because we're all working. So I wanted to see how people fared and how the community supported them," Cusic said.
This round of photo shoots have been more intensive, with additional lights, color gels, and calculated shot composition, Cusic said. Cusic also can now go inside the businesses to document the owners in action.
"We're definitely taking more than five minutes and really just trying to create something that's dramatic, that also has cohesion across the board," she said.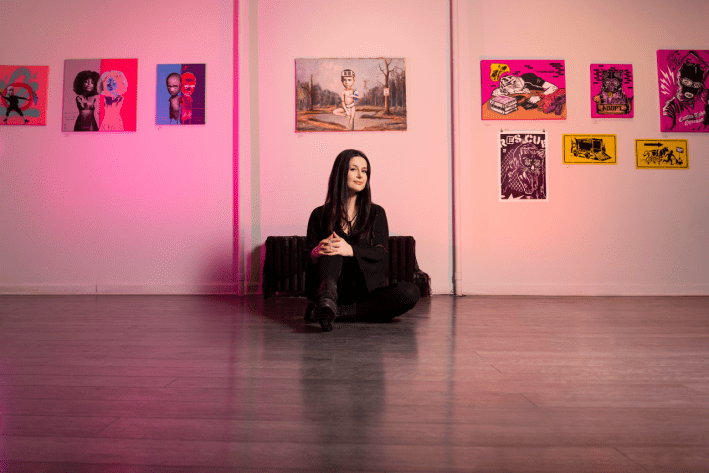 For Richard Alcala, owner of Alcala's Western Wear, 1733 W. Chicago Ave., the series has been a great way to showcase the vitality of West Town's businesses during the pandemic.
"It really makes the community more aware and more united," said Alcala, whose family has operated the western apparel store for 50 years.
During Alcala's two photo shoots, he was impressed by Cusic's photography — and her interviewing skills, he said.
"She made me very comfortable, to be very honest with you. Even her questions, she was asking me questions like we were carrying on a conversation, right?" he said. "It never felt like an interview."
Cusic said she'd love to eventually showcase the series in some kind of physical format, like as an exhibit in her studio or even in a book.
Until then, Cusic said she's been inspired by the gratitude she's received from West Town businesses and fans of the series. And while it's a lot of work to schedule and complete each shoot, Cusic said it's creatively fulfilling — and fun.
"This is way different from shooting in my studio, pets and their owners. This is just a series of environmental portraits in a community that I care deeply about, that I live in and I work in," she said.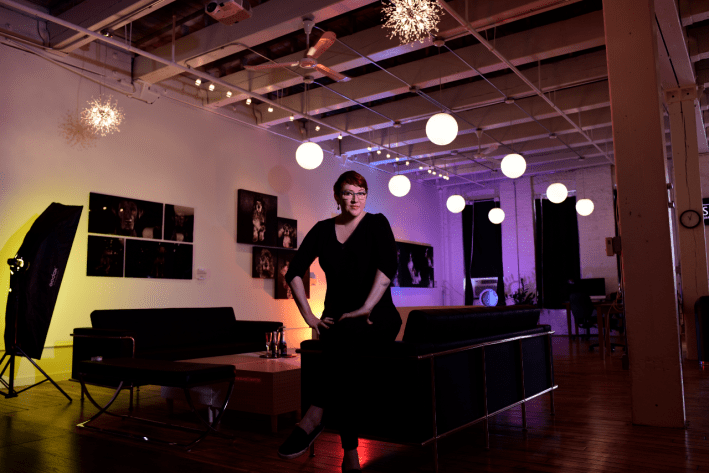 Watch our "On The Block" TV show on The U, CW26 and MeTV.
Listen to "It's All Good: A Block Club Chicago Podcast":