ENGLEWOOD — Community leaders and local officials gathered Tuesday for the ceremonial groundbreaking at a multimillion-dollar project promising to transform a long-vacant landmark into a culinary hub.
Englewood Connect, a $14 million eco-friendly food hub and year-round community "living room," will replace the vacant, 93-year-old Engine Co. 84 firehouse at 6204 S. Green St. The 9,000-square-foot development will serve as a business incubator and culinary center where neighbors, local businesses and entrepreneurs can grow and operate. 
The culinary hub was the winning proposal for the site in Mayor Lori Lightfoot's Invest South/West initiative, created to bring developments to West and South side neighborhoods. McLaurin Development Partners, a real estate development team, is leading the project.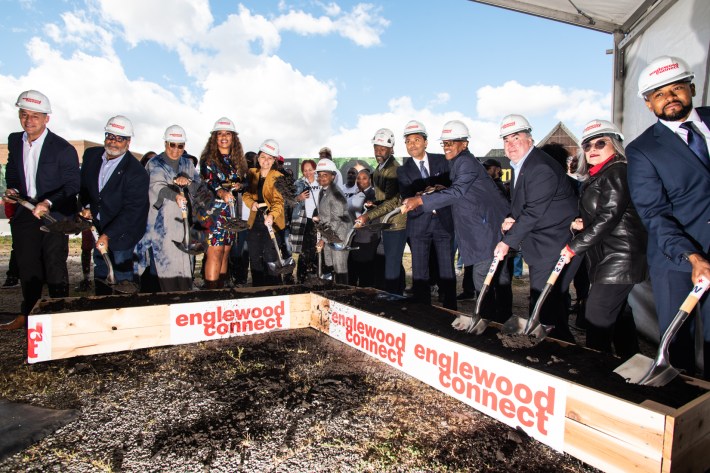 Phase one of Englewood Connect will include restoration of the firehouse and construction of the Living Room, a gathering space. The city provided $6 million in Tax Increment Financing assistance and sold the firehouse and 2 acres of city-owned land for $1 to bring the hub to fruition. 
Englewood Connect was also one of six development projects selected to receive grant funding from the Chicago Community Trust's We Rise Together: For An Equitable and Just Recovery initiative.
The groundbreaking event comes less than a week after a Crain's Chicago Business article questioned why Lightfoot's much-touted Invest South/West program has yet to deliver "tangible results" more than three years into her mayoral term. None of the 11 projects selected from city bids have started construction, putting city leaders behind their predictions for when the first few buildings would come to fruition, Crain's reported.
Lightfoot has said there will be $2 billion in public and private investments into the 10 Invest South/West neighborhoods by the end of 2022, according to Crain's. But that total includes privately funded projects that were likely to move forward with or without city support, such as Auburn Gresham's Healthy Lifestyle Hub, which won the $10 million Chicago Prize, and Northwestern's $100 million Bronzeville outpatient clinic, according to Crain's. The Invest South/West projects spearheaded and chosen by the city lean mostly on public dollars, including TIF funding and low-income housing tax credits.
City officials held a ceremonial groundbreaking in August for Auburn Gresham Apartments, two $43 million affordable apartment buildings funded by the city program. But developers are still obtaining permits and actual construction hasn't started, according to Crain's.
Progress on that project also slowed because of fierce community pushback to the original plans.
The city is "doing the work," Lightfoot said in an interview with Block Club.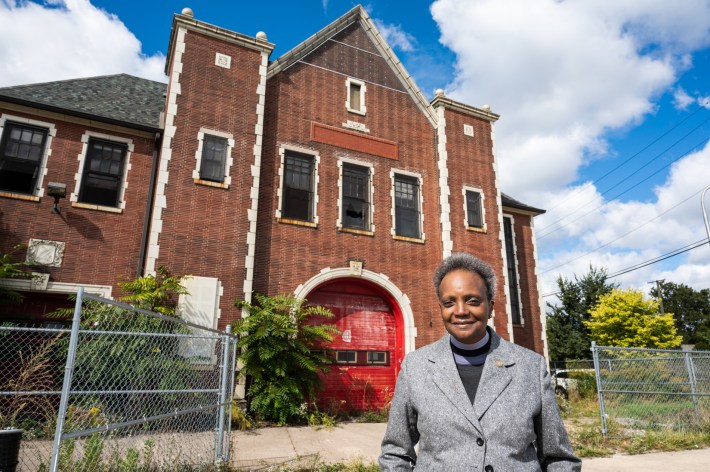 From the announcement in 2019 to hosting community meetings, selecting proposals, and "in a year starting groundbreaking," the city is moving at "record pace," Lightfoot said.
"Vertical construction takes sometimes years once the shovels start in the ground," Lightfoot said. "Anybody that actually knows construction and development knows that this is a very fast pace. In many instances, these would have been years and years in the making, but we know that people need to see progress, and that's precisely what we're doing." 
Zeb McLaurin, McLaurin Development Partners CEO, said neighbors can expect to see construction start on Englewood Connect "within the next several weeks."
"We still have to close on the land with the city, and then start construction immediately then after," McLaurin said. "It's just like when you close on a house. After everyone approves it, you have a period of waiting while everyone is crossing T's and dotting I's." 
Englewood Connect will open by summer, McLaurin said.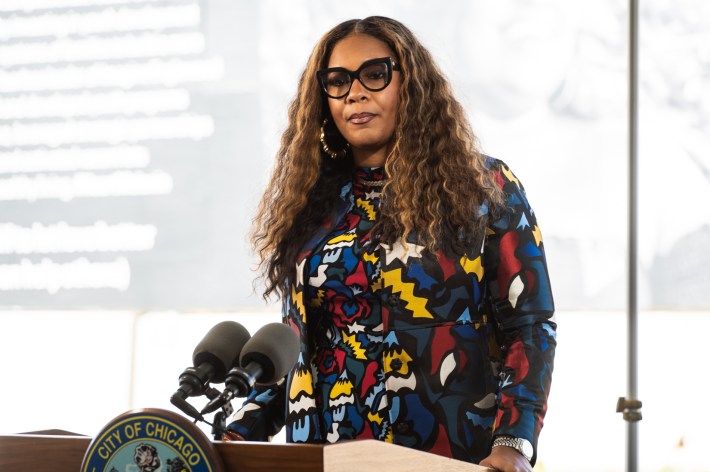 Ald. Stephanie Coleman (16th), whose ward includes the development, said Englewood Connect is a "step in the right direction," but the work for local officials goes beyond the fire station.
Englewood's Whole Foods Market will close in November, leaving neighbors with one less healthy food option in the community. Developers behind Englewood Square, which houses the market, said a new operator could be announced "in the next 30 days or so." The land for Englewood Connect sits behind the grocer. 
"The ultimate win is when we develop all this other vacant land, or we have a quality, affordable grocer behind this fire station," Coleman said. "I'm not as excited today because this is just an ounce of the greater work that we're doing." 
The city is "close" to finalizing a replacement grocer, Lightfoot said. 
"We're not ready at this point to reveal specifics, but trust that we have been working diligently since we got the announcement from Whole Foods," Lightfoot said. "I feel very confident that we'll have two very substantial offerings for this community."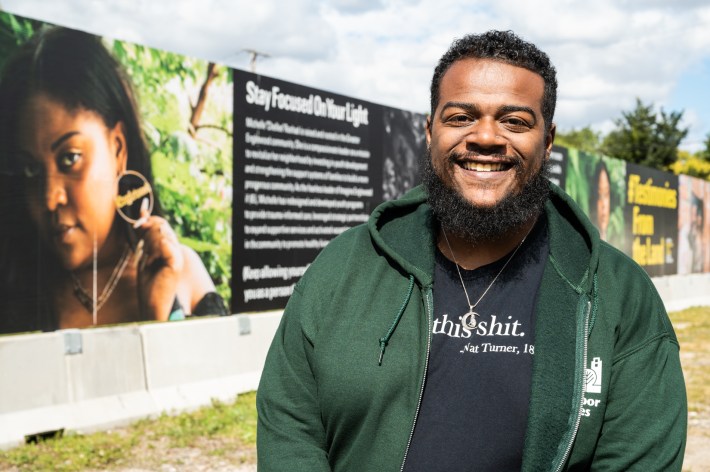 Englewood Connect will transform an "old, broken-down building" into "something pretty magical and an asset for this community," Lightfoot said. 
Surrounding the land that will house Englewood Connect is artwork created by Englewood native Isiah "ThoughtPoet" Veney. 
Enlarged photos of South Side leaders such as Inequity for Sale's Tonika Johnson and Imagine Englewood If's Michelle Rashad adorn the fences. 
The art was inspired by the Black and Brown women leading the charge to revitalize and restore Englewood, Veney said. They are the voices "connecting" Englewood, Veney said. 
"When people think about the things that are changing in Englewood, it's not just happening by magic," Veney said. "These individuals are the ones that have been pushing a different narrative. This is something that truly came from the dirt."
Listen to "It's All Good: A Block Club Chicago Podcast":