ENGLEWOOD — A Save A Lot grocery store will replace the shuttered Whole Foods in Englewood, outraging neighbors who pleaded with local leaders not to bring the low-cost grocer to the storefront.
A banner for a Save A Lot store has been posted on the former Whole Foods building, 832 W. 63rd St.
Yellow Banana, a Black-owned business that owns and operates stores under the Save A Lot name, signed a lease for the vacant building in December.
At the time, co-owner Michael Nance wouldn't confirm which grocer his company would tap to put "the food on the shelves" at the store. But Nance and developer Leon Walker, whose company DL3 Realty oversees the Englewood Square complex, confirmed the store will be a Save A Lot during a Thursday meeting with South Side community leaders. 
Yellow Banana hasn't set a date for when they'll open the Save A Lot store but hope to open "as soon as possible," said Joe Canfield, chief executive officer at Yellow Banana. 
Other nearby grocery stores include a newly remodeled Aldi at 63rd and Wallace and the Go Green Community Fresh Market, a community-led store launched by the Go Green on Racine team in March to bring fresh, local food to Englewood.
'We Don't Know Anything Until It's Happening'
Whole Foods closed their much-touted store in November.
Locals have long opposed having a Save A Lot store open in Englewood as community leaders, neighbors and elected officials have discussed which new grocer should take over the massive space.
Nonprofit Teamwork Englewood surveyed 300 neighbors to find out what went wrong at the South Side store and what neighbors wanted to replace the storefront. A majority said they would like an Aldi, Walmart or Mariano's to set up shop.
They were clear that Save A Lot, a store that has historically let down its communities with less-than-healthy options and unclean stores, should not be an option. 
Asiaha Butler, director of the Residents Association of Greater Englewood, told WBEZ's Sasha-Ann Simons in November many neighbors are "apprehensive" of the Save A Lot brand. Butler said other Save A Lot stores in the South and West sides have been rundown and unsanitary, and offered poor quality of products
"Everybody knows brands," Butler said. "I would hope it's nothing like the Save A Lots that have been in our Black communities over these last few decades. You don't hear about these stores in Lincoln Park, you don't hear about these stores being locate din other well-to-do places, so it's just interesting that this is the model for a lot of Black and Brown communities but not necessarily the model with some of our most affluent neighborhoods."
Englewood United, a newly established community organization, held a protest at 63rd and Halsted to oppose the Save A Lot and demand transparency from city officials, Butler said Thursday.
After the closing date was announced, developers pledged they would soon have answers for neighbors about what was next for the space, saying they had three good options for a replacement. But weeks ticked by with little clarity on the situation.
Without many answers, neighbors and community officials held a town hall in October to hear updates from the development team and demand the next grocer provide affordable, healthy options while remaining accountable to the community. 
Ryan Green, chief investment officer at DL3 Realty, said at the time Whole Foods Market was "leading the discussion" on who would replace the store. DL3 Realty is the landlord of the building, but Whole Foods Market is a tenant with the state for the next seven years. Whole Foods has the "right to fill the space with a subtenant" of its choice, Green said. 
At Thursday's meeting, community leaders pressed Nance and Walker about how the deal came to fruition and why neighbors weren't kept informed about the process.
Whole Foods was "in and out of the conversation" with Yellow Banana, Nance said. A deal wasn't signed until December, Nance said. 
"Outreach about this site was directly from Whole Foods," Nance said. "It wasn't the city calling us…"
But there's still a lack of transparency from the company, developers and city officials, Butler said.
"I'm not telling my members of RAGE to accept Save A Lot or lie and change the name like it's not Save A Lot," Butler said. 
Nance is "actively looking for a point person to help us with community engagement" to work as a liaison between the company and neighbors, Nance said.
"It seems like in our neighborhood, we don't know anything until it's happening," said Rose Joshua, president of the Chicago Southside NAACP. "It appears to me that this is a done deal, and you're trying to work it out. But my question … is how did we get brought here?"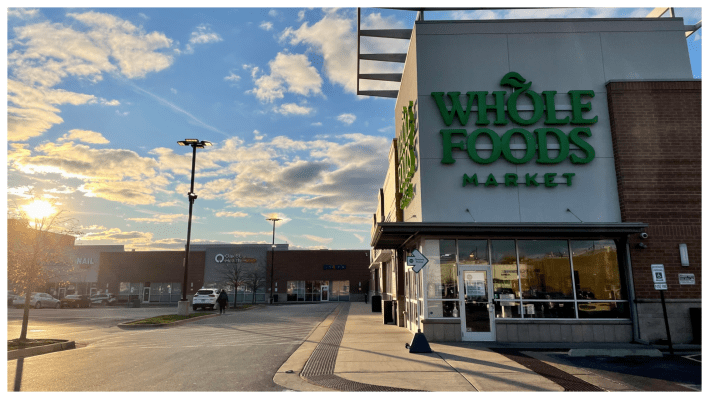 Whole Foods swept into the brand-new in 2016 as the brainchild of former Mayor Rahm Emanuel.
At the time, shoppers, retailers and elected officials were thrilled the high-end store was committed to opening in a lower-income community, providing affordable options and partnering with local makers to put their products on the shelves.
When the doors closed, locals had long derided the store for being too expensive. Groceries at the Englewood market were cheaper when the store opened in 2016, but even then some neighbors said the prices were still too steep. Months of inflation also have driven up the cost of groceries, affecting neighbors across the city. 
Neighborhood leaders also said the selection of food items and brands didn't match the needs of area shoppers.
Yellow Banana has continued to expand its footprint throughout the city over the past year, with multiple pending plans to revive closed South and West side grocery stores.
The City Council allocated about $13.5 million in tax-increment financing to Yellow Banana in November, boosting the company's efforts to lease and rehabilitate six Save A Lot stores across the city, including an Auburn Gresham location that closed in 2020 and a West Garfield Park location that temporarily closed in February because of a rat infestation. 
Yellow Banana will not use its allotted TIF funding to pay for the Englewood store, Canfield said. 
This is a developing story. Check back for more details.
Watch our "On The Block" TV show on The U, CW26 and MeTV.
Listen to "It's All Good: A Block Club Chicago Podcast":