ENGLEWOOD — Dozens of neighbors and elected officials demonstrated outside the planned Englewood Save A Lot on Wednesday, vowing not to leave until operators called off their plans to open the store residents have repeatedly said they did not want.
Alds. Stephanie Coleman (16th), Raymond Lopez (15th) and Jeanette Taylor (20th), joined frustrated neighbors outside the store, 832 W. 63rd St., which is slated to replace the Whole Foods Market that closed last year.
Yellow Banana, which owns and operates stores under the Save A Lot name, signed a lease for the vacant building in December. Once it became clear the store would be a Save A Lot, Englewood neighbors blasted officials for ignoring the community's opposition and finalizing a deal behind closed doors. 
Yellow Banana spokesperson Wynona Redmond told Block Club in March the newly renovated Save Lot would open "as soon as possible," but did not confirm an opening date.
A small group of Englewood residents were invited to "preview" the store ahead of a soft opening slated for 8 a.m. Thursday — announcements that again blindsided some residents, they said.
Neighbors were notified about the preview Tuesday, said Asiaha Butler, founder of the Resident Association of Greater Englewood. Coleman, whose ward includes the discount grocer, found out about the private celebration through a text message, she told Block Club. 
Despite demands to meet with Yellow Banana's CEO, share community input and review vendors before the store's opening, residents were "undermined again," Butler said. 
"Enough is enough. We have tried, we have talked, we have had conversations about how to respect this community. And enough is enough," Butler said. "They will not have a reception today without hearing from the voices of our people. … We want to have a real conversation with our community. This is our community."
The store is planning a grand opening celebration in May, Redmond told Block Club on Wednesday.
"This is no way to enter a community," Coleman told Block Club. "In order to build trust and get to know us, you have to show us that you will be good stewards or good neighbors."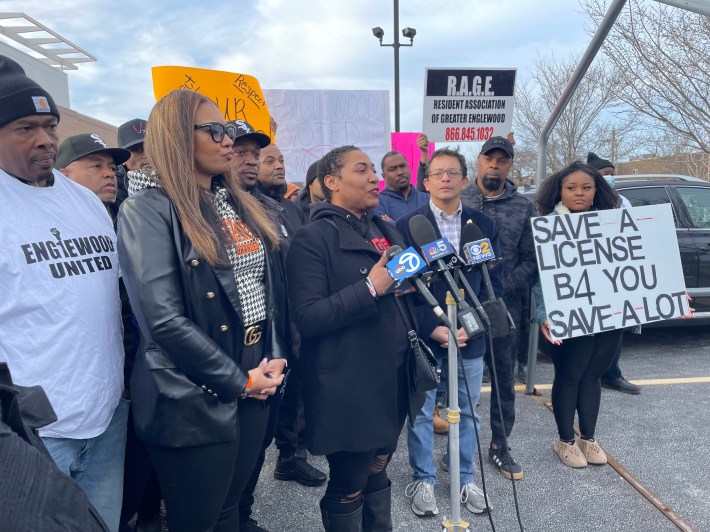 Coleman and dozens of residents refused to enter the Englewood Save A Lot, instead demanding owners exit the store to speak to neighbors. A large huddle formed as Yellow Banana CEO Joe Canfield and co-owner Michael Nance joined the crowd to speak with Coleman. 
Shortly after, Canfield said the company would postpone Thursday's soft opening to be a "good corporate citizen." A new date for the soft opening will be decided later, and representatives from Yellow Banana will meet with Coleman and community stakeholders, Canfield said. The food brought into the store will be donated to a local shelter, he said.
"We heard what people told us and we're reacting to that," Canfield said. "I think you can count on that from Yellow Banana. We're not always going to be perfect, but when we make mistakes, we're going to own those mistakes. We're going to listen to our customers, and we're going to try to be better and try to incorporate that feedback moving forward."
Yellow Banana has been invited to public community meetings since October, "but have yet to work with us," Coleman said. Neighbors prepared a list of vendors they hoped the company would consider, but officials at the company chose grocers without community consent, Coleman said.
The store also notably doesn't have a sign, Coleman said. Two Save A Lot banners have been placed on the storefront. 
"Is this the tone that we're setting?" Coleman told Block Club. "We deserve the best."
Coleman is demanding Yellow Banana "slow the process and get to know us before pushing this on us," she said.
"If you don't work with us, how can you support us?" Coleman said. 
Lopez, who has repeatedly spoken out against closed grocery stores in the South and West sides, joined organizers in demanding that city officials break any lease agreement to allow Save A Lot to move in.
"They promised us a yellow banana, but it's really a rotten banana," Lopez said. "This is not what the neighborhood deserves. We want better, we expect better, we're calling on the mayor and the mayor-elect to do better."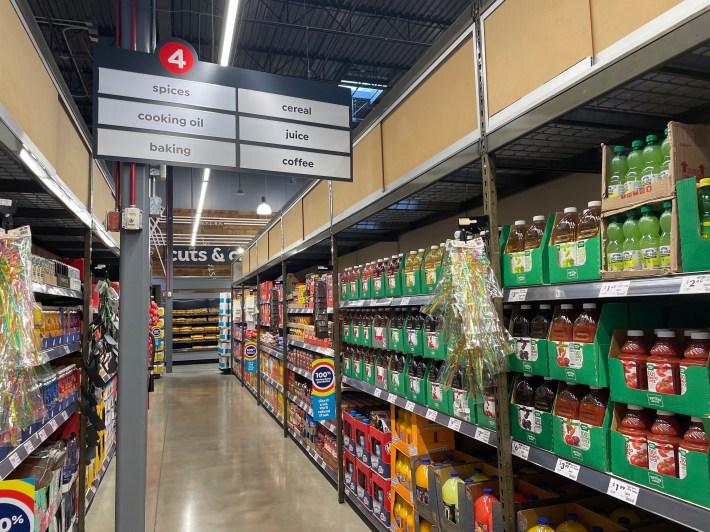 Owners hurried to stock the shelves and get the store up and running ahead of the Easter holiday, Redmond said. 
Officials at Yellow Banana also sped up the opening process to dispel neighbors' concerns about Save A Lot, Canfield said. 
"We know that it's a very different experience to what [neighbors] are used to and from what they typically think about Save A Lot," Canfield said. "The faster we can get open and show that experience to people, the better off we would be."
Grocery bills have skyrocketed, and pandemic-related boosts to SNAP benefits ended in March, Canfield said. Save A Lot "typically offers products at a much lower cost," Canfield said. 
"People are really hurting trying to put food on the table," Canfield said. "We have really good products at really affordable prices, and for us to be able to get open and help people put food on their family's tables was important to us. With that said, it's not more important to us than having a good relationship with the community." 
Elisa Sledzinska, a spokesperson for the city's department of Business Affairs and Consumer Protection, previously told Block Club in late March the store operators were in the process of applying for a business license.
She confirmed Wednesday Save A Lot has an active business license for the store.
Canfield told Block Club the company applied for the license Jan. 9 and had two health inspections with the city, the most recent being last week.
As part of the city's debt check in approving a business license, officials found other issues from other stores where they had administrative hearings, Canfield said. The company paid the $12,000 in debts and secured the license Wednesday, he said.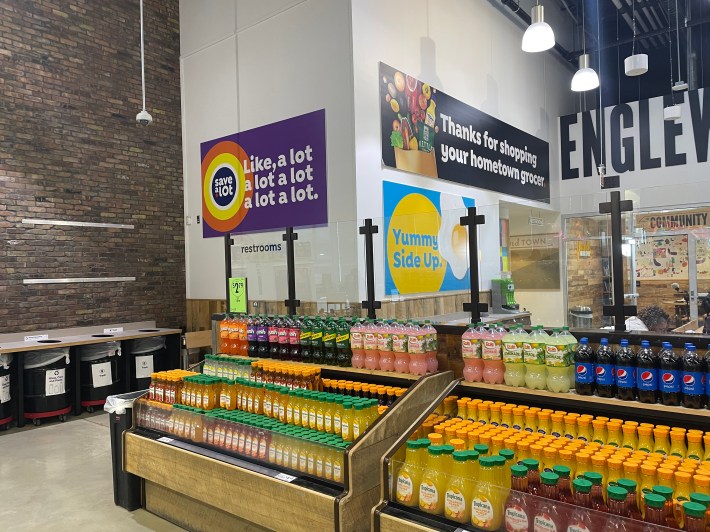 In the months before Yellow Banana took over the space, neighbors hosted community meetings demanding the next grocer to replace Whole Foods Market be affordable, provide healthy options and remain accountable to the community.
Nonprofit Teamwork Englewood found a majority of neighbors in a survey wanted an  Aldi, Walmart or Mariano's in the vacant space. 
Residents were clear that Save A Lot — known for its poor quality food and unkempt stores on the South and West Sides — shouldn't be an option. 
"We want fresh food, we want quality options," Butler said Wednesday. "Save A Lot has never had fresh, quality products. We also want to have control over who's getting hired. If you're using our tax dollars, we want to help with the hiring process."
Developers and city officials previously said that Whole Foods Market still had the right to find a replacement tenant. Despite efforts to market the store to other grocers, there were no other takers and Whole Foods settled with Yellow Banana, officials said.
The news came as a blow. 
"We are here, but we're here with mistrust," Jonathan McKenzie, senior pastor at Hopewell Missionary Baptist Church, said at the January meeting. "We're here with a lack of faith in what you're trying to do because you ignored the community and that hurts. When we conduct a survey, we share with you that information, we're transparent, but you're not transparent. You want us to trust you when you have ignored us."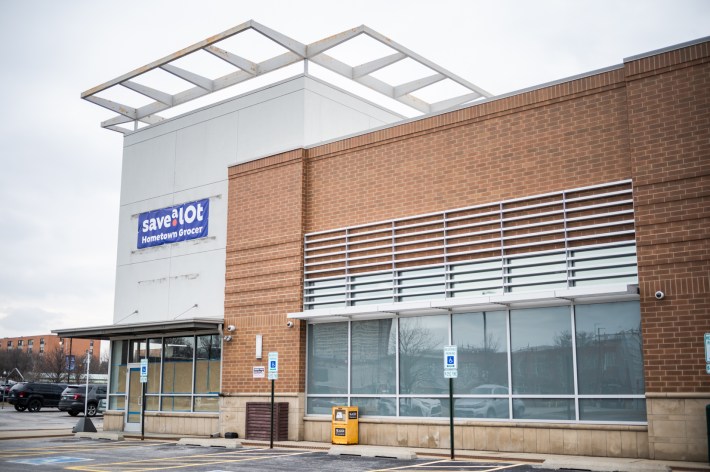 Documents first obtained by WTTW show the options to replace Whole Foods were limited from the start.
The lease stipulates if Whole Foods ever left the Englewood building, "right of first refusal" to replace the store would go to Saver's Fresh Market. That is a now-defunct company run by Leon Walker, managing partner of DL3 Realty, the store's landlord.
Saver's Fresh Market received a license to operate the Roseland Save A Lot store from 2012 to 2016, WTTW found. In the following years, a Save A Lot parent company received the store's license. 
When news broke Save A Lot would soon replace the vacant Whole Foods Market, Cecile DeMello, executive director at Teamwork Englewood, shared a list of demands for Yellow Banana if store leaders wanted support from neighbors.
The company must sign a community benefits agreement pledging to hire directly from the community, create an advisory support group and share updates on the store's performance, neighbors said. Organizers also wanted the company to change the name of the store.
Yellow Banana is committed to making things right with the community, Canfield said. 
Whole Foods Market left behind equipment at the bakery, beverage bar and hot food areas, Canfield said. "It made sense to me to offer an opportunity to somebody else to be an entrepreneur," Canfield said. 
I Love My Coffee Black, a Black-woman-owned business set up shop at the Save A Lot, Canfield said. Kim Stratton's Kitchen prepared hot food to serve, and Chef Cliff Rome of Peach's Restaurant partnered with the company, Canfield said. 
Business owners won't have to pay rent or money to use the equipment, Canfield said. 
"We just want their products and their services here for people to get in our store," Canfield said. "I would win if people buy groceries in my store when they're in doing those things." 
But the name of the store isn't likely to change, Canfield said. 
"We have a license agreement at this location whereby we have to operate it as a Save A Lot," Canfield said. "So we don't have any flexibility to change the brand. We have all sorts of flexibility to do things in the store."
Listen to "It's All Good: A Block Club Chicago Podcast":