LOOP — Gov. JB Pritzker issued a state of disaster Wednesday for Illinois so he can free up resources to help with the migrant crisis as Texas continues to send busloads of refugees to Chicago.
Texas Gov. Greg Abbott has sent hundreds of migrants from Texas to Chicago as part of what he's called a protest of federal immigration policies. But local leaders have said Abbott's administration refuses to talk to them about when migrants will arrive or what their needs are, making it difficult to prepare for them.
The emergency disaster proclamation will allow state and local agencies to more quickly provide transportation, emergency shelter and housing, food, health screenings, medical assessments and other services to help the asylum seekers, the governor said.
The state also activated about 75 Illinois National Guardsmen to help. They are "logistics professionals" who will be able to relieve government employees who have been working around the clock, Pritzker said.
"The state of Illinois is doing everything in its power to support local jurisdictions to help ensure that the right tools and supports are in place as we move forward with this humanitarian response," Pritzker said. "Let me be clear: While other states may be treating these vulnerable families as pawns, here in Illinois we are treating them as people."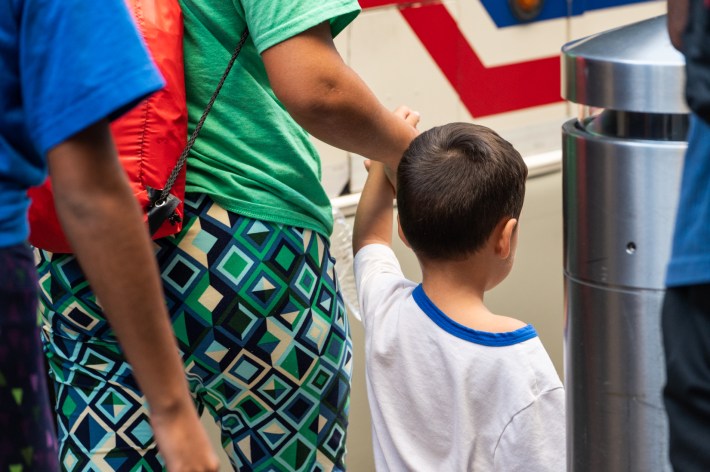 Pritzker and other prominent local officials have repeatedly slammed Abbott's move to bus migrants to Democrat-led cities such as Chicago, New York City and Washington, D.C., saying he's "sowing chaos" and treating the refugees inhumanely.
Mayor Lori Lightfoot has also said Chicago will need help from county, state and federal leaders to adequately respond to the needs of the migrants.
About 500 migrants from Central and South America have arrived via bus to Chicago's Union Station since the end of August, officials said at a news conference Wednesday. The latest bus arrived Tuesday night.
Pritzker and Lightfoot have said Abbott's administration has been "non-responsive" to attempts at coordination, and the limited information officials in Chicago receive is through community organizers on the ground.
"The governor of Texas is forcing on New York and D.C. and Chicago and potentially other places a needlessly last-minute and complex process," Pritzker said. "It is a heartless display of politics over people. … This is about politics for him without regard to the fear and anguish, and the challenges that it poses for these refugees."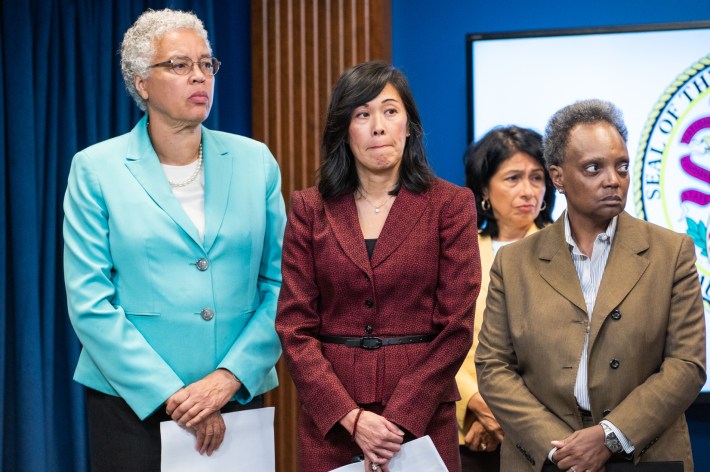 Leaders said they've sometimes been given only hours to find suitable housing for migrants. Recently, groups of migrants have been temporarily housed at hotels in neighboring suburbs, which some of their mayors have criticized, saying city and state leaders are not giving them advanced notice.
But those steps have been necessary because the city is getting such late notice about the arrival of migrants and it's difficult to find shelter with such a large amount of rooms available, leaders said.
Pritzker and Lightfoot said they've had recent talks with the mayors of Burr Ridge and Elk Grove — two suburbs where refugees are staying in hotels — and have established lines of communications.
Lightfoot said every level of government is working together to act quickly and humanely to ensure the migrants arriving have the care they need, but it's getting increasingly difficult as the lack of communication from Abbott's administration continues and resources in the city are being strained due to this "manufactured crisis."
"This is, again, an orchestrated plan to create create chaos in Democratic-controlled cities, make no mistake about it," Lightfoot said. "It's unacceptable. It shouldn't be like this. But it speaks volumes about who Governor Abbott is."
RELATED
Texas Governor Is 'Sowing Chaos' By Sending Migrants To Chicago Without Helping Local Officials, Pritzker Says
Fourth Group Of Migrants Arrive In Chicago As Texas Gov. Greg Abbott's Stunt Continues
Migrants From Texas Need Clothes, Gift Cards And Cellphones. Here's How To Donate
More Migrants From Texas Come To Chicago After Long Journeys: 'Thank You For Welcoming Us'
Here's How You Can Help Migrants Arriving In Chicago From Texas
More Migrants Expected To Be Bused To Chicago — And City Will Need Aid To Help Them, Lightfoot Says
As 60 Migrants Kicked Out Of Texas By Governor Arrive In Chicago, Leaders Vow To Help Them
Watch our "On The Block" TV show on The U, CW26 and MeTV.
Listen to "It's All Good: A Block Club Chicago Podcast":