DOWNTOWN — Three buses of people from Central and South America arrived at Union Station Wednesday afternoon — the third round of migrants who have been brought to Chicago from Texas.
The first bus pulled into Downtown around 2 p.m. Wednesday. It's unclear exactly how many people arrived throughout the afternoon or where they are from. A city official on the scene said an exact number would be given Thursday morning.
Children waved from inside one bus as it pulled up to disembark and a woman made the sign of a cross as she stepped onto the sidewalk. Folks were guided onto CTA buses to be a taken to a Salvation Army location for initial intake, officials on the scene said.
Juliana Isaza waited outside the bus to greet two family members who traveled from Colombia. The three had a tearful embrace before heading home.
"I'm happy, just really happy," Isaza said.
One family opted against going to Salvation Army and waited at a bus station for a friend in the city to pick them up.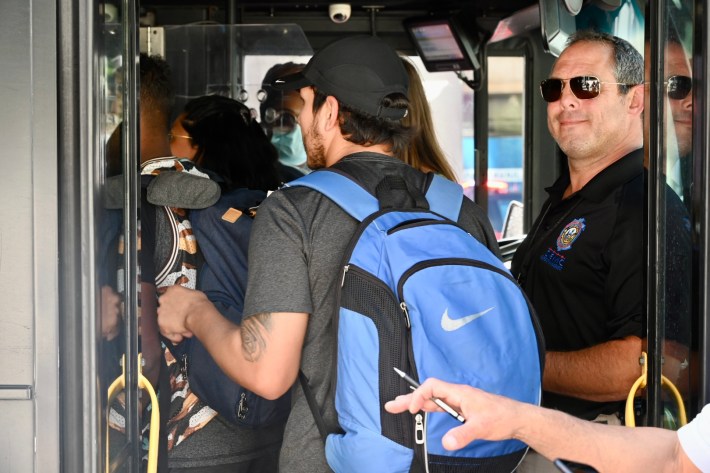 Husband and wife Keibel and Eglianny said they've been traveling for over two months from Venezuela to get here with their baby Angel.
Eglianny said the family was doing well, but just "tired, wanting to take a bath." She said their ultimate destination is New York, where they have friends, and they hope to receive political asylum.
"It's good that the bus here was free," she said, saying their journey isn't over.
This is the latest arrival of migrants to the city as part of Texas Gov. Greg Abbott's plan to send undocumented immigrants to Democrat-led cities to protest federal border policies. Abbott, a Republican, has previously clashed with Mayor Lori Lightfoot and Gov. JB Pritzker. Lightfoot, while promising support for the migrants, has called Abbot's policies racist and inhumane.
The first group of 60 people arrived last week, while a second group arrived Sunday.
The city and local groups have organized to help migrants connect with temporary housing, resources and family in Chicago. They're working with other refugees so they can travel to other cities if needed, city officials previously said.
Normar, 51, left his home in Nicaragua five weeks ago with son Axel. The pair were on Wednesday's last bus, which included mostly young and older men.
The father described treacherous conditions he endured on foot for four to five days without stopping.
"The journey was ugly, rocky. … I can't even begin to describe how it was." he said in Spanish. "In Honduras they stole all the money I brought. … We haven't received any medical care [since we got to the United States], but we were at least able to rest."
The heat, lack of water and extreme hunger coupled with no money for a motel made the journey even harder, he said.
Normar and his son waved at fellow travelers who continued on the bus to the Salvation Army's Freedom Center in Humboldt Park. The pair then waited for family to come and greet them, as they hope to head out of state.
He didn't quite know what his next step would be from there.
'If I can find a job, I will stay there," Normar said. "Thank you for welcoming us."
Freelance reporter Noah Asimow contributed.
Subscribe to Block Club Chicago, an independent, 501(c)(3), journalist-run newsroom. Every dime we make funds reporting from Chicago's neighborhoods.