IRVING PARK — A popular ice cream and fries spot that has served the neighborhood for decades has closed its doors.
Sisters Susan Ninos and Stacy Berry put Susie's Drive-Thru, 4126 W. Montrose Ave., on the market in February and are talking with a potential buyer. The diner has been around since the '70s.
Neighbors spotted signs on the business over the weekend saying it was "closed for a couple of weeks for maintenance and repairs." But the sisters' plan is to keep the business permanently closed.
The two are selling the building and the lot it's on, but they are not selling the business name. Even if the deal does go through, Ninos has no plans to reopen elsewhere, she said. 
"Restaurants are a wonderful thing. But I'm done," Ninos said.
If the sale of the property falls through, the sisters could reopen Susie's "no later than the first weekend of October," Ninos said.
Regardless of whether the sale goes through, the building needs repairs. Business slows down when the school year starts, so Ninos decided to shut down for a few weeks, she said. 
"I'm waiting on a few contractors, but since I did get an offer, it all just depends," Ninos said. 
The sisters took over the business from their parents decades ago and have worked there since they were teenagers. Ninos was surprised to see people speculating online about why the restaurant had closed this weekend, including rumors she and her sister had died, she said.
"My sister Stacy and I are alive and well. We did have a death in the family in July and we did close unexpectedly for a bit then," Ninos said.
Ninos' parents opened the drive-thru in 1973 but renamed it Susie's after her a year later. Until about 1975, the family also had another diner at Belmont and Kostner called Stacy's, also named after one of their daughters. 
For nearly 50 years, Susie's has been a neighborhood spot for hot dogs, shakes and other fast food items. Around 2015, the owners reduced the late-night hours because it was hard to find people to work the night shift, Ninos said.
"I can't work night shift. I'm a married woman with a child. So that was the hard part," Ninos said.
Susie's closed for a large part of 2020 due to the pandemic. When it reopened, the business reduced its hours to Friday-Sunday, Ninos said.
The latest challenge to continuing the business has been rising inflation, Ninos said. In 2019, a 50-pound box of Idaho potatoes cost about $10, but now that same box costs $60, she said.  
"We're just barely recovering from COVID. But inflation, that's gonna hit for a few more years, at least," Ninos said. "But I think eventually the mom-and-pops will come back, slowly but surely, with a different generation running them.
"Susie's was run by Boomers and then Gen X. The next generation … you never know what they'll do."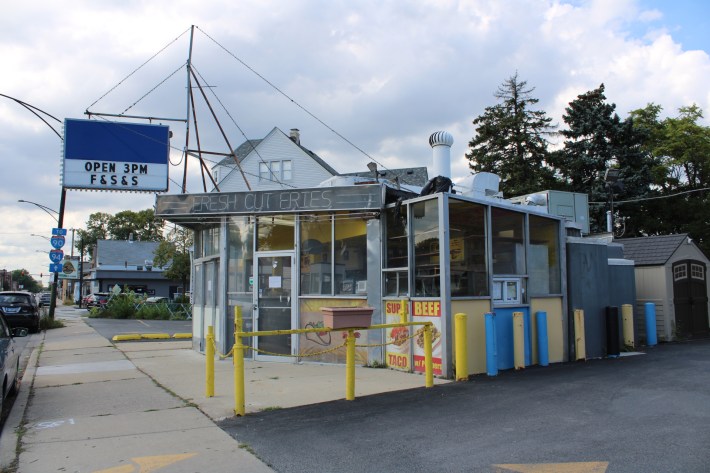 Listen to "It's All Good: A Block Club Chicago Podcast":