WEST LOOP — Commuters fed up with slow and unreliable transit service protested outside CTA headquarters Wednesday morning, calling on the agency to be more transparent as it struggles with delays and service gaps.
About 50 people chanted "No More Ghosts," referencing buses and trains that appear on scheduling apps but never arrive, making them late for work.
For months, Chicagoans have complained about crime, delayed service, long waits between CTA buses and trains, and other issues when taking public transportation. The agency has responded by bringing in security guards and dogs and promising to recruit more workers so service is more reliable.
RELATED: CTA Trains Seeing More Delays During Weekends — And More Staff Desperately Needed To Make It Better, Employees Say
CTA trains are only making 60-70 percent of the arrivals they promise to make to each day, according to publicly available data analyzed by Commuters Take Action, a resident-led group that's been critical of the agency's issues.
The problems have even become part of political campaigns as officials prepare for February's election. Mayoral candidate Kam Buckner, a state representative, tweeted about being ghosted by a bus Saturday and attended Wednesday's protest.
Commuter Cedar Larson said she recently waited more than 30 minutes for the train, leading her to call an Uber and leave the platform even though she had paid her fare. Protestors applauded when Larson asked if they had similar snafus. 
"We're spending at least an extra hour getting to work every day," Larson said. "We already have the city with one of the busiest transit systems in the country. They have no excuse for letting folks linger at the train stops." 
The CTA also has a "consistency problem" and is not adjusting schedules to present realities, leading to "trains that run in bunches and then extended gaps in service," said Brandon McFadden, a cybersecurity analyst and coder who has been tracking the data since June. Train workers told Block Club they are dealing with a significant staffing shortage, which is leading to lengthy gaps in arrivals.
Commuters Take Action wants the CTA to be more transparent about hiring problems, provide clearer information on service arrivals, create more adaptable schedules and set timelines for improvement, member Olivia Gahan said.
Last month, CTA leaders unveiled a Meeting the Moment plan to fill workforce holes and offer more reliable service as the system and its ridership rebounds from the pandemic. 
Gahan said the plan shows "great instincts," but it has "no clear metrics for success." 
"They need goals that commuters can measure," Gahan said. "I think the turnout today speaks to the general frustration commuters are experiencing, and that they don't have places where they can turn to voice their frustrations."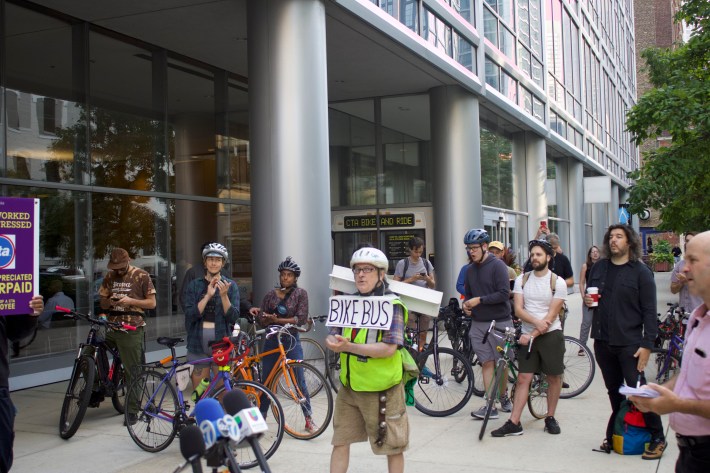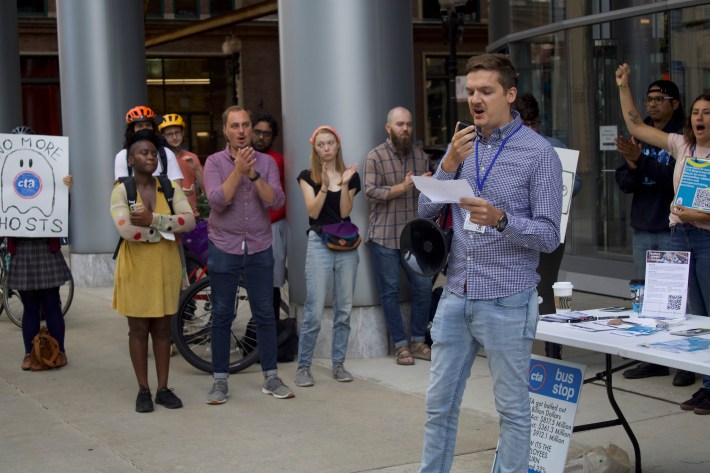 Jose Manuel Almanza Jr., a transit organizer and member of Chicago Jobs with Justice, questioned the CTA's significant investments in private security on trains while service continues to be a problem. 
"Safety does not look like having more police in buses or trains. Safety does not look like having private security and attack dogs in our buses or trains," Alamanza said. "Safety looks like knowing exactly when the bus is going to arrive." 
CTA representatives stopped by at the end to talk with the organizers, promising a sit-down meeting with Commuters Take Action to go over their data and concerns, said member Micah Fiedler. 
The CTA announced a plan Wednesday morning to "optimize rail service schedules," said spokesperson Maddie Kilgannon. The agency plans to collect feedback from riders at train stops and release a scorecard for progress as part of its new plan, Kilgannon said.
"CTA welcomes every opportunity to receive feedback from riders and share what we're doing to enhance our system and service," Kilgannon said. "We recognize this is just a start, and that there is a lot more work to do."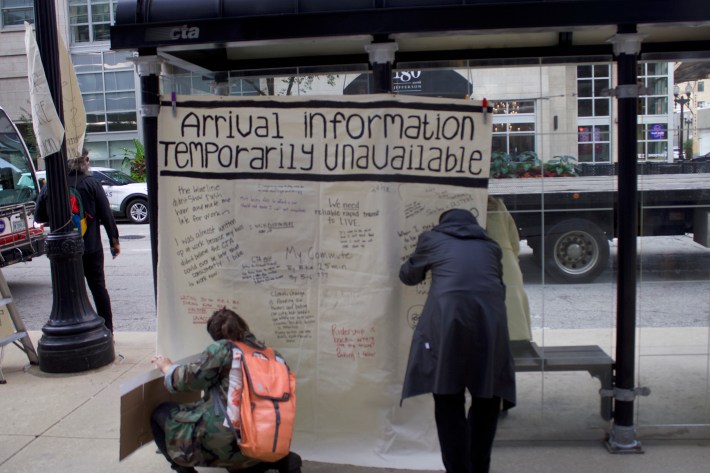 Listen to "It's All Good: A Block Club Chicago Podcast":