CHICAGO — A fourth wave of buses arrived at Union Station Friday afternoon, carrying dozens of people from Central and South America who were sent to Chicago by the governor of Texas.
The two charter buses with men, women and children arrived shortly after 4 p.m., and the folks inside were quickly escorted onto CTA buses by organizers to take them to a temporary shelter.
The drive from Texas from to Chicago — about 26 hours — was "good, but slow," some said.
While a majority of the individuals agreed to go to temporary shelter in the city — organized by officials and organizers — a handful of people declined to go on the bus, saying they were waiting for friends to pick them up.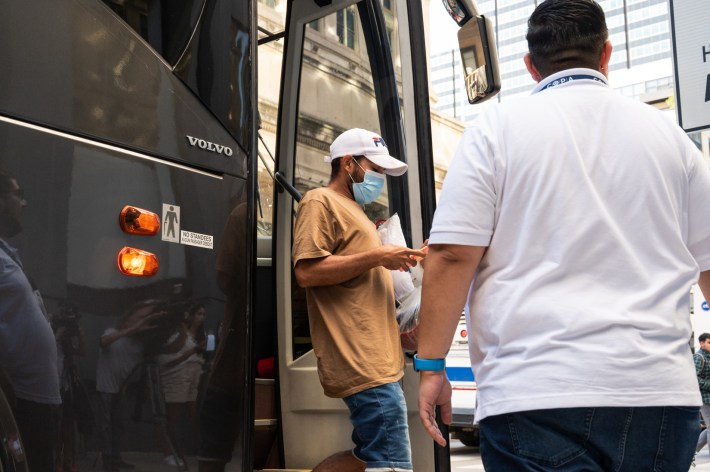 One man who arrived Friday said his final destination is Wisconsin, where he hopes to connect with relatives who live there.
The man said he left his home country of Nicaragua because "the economy is bad, there is not a lot of work."
"To survive, I had to do something," he said.
He said he traveled the "dangerous" route from Nicaragua to the U.S. alone, but met companions to travel with along the way.
Rafael, Denis and Israel, who have traveled for about two weeks from Nicaragua, said they decided to wait outside the train station to be greeted by people they know in the suburbs.
The three traveled the treacherous journey north together, meeting each other on the way. The men said they have "more confidence" traveling in a group.
Rafael said he left the country to help his family, and hopes to get a job and establish a life here.
"With some luck," he said, adding he'd be relatively open to any work that's available.
This is the latest group of migrants bussed to the city as part of Texas Gov. Greg Abbott's plan to send undocumented immigrants to Democrat-led cities in protest of federal border policies. Abbott, a Republican, has previously clashed with Mayor Lori Lightfoot and Gov. JB Pritzker. Lightfoot, while promising support for the migrants, has called Abbott's policies racist and inhumane.
The first group of 60 people arrived last week, a second group arrived Sunday and another 147 people came in Wednesday. In all, approximately 300 people have arrived so Chicago so far, according to city officials.
The city and local groups have organized to help migrants connect with temporary housing, resources and family in Chicago. They're working with other refugees so they can travel to other cities if needed, city officials previously said.
MORE: Migrants From Texas Need Clothes, Gift Cards And Cellphones. Here's How To Donate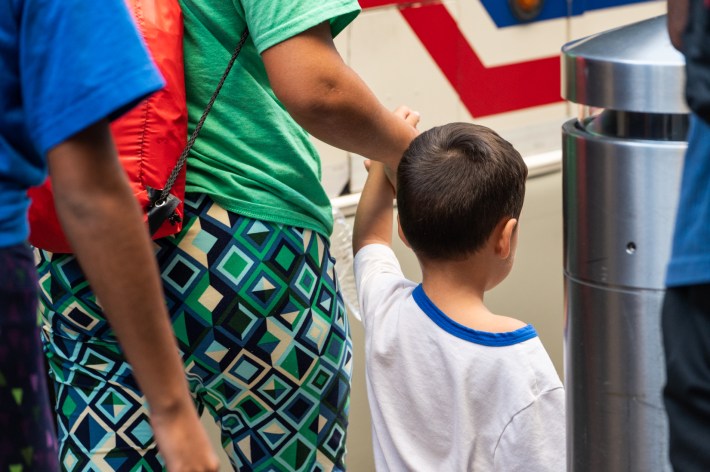 Migrants have been staying at temporary shelters in different parts of this city, but also have begun to stay at hotels in the suburbs.
Mayor Gary Grasso of suburban Burr Ridge said about 60 migrants from Texas are staying at a hotel in town after first arriving in the city.
Grasso said the people were sent to the area without any advanced notice to him or the village administrator. He said in a statement group will be staying in the area for the next couple of weeks, but likely not longer than 30 days.
"Earlier this year, the Village hosted asylum-seeking refugees from Afghanistan who have now found permanent housing and employment," Grasso said. "Burr Ridge offers all persons from around the world a better in life in the United States. We also want to assure our residents and businesses that the current situation will be handled in an orderly and safe manner for all."
Subscribe to Block Club Chicago, an independent, 501(c)(3), journalist-run newsroom. Every dime we make funds reporting from Chicago's neighborhoods.