ALBANY PARK — Chicago nonprofits are gathering supplies to support migrants arriving from Texas this week — and there are ways to help them.
Texas Gov. Greg Abbott is sending buses of migrants to Democrat-led cities, with the first bus of refugees to Chicago arriving last week, and more coming in Wednesday evening. Mayor Lori Lightfoot has said the city is coordinating with local organizations, but they'll all need help to support the migrants.
Ald. Rossana Rodriguez-Sanchez (33rd) has been collecting donations at her office and giving the items to nonprofits Illinois Coalition for Immigrant and Refugee Rights and Rincon Family Services. 
The groups need undergarments and shoes for adults and children, strollers, gift cards, reusable water bottles and electronic communications devices such as cellphones, laptops and tablets, said coalition spokesperson Brandon Lee.
RELATED: Here's How You Can Help Migrants Arriving In Chicago From Texas
"I would give special attention to tablets, computers or Chromebooks just because that's how folks are going to look for apartments, look for jobs, correspond with their attorneys and reach out to folks back home," Lee said. 
Rodriguez-Sanchez is accepting items at her ward office, 3001 W. Irving Park Road, noon-7 p.m. Mondays, 10 a.m.-5 p.m. Tuesday-Thursday and 9 a.m.-4 p.m. Fridays.
"We are continuing to work to make sure that we have structures that can be sustainable in the long term because we do not know how many more people are going to come in or for how long this is going to be happening," Rodriguez-Sanchez said. 
Donations also can be dropped off at Rincon, 3942 W. North Ave. in Humboldt Park. The coalition is partnering with Casa Michoacan to accept donations at 1638 S. Blue Island Ave. in Pilsen. You can also donate to Rincon via PayPal and to the Illinois Coalition of Immigrant and Refugee Rights online.
Other members of the City Council's Latino Council are also collecting donations. Here's more on where you can go:
Ald. Susan Sadlowski Garza (10th) – Ward Office, 10500 S. Ewing Ave.
Ald. George Cardenas (12th) – City Hall, 121 N. LaSalle St.
Ald. Michael Rodriguez (22nd) – Ward Office, 2500 S. St. Louis Ave.
Ald. Byron Sigcho-Lopez (25th) – Ward Office, 2242 S. Damen Ave.
Ald. Roberto Maldonado (26th) – Ward Office, 2511 W. Division St.
Ald. Ariel Reboyras (30th) – Ward Office, 3559 N. Milwaukee Ave.
Ald. Felix Cardona, Jr. (31st) – Ward Office, 4606 W. Diversey Ave.
Ald. Carlos Ramirez-Rosa (35th) – Ward Office, 2934 N. Milwaukee Ave., Unit C
Ald. Gilbert Villegas (36th) – Ward Office, 6560 N. Fullerton Ave., Suite 118-A
Ald. Andre Vasquez (40th) – Ward Office, 5620 N. Western Ave.
City Clerk Anna Valencia – City Hall, 121 N. LaSalle St., 1st Floor
Abbott, a Republican, has previously clashed with Mayor Lori Lightfoot and Gov. JB Pritzker. Lightfoot, while promising support for the migrants, has called Abbot's policies racist and inhumane.
"He's trying to cause chaos. That's the whole purpose of him doing this," Rodriguez-Sanchez said of Abbott.
Chicago nonprofits and other groups serving immigrant communities have stepped up to help, but Abbott's decision to bus migrants to the city has stretched their resources, Lee said.
"We've had to pull a lot of capacity to this to make sure people have a place to stay and food," Lee said. "This has really been an all-in moment for many of our organizations. It's really forced us to change the way normally operate for this past week, for sure." 
The donation drives have been successful, Rodriguez-Sanchez said.
"We have been able to provide help to a lot of families that desperately needed a lot of these items," Rodriguez-Sanchez said. "I'm super grateful that this is how our community responds when they know that they're needed. When they know that there's trauma and that there's pain. People show up for each other. It's a really beautiful thing."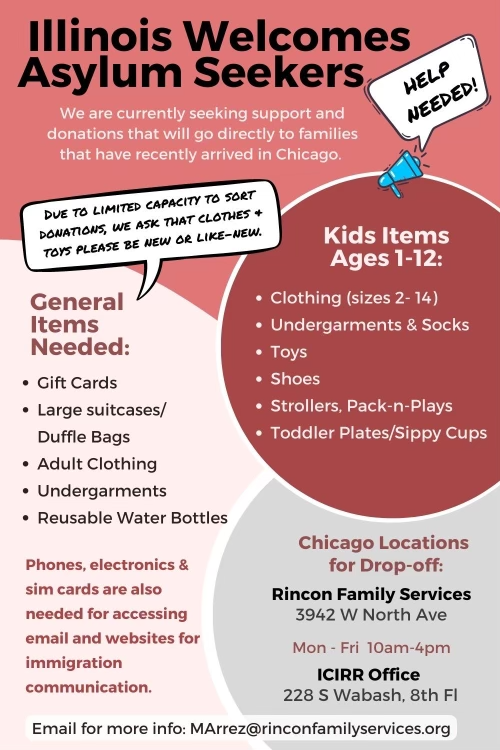 Listen to "It's All Good: A Block Club Chicago Podcast":