STREETERVILLE — A white bike with green leaves and pink flowers now rests at DuSable Lake Shore Drive and Grand Avenue, a somber memorial to cyclist and graphic designer Adé Hogue, who died after a driver hit him at the intersection last week.
Hundreds of mourners with their bicycles took over the street Tuesday night for the ghost bike vigil, stopping traffic for several minutes, crying and ringing bike bells in honor of Hogue, a member of the Half Acre Cycling team.
"He was a bonfire. You couldn't help but gather around him and feel his warmth," said Adam Overberg, president of Half Acre Cycling. "I just don't want to be here. You don't want to be here. Our community is tired of this. We just want to go home. We just want to be safe."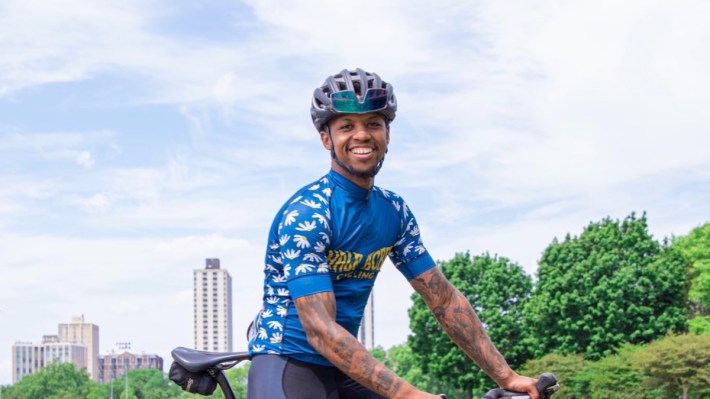 Hogue, 32, was riding his bike near the Downtown intersection Oct. 27 when a 47-year-old woman driving a van north on the lower drive hit him near the entrance ramp to Upper DuSable Lake Shore Drive, just west of Navy Pier, police said.
Hogue, who lived in West Town, suffered traumatic head and brain injuries and was taken to Northwestern Hospital in critical condition, according to authorities and his family. He remained in a coma until Friday, when he was pronounced dead.
Supporters have raised over $163,000 to benefit Hogue's family.
A lawyer representing Hogue's family said his team is investigating the fatal collision and is seeking video of the incident. No citations have been issued, police said.
Police and witnesses have given different descriptions on the crash: Police said Hogue "failed to stop for traffic at a red light" when the driver hit him, which witnesses confirmed to Streetsblog. Others said while Hogue had the red light, traffic looked clear when he rode into the intersection, and he was mostly through the crossing when the driver hit him, two witnesses said.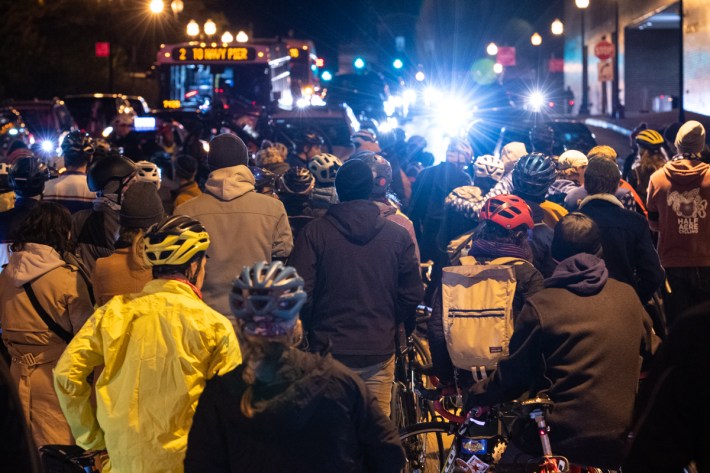 Christina Whitehouse, founder of advocacy group Bike Lane Uprising, took the mic Tuesday night and asked the crowd a simple question: "Who has had a close encounter at this intersection?"
Most raised their hands. 
Bikers feel Hogue could have been any of them. Accessing the lakefront trail at the intersection can be particularly dangerous, said Babs Owca, a friend of Hogue and member of Half Acre Cycling.
"The lakefront path, we all love to use it. But there's not really a good way to enter it," Owca said. "Now we just want to remind people — we're here, we want to go home, we want to see our families. And riding your bike should not be a death sentence."
The vigil was also a protest. Bikers made their presence known by reclaiming the intersection, stopping heavy traffic for several minutes for Hogue's moment of silence. 
Cars started honking. But bikers remained silent.
Whitehouse said the issue of bicycle safety is as dire as ever. There was a spike in fatal crashes involving cyclists last year after more people took to biking during the pandemic, according to Streetsblog Chicago.
"We had a biking boom," Whitehouse said. "We're all starting to realize how bad the biking infrastructure is."
At least two people — including "School of Rock" drummer Kevin Clark — have died riding their bikes through a notoriously dangerous Logan Square intersection. After fervent advocacy from cyclists, the city added painted bike lanes and narrowed traffic lanes in October to help improve safety.
RELATED: Activists Formed A Human Bike Lane To Call For Safer Streets For Cyclists: 'Why Do We Have To Wait For Someone To Be Killed?'
Northwest Siders for years have debated adding protected bike lanes to a stretch of Milwaukee Avenue dubbed the "bike highway." The issue resurfaced in July after Jefferson Park resident Thomas Travers died after a minivan driver hit him.
Mourners on Tuesday said it should not take more deaths for conditions to improve.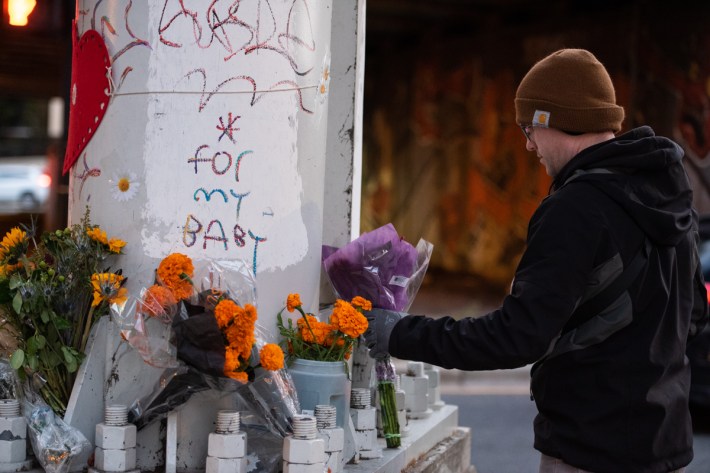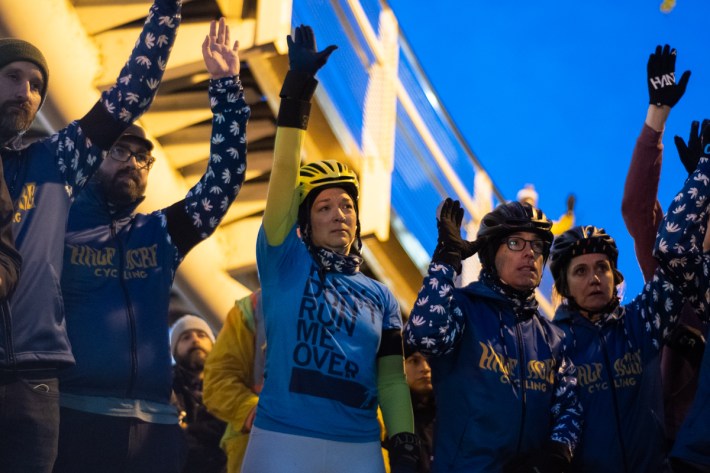 Access to the Lakefront Trail is an infrastructure issue, Whitehouse said.
It's one of the few places in the city where you can bike without interacting with car traffic. But to get there, you often have to traverse dangerous roads with plenty of car traffic.
"If that's the one safe place to bike in Chicago, then how do you get to it?" Whitehouse said of the lakefront. "This was an experienced biker. Up and down the lakefront, there are very few places people can access the Lakefront without interacting with cars."
Owca, Hogue's Half Acre teammate, came out Tuesday to pay tribute to what Hogue loved most, but also share frustration at how that love led to his death. 
"We want to celebrate him and what he loved so much. But we're also mad. We're pissed off," Owca said. "We keep seeing death after death. And the city is being named the friendliest bike city in America constantly. And that's a lie. People are dying."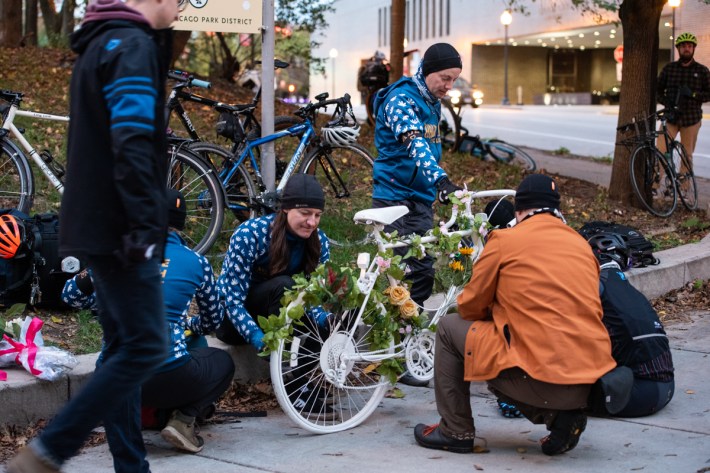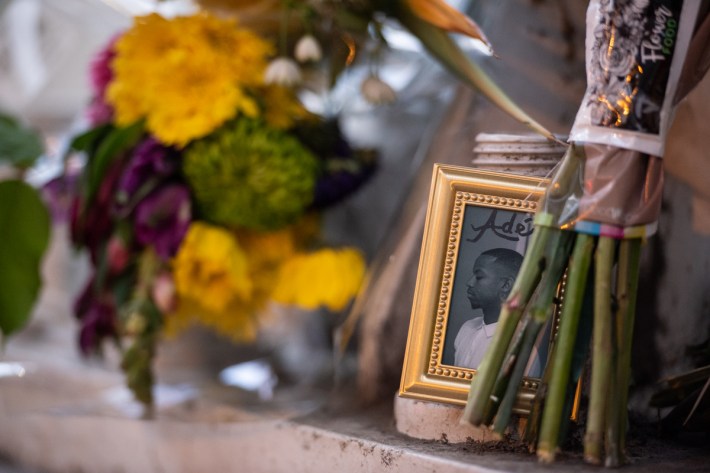 Thanks for subscribing to Block Club Chicago, an independent, 501(c)(3), journalist-run newsroom. Every dime we make funds reporting from Chicago's neighborhoods. Click here to support Block Club with a tax-deductible donation.