JEFFERSON PARK — Cycling advocates again are urging the city to improve bike safety on Milwaukee Avenue after a driver killed yet another bicyclist on the busy road.
Thomas "Tommy" Travers, 59, was riding near Milwaukee and Central avenues when a minivan driver going south hit him Saturday afternoon, police said.
Travers, of Jefferson Park, was taken to St. Francis Hospital in Evanston, where he was pronounced dead at 1:20 a.m. Monday, according to the Cook County Medical Examiner's Office.
The stretch of road where Travers was killed has been an issue of debate in the 45th Ward for years.
Police said he was "weaving in and out of the bike lane" into oncoming traffic, but some members of the cycling community say drivers are responsible for looking at what is in front of them.
"If the driver saw that they were weaving, why didn't they stop?" said Christina Whitehouse, founder of Bike Lane Uprising and a cycling advocate. "You can't just run them over if you already saw that they were weaving."
Milwaukee Avenue is known as the "bike highway," with about 20,000 cyclists using the road daily. But 910 crashes were recorded on Milwaukee between Lawrence and Elston avenues from 2008 to 2012, according to a city study. Although newer data was not immediately available, the study also found that more than 40 percent of the crashes that resulted in an injury involved a bicyclist or a pedestrian.
In addition, a traffic study conducted by city engineers found 75 percent of drivers exceeded the 30-mph speed limit on the roadway; 14 percent went faster than 40 mph.
A plan to eliminate a lane of traffic to allow for protected bicycle lanes on that stretch of Milwaukee was fiercely opposed by Northwest Siders in 2014, who claimed the move would snarl traffic, hurt neighborhood businesses and negatively impact parking. Ultimately, painted bike lanes were put in place instead.
At least two cyclists have died along Milwaukee Avenue since 2016. In 2019, a truck hit Carla Aiello as she rode her bicycle in a faded lane at Milwaukee and Kilbourn avenues in Irving Park.
Bicyclist Rob Heinbockel was killed on North Milwaukee at West Gale in 2003.
"Why is the most-traveled bike lane artery in Chicago killing so many cyclists?" Whitehouse said. "It is the bike highway and it is absolutely terrifying."
Despite calls to action for increased bike lane infrastructure in the wake of other recent cycling fatalities, Whitehouse said the city needs to do better. And that starts with Mayor Lori Lightfoot.
"I think [The Chicago Department of Transportation] knows what they need to do but I think we need the political willpower of a mayor that will do something," she said.
CDOT spokesperson Susan Hofer said the department is reassessing the entirety of Milwaukee for safety. She pointed to last year's improvements to the Logan Square section of the street that added protected bike lanes between Western and California avenues.
"The Department of Transportation (CDOT) is concerned about the growing number of traffic-related deaths and injuries," CDOT said in a statement. "Mayor Lightfoot's signature jobs and infrastructure capital plan—Chicago Works—provides dedicated funding for these investments in walking and biking safety. Protected bike lanes are one important way to make streets safer for people biking as well as other road users, and CDOT is currently in the process of designing and constructing 12 miles of new protected bike lanes citywide as part of the first year of Chicago Works."
'Politics Screwed This Up'
Cycling advocates say Travers' death could have been avoided if the Jefferson Park stretch of Milwaukee Avenue had protected bike lanes.
Scott Rubin, who regularly bikes through the Northwest Side on Milwaukee, said that people should not victim-blame Travers for his behavior because they weren't in his position and don't know the circumstances leading up to his death.
Rubin said sometimes he bikes against traffic to be more visible or if he's turning to go to a business on the other side of the street.
"Sometimes, it's what you have to do," Rubin said. "In some cases, I think you are more likely to be seen if you are biking against traffic than biking with traffic. Drivers are not looking in their blind spot but instead looking ahead."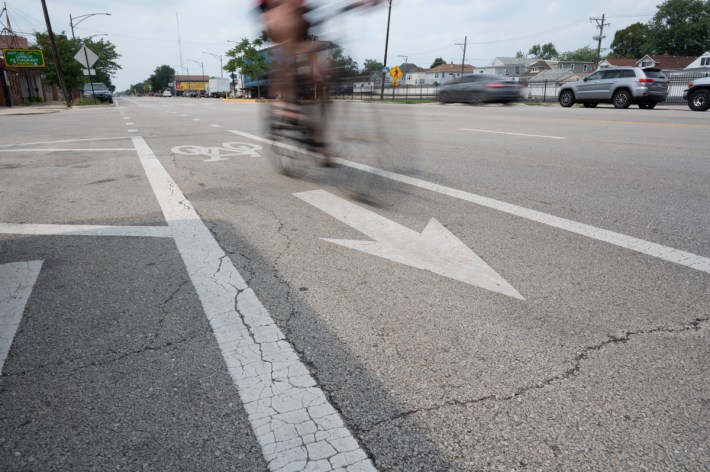 He is angry about Travers' death and accused Ald. Jim Gardiner (45th) and the alderpeople who preceded him of not doing enough to protect bicyclists in the ward.
"The bigger picture here is aldermanic prerogative kills a lot of active trans projects," he said, referring to the unwritten rule that has traditionally given City Council members the final word on licensing, permitting and zoning decisions in their wards. "Politics screwed this up."
Gardiner's office did not reply to requests for comment about Travers, but helped get protective bollards installed last year on a stretch of Milwaukee where Aiello died after contacting CDOT three separate times about bringing fixes to the intersection.
RELATED: Chicago's Bike Lane Efforts Have Fallen Short For Decades. Can Lightfoot Help The City Catch Up?
Joe Sislow, the Northwest Side representative for the mayor's Bicycle Advisory Council and a longtime cyclist, said connecting major streets for cyclists will help improve access and safety, especially as the pandemic has brought out more riders.
"The big thing for us to beat is to get connected networks," Sislow said. "We need protected routes on major ways or intermediary routes to bike safely — and we needed it years ago."
Under the Chicago's Streets for Cycling Plan 2020, Milwaukee is identified as a spoke route, a direct route in and out of the Loop that can provide safe, continuous bikeways connecting all areas of Chicago with Downtown. 
Sislow, who biked from Evanston to Hyde Park using Milwaukee for years, said improvements have been made to the busy street but parts of the Northwest Side still need help, like the area where Travers was killed.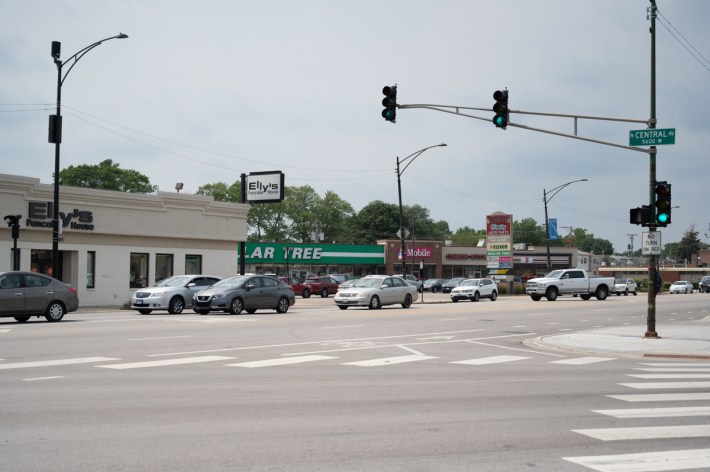 Former aldermanic candidate and Chicago Police Lt. John Garrido was among those who opposed eliminating a lane of traffic in the area years ago. He said Travers' death is a tragedy, but still believes narrowing the street is a bad idea.
"When you create gridlock on a main street, it causes drivers to speed through the neighborhoods looking for alternate routes and that is a danger to our community," Garrido said.
Garrido, a regular cyclist, supports reducing the speed on Milwaukee by installing a speeding sign and adding buffered bike lanes. He said there is no proof that protected bike lanes would have prevented what happened to Travers.
"I am not victim-shaming and I don't want to come remotely close to that — it's tragic and I feel terrible for what happened to him — but what's to say that if we had the bike lanes that he would have followed the rules either?" he said. "We don't know that."
Travers' death is the fifth cycling fatality this year, according to Streetsblog Chicago's 2021 fatality tracker.
Travers was an alumni of St. Cornelius Elementary School in Jefferson Park, according to a Facebook post on the school's alumni page.
A celebration of his life is scheduled for Friday with visitation from 9:15 a.m. to 10:45 a.m. and funeral mass at 11:00 a.m. at Queen of All Saints Basilica, 6280 N. Sauganash Ave.
Subscribe to Block Club Chicago. Every dime we make funds reporting from Chicago's neighborhoods.
Already subscribe? Click here to support Block Club with a tax-deductible donation.