LOGAN SQUARE — There are now protected bike lanes along one of Logan Square's most popular but dangerous corridors — but not everyone is happy about them. 
The city unveiled protected bike lanes Friday on Milwaukee Avenue between Western and California in Logan Square, a project that's been in the works since last year.
The bike lanes have plastic curbs and posts and were installed in less than a month. They are meant to increase safety and make bicyclists more visible and separate them from drivers, officials said.
Milwaukee from Western to Sacramento saw 446 crashes 2014-2018, according to Illinois Department of Transportation data. Of the crashes that resulted in injuries, half involved cyclists. About two-thirds of those crashes involved pedestrians or cyclists.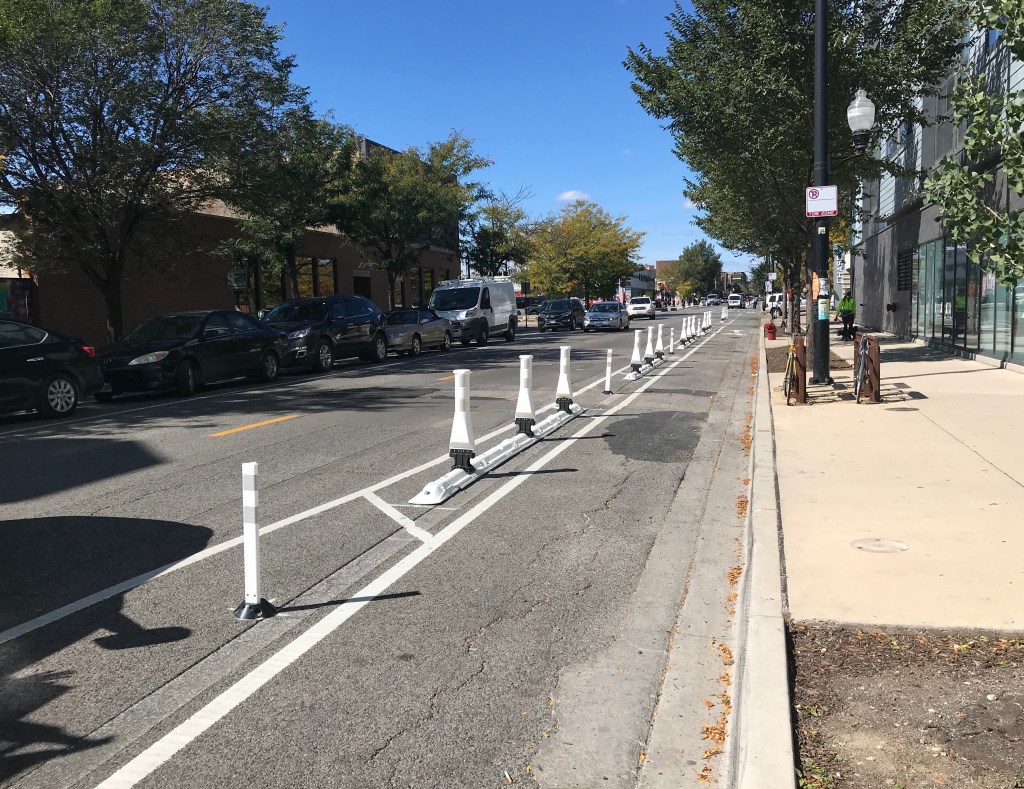 The buffered plastic posts eliminated 100 parking spaces on the Milwaukee Avenue stretch and moved them to side streets and nearby arterial streets like Fullerton, California, Armitage and North, said Mike Claffey, a Chicago Department of Transportation spokesman.
That angered some merchants along the corridor, who said the elimination of the curbside spots has already hurt their businesses.
Alan Gillman, co-owner of Gillman Ace Hardware at 2118 N. Milwaukee Ave., said he supports safe bike lanes but is not happy the buffers have taken up needed parking for his customers. Many of them work in real estate and construction industries and purchase heavy loads of hardware and tools.
The buffers "have taken my employees' livelihood and my livelihood away," Gillman said. "This has been in effect for maybe 10 days and a third of my business is down already."
Gillman said he and the owners of other neighborhood businesses — including Cozy Corner, 2294 N. Milwaukee Ave. — started a petition that collected more than 500 signatures to get the parking spaces back. They sent it to Ald. Daniel La Spata's (1st) office. 
Gillman said no one from the alderman's office spoke to him about the bike lane project. La Spata and city officials said there was extensive outreach with community members and business owners, including lots of door-knocking, to ensure the needs of local businesses were heard. 
La Spata told Block Club he met with the owners of Cozy Corner in response to the petition and alterations were made to the infrastructure to accommodate those concerns.
"I know there are frustrations to the parking issue, [but] part of the agreement is we will be relocating the paid parking," La Spata said.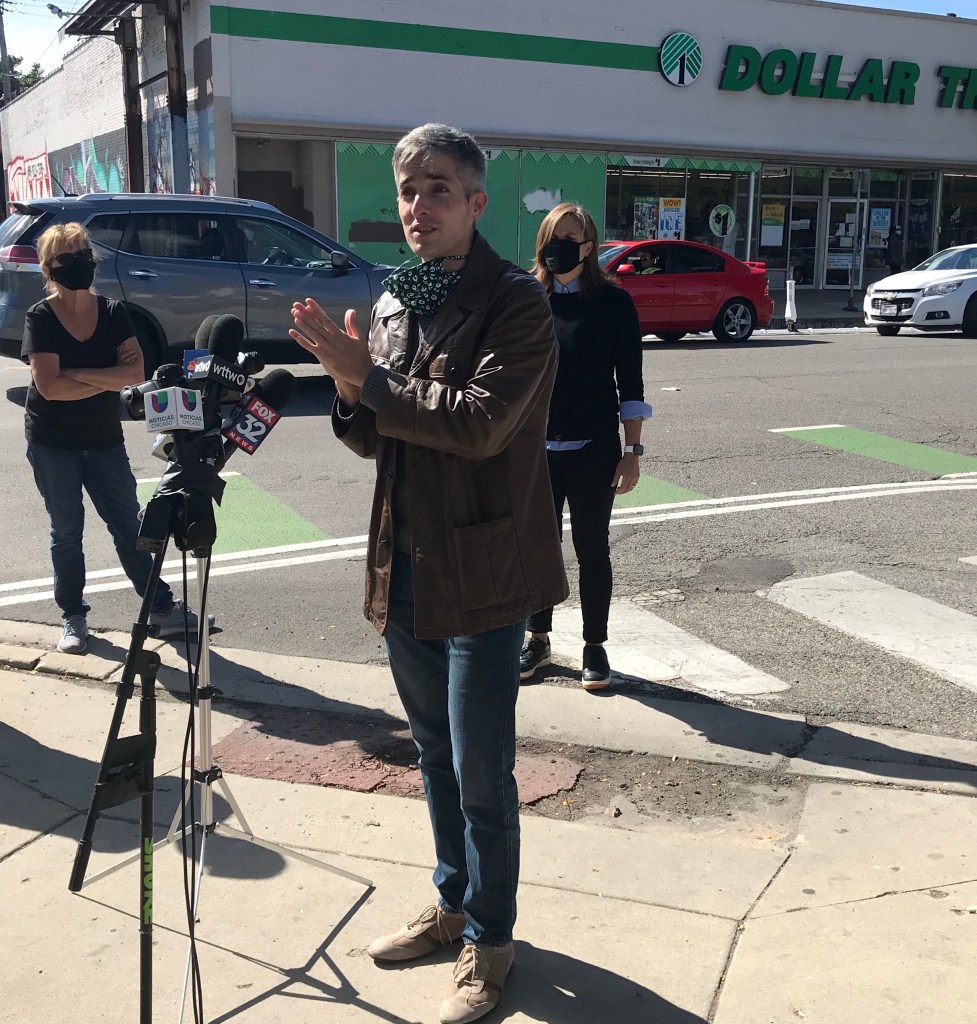 CDOT Commissioner Gia Biagi, speaking at the unveiling of the lanes, said data shows bike lanes and pedestrian safety directly improve economic vitality because cyclists are more likely to linger and shop around.
"Cyclists are more likely to stop and shop," Biagi said. "All of that creates an economic benefit. While we managed to navigate between biking and parking and pedestrianizing this stretch, it will also have that added effect for businesses along here."
But Gillman is not sold on this benefit. He said his walking clientele is about one-third of his business, and customers with heavy merchandise cannot walk a half-mile to a parking spot. 
"This is going to crush every business on Milwaukee Avenue," he said.
La Spata said he encourages patience as the neighborhood adjusts to the buffered lanes, and he said their benefits extend beyond just bike safety.
The project will add new crosswalks along the stretch, with work set to begin next week, as well as a bus-boarding island at Milwaukee and Maplewood avenues. More than 35 bike racks will also be installed between California and Western.
Cyclist Max Hertz, co-owner of the Bike Lane shop next to Ace Hardware at 2130 N. Milwaukee Ave., said the lanes will be an adjustment for the community and businesses — but they are a big gain for bike safety on the busy street. 
"It's taken a little bit of time for drivers to get used to them, but now that everyone has the idea, they are working really well and are a big pro in terms of safety for cyclists," Hertz said.
Hertz said he understands the parking frustration, but he compared it to other parts of the city that have even less public parking on busy streets. Once people figure out the new places to park, the tension will settle down, he said.
He said his shop gets orders daily from delivery trucks, and while the drivers were at first annoyed about Milwaukee's parking losses, now they park across the street or on side streets like Rockwell without a problem.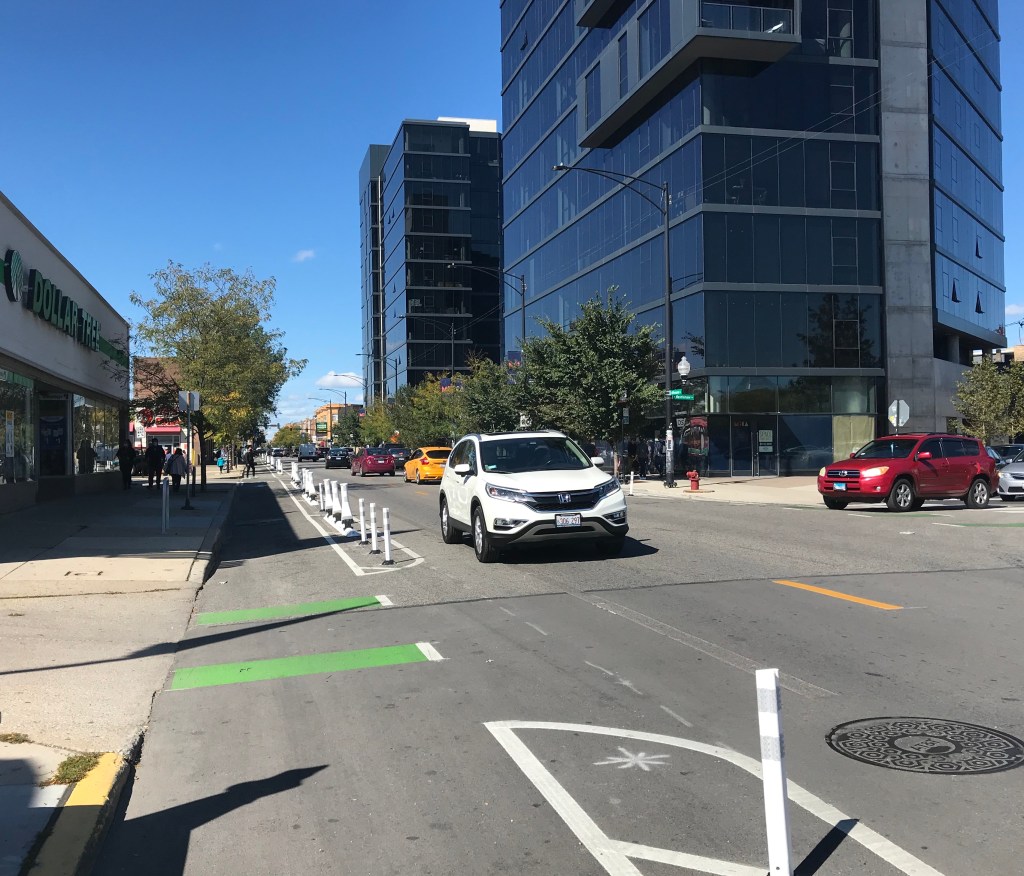 City officials chose the Milwaukee Avenue stretch for protected bike lanes because it is considered a high-crash corridor.
"We have watched the safety increase [and] fatalities go down at places where we are implementing these kinds of measures," Biagi said.
Biagi said the bike lanes give cyclists more room so they don't get hit by opening car doors. The narrowing of the roadways from the added buffers also slows traffic down and creates safe passage for cyclists, pedestrians and drivers. 
La Spata, an avid cyclist, said the buffers will make a big difference for cyclists who have gotten into crashes or had a close call with cars on Milwaukee, as he has before. 
"Those are crashes that do not happen when you have the infrastructure setup as we do," he said. "Both the data and the lived experience of myself and thousands of other cyclists tell me this is going to work." 
Subscribe to Block Club Chicago. Every dime we make funds reporting from Chicago's neighborhoods.
Already subscribe? Click here to support Block Club with a tax-deductible donation.