IRVING PARK — Bike lane lines were repainted on Milwaukee Avenue near Six Corners nearly six months after a woman was killed while riding her bicycle inside faded street markings.
The bike lanes from 3734 N. Milwaukee to 3860 N. Milwaukee were repainted Monday — in response to the Nov. 6, 2019, collision that killed 37-year-old Carla Aiello of Norwood Park.
The mother of two died after the driver of a dump truck hit her in the 3800 block of North Milwaukee Avenue in Irving Park. Aiello, on her bike, and the 41-year-old driver had both been traveling south on Milwaukee, with the bicyclist to the right of the dump truck, according to police. 
When the driver turned right onto Kilbourn Avenue, the truck hit Aiello, police said.
The night after the tragedy, 200 cyclists returned to the scene to draw attention to the faded bike lanes, which were hardly visible. 
In January, after two months had passed with no action, Ald. Jim Gardiner (45th) said he reached out to a top Chicago Department of Transportation official on three different occasions to demand action and had not heard back.
At that time, CDOT spokeswoman Sue Hofer said that the department would be hiring an outside contractor to repaint the bike lanes once the weather warmed up.
On Monday, Hofer confirmed the contractor completed the work and said it could not have been done earlier.
"The company that makes the paint was closed. It's not regular paint and they only make it during construction season," Hofer said. 
RELATED: 'Please Don't Kill Us': After Woman Killed In Fading Irving Park Bike Lane, 200 Cyclists Demand More Protection
On Monday, Gardiner put up a post on Facebook pointing out the lanes were repainted and asking residents to leave a comment to let him know how to further address safety issues for bicyclists and motorists. 
Hofer's explanation didn't sit well with Christina Whitehouse, founder of advocacy group Bike Lane Uprising, who has been calling for more than a painted bike lane. Her group wants what it calls a protected bike lane with curb bump-outs and plastic bollards. 
"It just kinda goes to show with so much news and coverage of it, of the victim being a seasoned cyclist, a mother, a counselor, you would think that the city would want to make a showcase of that, of how much they cared. That was the least amount of effort that could have possibly been implemented," Whitehouse said.
Another advocacy group, Milwaukee Avenue Bike Lane, posted a tweet Monday saying, "Assuming this job was done this morning, it to ChicagoDOT 173 days after the tragic death of bicyclist Carla Aiello to re-stripe lines on a street! 173 days to make that cheap-ass bottom-shelf lane that failed Carla in the first place."
However, the night after the crash, not all agreed the crash was the fault of the faded bike lane stripes.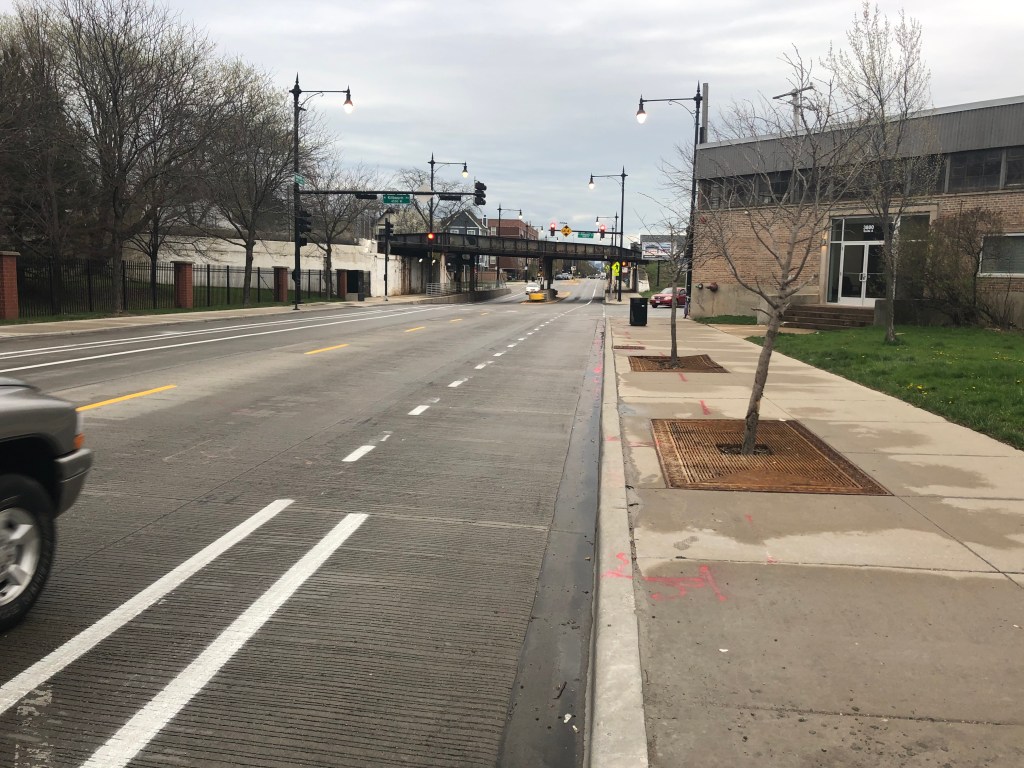 "You can argue that, although I think it's more a lack of awareness by the driver in this instance," said Fidel Talavera, a cyclist and owner of Bacardi Bikes, a bike store located just blocks from the fatal crash on Milwaukee Avenue.
Also on that night in November, State Rep. Kelly Cassidy (D-Chicago) sent a tweet asking the Active Transportation Alliance for strategies to prevent truck/bike fatalities in the future.
In response, Active Trans recommended dedicating money in the city budget for infrastructure on dangerous roadways, stricter requirements for safety mirrors and side-guards on large commercial vehicles, limits on truck traffic and limits on right turns. All were issues Cassidy said she brought up as far back as 2011 but never got out of committee. 
Reached Monday, Cassidy said only a small amount of progress has been made since then. 
"We did get the capital bill to acknowledge pedestrian and bike friendly projects as part of the transportation capital budget and that's a plus. It's the sort of thing that can help us expand things like protected bike lanes and frankly more of what we saw today, with repainting them," Cassidy said.
She added regulating trucks is complicated.
"The trucking industry lobbyists have a fair bit of sway. It's a double problem because we also deal with interstate commerce issues when we are talking about trucks, so the question of what can you mandate at the state level when you're talking about trucks that are moving through multiple states in a day is unclear, and how is that enforced and is it even within our authority to do it?" Cassidy said. "It's one of the early lessons in my career that things that seem pretty simple, often aren't."