IRVING PARK — Reflective bike lane bollards were installed Monday on a stretch of Milwaukee Avenue in Irving Park, including at the intersection where a driver hit and killed a bicyclist.
The installation was hailed as a victory for bicyclists and activists who pushed for safety improvements since Carla Aiello, 37, died at the intersection of Milwaukee and Kilbourn avenues in November. Painted bikes lanes at that intersection had faded and were barely visible at the time of her death.
Last week, Ald. Jim Gardiner (45th) announced the lanes had been repainted and asked constituents what else the city should do to step up safety.
On Monday, he posted a new video saying the white, reflective bollards had been installed in response to feedback from residents.
"I think it's going to be a nice, added feature. I think we still need to make further steps but I think we're headed in the right direction," Gardiner said in the video, which showed him biking in the new lanes. "As someone who has ridden his bike in the city of Chicago for over 30 years, I understand the significance of having further bike safety."
The bike lane along Milwaukee Avenue near Six Corners has been in the spotlight since Aiello's death, and bike advocates have been angered it took so long to repaint the lanes. City officials said the work had to wait until the spring.
The 37-year-old mother of two died after the driver of a dump truck hit her in the 3800 block of North Milwaukee Avenue in Irving Park. Aiello and the 41-year-old driver had both been traveling south on Milwaukee, with the bicyclist to the right of the dump truck, according to police. 
When the driver turned right onto Kilbourn Avenue, the truck hit Aiello, police said. Some of the protective bollards were installed at that corner in front of the ghost bike put in place in Aiello's memory.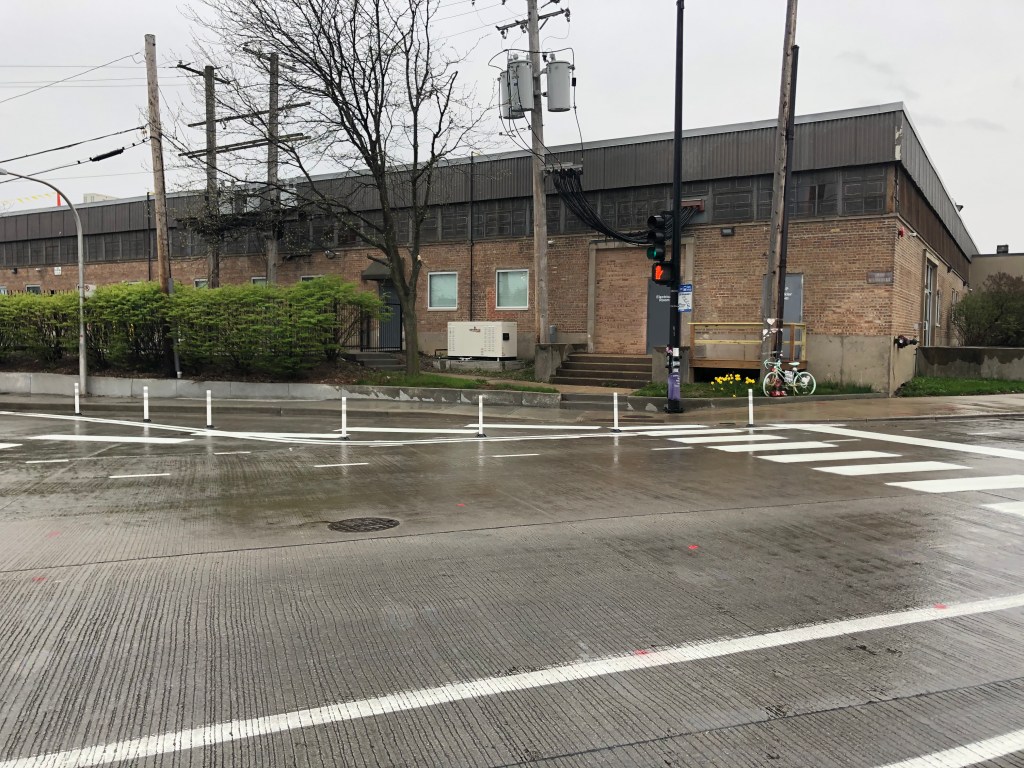 On Monday night, Christina Whitehouse, the founder of advocacy group Bike Lane Uprising who has been calling for more than just a repainted bike lane at the site, said she was "certainly relieved." But she added it should not have taken six months of advocacy and coverage by the media to spur action.
"It is a bit embarrassing that it took over six months to have any upgrade to the bike lane," Whitehouse said. "We know that bollards don't last forever, they are going to get mowed down, but it is something."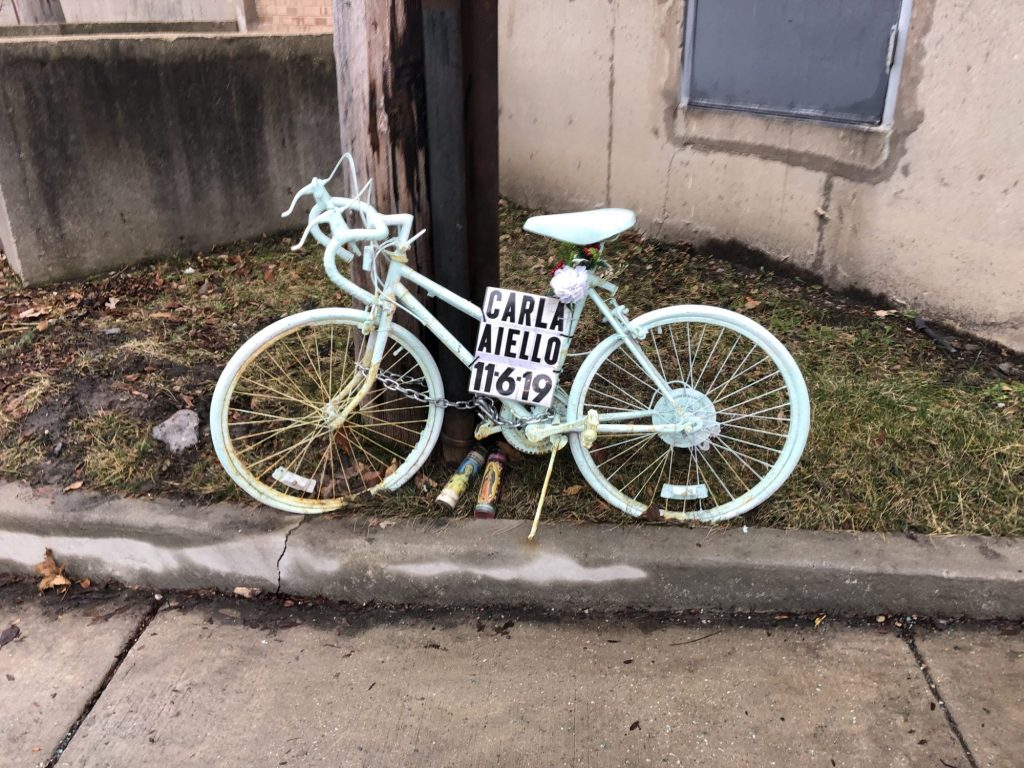 Whitehouse said without pressure from advocates, nothing would have happened.
"I think the entire biking community deserves some credit in the sense that it's had a great deal of spotlight from all the news outlets in Chicago when Carla was killed," she said. "We also had someone who spray painted the bike lane on his own that further spotlighted the issue and it's been something that no one has really let go. It's sad that is the amount of effort is needed for one section of a protected bike lane."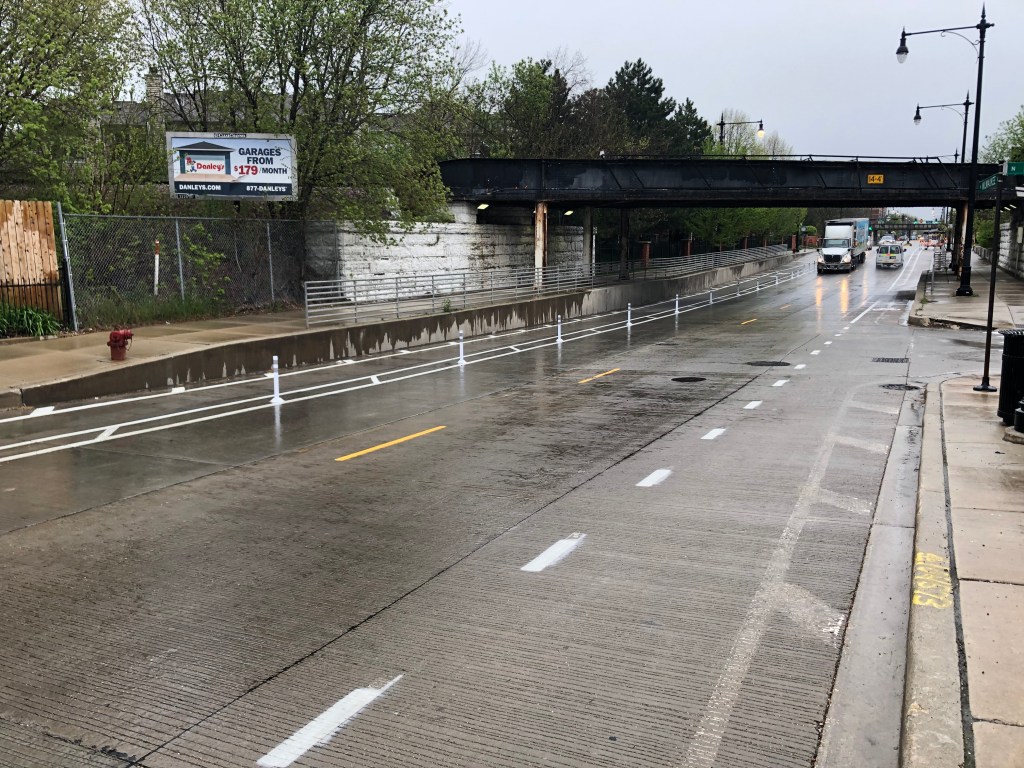 Another advocacy group, Milwaukee Avenue Bike Lane, posted a tweet Monday crediting Whitehouse's group, along with the alderman and CDOT.  
"Huge thanks to @bikelaneuprise for their advocacy, and thanks to Ald. Gardiner (45) and @ChicagoDOT for taking action to keep Chicago cyclists safe," the Tweet read.

Subscribe to Block Club Chicago. Every dime we make funds reporting from Chicago's neighborhoods.
Already subscribe? Click here to support Block Club with a tax-deductible donation.