LOGAN SQUARE — Kevin Clark, a drummer known for his role in the "School Of Rock" movie, died early Wednesday after a driver hit him on Logan Square's Western Avenue.
Clark, 32, was riding in the 2600 block of North Western Avenue around 1:20 a.m. when a 20-year-old woman driving a Hyundai Sonata heading south hit him, police said. Police said Clark was riding west and crossing Western when the driver hit him.
Clark was taken to Illinois Masonic Hospital, where he died around 2 a.m., according to police. Police said the woman was not injured and was cited for her role in the crash, but did not provide further information.
Clark's mother, Allison, said she was with her son Tuesday night.
"Kevin will be remembered for his heart and his hugs," Allison Clark said in a statement provided by Clark's cousin, Matthew Portman.
"Kevin was so warm and loving. He stayed at my house Tuesday night and as he left he said, 'Mom, wait.' And stopped me and hugged me big and said, 'Don't forget I love you.' He was always like that, always so loving, always checking in on me and making sure I was okay."
The fatal crash happened near the intersection of Logan Boulevard, Western Avenue and the Kennedy Expressway, which has been identified by city officials and transportation advocates as one of the most dangerous intersections in the city. Cyclist Tyler Fabeck, 22, was killed by a driver while riding his bike through the intersection in 2008.
Clark, who lived in Lakeview, grew up in Highland Park and went to Highland Park High School. Many knew him for playing Freddy "Spazzy McGee" Jones in the 2003 film starring Jack Black.
Clark snagged the role as a 13-year-old for his drumming talent and because he had chemistry with the guitarist, Portman said. Clark auditioned together with Joey Gaydos, Jr., who played lead guitarist Zack "Zack-Attack" Mooneyham in the movie, his mother said.
"They played 'Iron Man' by Black Sabbath and jammed out. On set, (director) Richard Linklater said, 'When I saw that, that's when I knew I had a movie,'" Allison Clark said.
As he got older, he auditioned for other roles, but mostly stuck to what he loved: Playing drums and building community around music, Portman said.
"He was always happiest behind that drum kit," Portman said.
In recent years, Clark lived in Chicago and played in several bands, most recently Dread Wolf and Jess Bess and the Intentions, a band he launched just last week, Clark's mother told the Sun-Times. He also ran a jam session out of a bar in suburban Highwood, near his hometown.
To make ends meet, Clark worked in the service industry at bars and at Starbucks, Portman said.
Clark also loved the Chicago Cubs and the Chicago Bears. Portman recalled the 2016 World Series when they "yelled and jumped in the street along with everyone else in Chicago" after the Cubs won their first title in more than a century.
"Kevin was a beautiful, beautiful soul, who lived every moment," Portman said. "He was all about being present and enjoying what he had … he had a simple and beautiful life."
Portman said biking was Clark's main mode of transportation. Clark didn't own a car and would borrow one if he needed it to get to a gig, Portman said.
As police continue to investigate, Clark's friends are hosting a memorial in Highwood Wednesday evening.
"He was really such a wonderful guy. I honestly genuinely can't think of a time when he was angry or judgmental of someone else or complained," Portman said. "He was a very positive person and in the last 5, 10 years found … his own kind of spirituality of being a very present, grateful and happy person."
Clark is survived by his older brother, Cary; his sister, Nicole; his mother, Allison; and his father, Keith.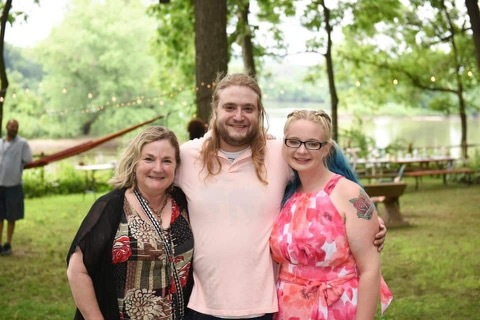 Subscribe to Block Club Chicago. Every dime we make funds reporting from Chicago's neighborhoods.
Already subscribe? Click here to support Block Club with a tax-deductible donation.