STREETERVILLE — A popular Chicago bicyclist and graphic designer died Friday after a driver hit him while he was riding his bike Downtown.
About 8:35 p.m. Wednesday, Broderick Adé Hogue, 32, was riding his bike west on Grand Avenue toward lower DuSable Lake Shore Drive when a 47-year-old woman driving a van north on the lower drive hit him, police said.
Hogue, who lived in West Town, suffered traumatic head and brain injuries and was taken to Northwestern Hospital in critical condition, according to authorities and his family. He remained in a coma until Friday, when he was pronounced dead, family and friends announced over the weekend.
Tributes to Hogue and donations to his family have poured in from fellow bicyclists and his friends around the world. Hogue rode competitively with the Half Acre team and was an accomplished designer who has done work for brands like Target, Mercedes Benz, Alaska Airlines and Facebook, friends said.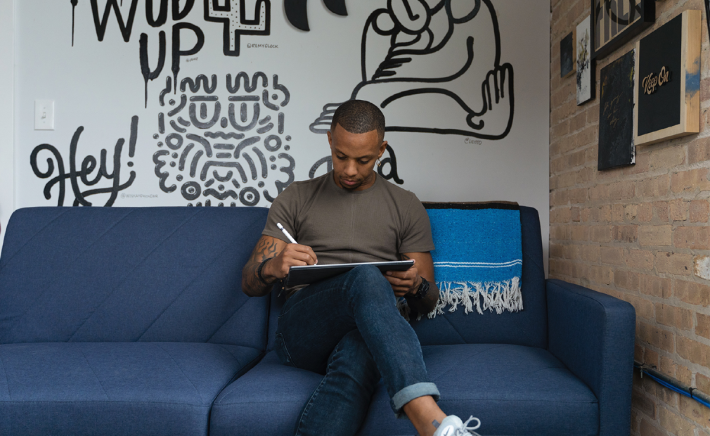 Hogue was a generous and supportive friend, too, his loved ones said. Chu Batsaihan said Hogue offered him the extra space in his studio to help Batsaihan get work done when he was stuck at home during the pandemic.
"He was one of the most interesting persons in the world, and he lived with conviction," Batsaihan said. "The kid had so much more to do. We're just crushed."
More than $160,000 has been raised for Hogue's family in three days. Donations have come in from the bicycling community and Hogue's former employers and clients, including $1,000 from Nike.
Hogue's family declined to comment and referred a reporter to their attorney, Brendan Kevenides. Services for Hogue are in the works, Kevenides said. A ghost bike vigil led by Bike Lane Uprising is planned for Tuesday evening at the site of the fatal crash.
"He is a beloved and well-respected member of the cycling community in Chicago," Kevenides said. His relatives "are, as some might expect, devastated by the loss of their beautiful son. We would ask everyone to respect their privacy."
The lawyer said his team is investigating the fatal collision and is seeking video of the incident. No citations have been issued, police said.
Police and witnesses have given different descriptions on the crash: Police said Hogue "failed to stop for traffic at a red light" when the driver hit him, which witnesses confirmed to Streetsblog. Others said while Hogue had the red light, traffic looked clear when he rode into the intersection. He was mostly through the intersection when the driver hit him, two witnesses said.
Hogue, who grew up in North Carolina, specialized in "lettering," or working with words and letters in design projects. He taught at DePaul University and lectured on his craft at numerous conferences and colleges.
Jenna Blazevich met Hogue at a graphic design lecture. She said Hogue encouraged her in her new profession and dished out recommendations about places to visit in his native North Carolina.
Hogue was an animating force in the design community, especially to young artists, Blazevich said.
"He was a really big inspiration to our little niche community," Blazevich said. "He never wanted to talk about his career. He always wanted to hear about you. He made everyone feel included."
Hogue enjoyed running before taking up competitive cycling, his friends said. He helped form a cycling group called Bad Bikes.
During the pandemic, Hogue dove deeper into his biking passion, knowing that's what made him happiest, friends said. He scaled down design work and started working part-time at a bike store, Batsaihan said.
In an Instagram post in August, Hogue talked about finding joy in things other than work. After working for some of the biggest clients in the country, Hogue said he would start taking more time to do the things that made him happiest.
"Life for me now is more than just designing, and coming to that realization has seriously changed everything for me and I am happier now than I have ever been," Hogue wrote on Instagram.
Batsaihan, a video production professional, met Hogue when they worked at a creative agency together. They left to become freelancers but stayed close friends, he said.
Hogue had a way of making friends in all the circles in which he traveled, people said. Those friends are now working to make sure Hogue's legacy is never forgotten.
"What we all found out is how much of an impact he's made," Batsaihan said. "His family has been floored at how quote-unquote famous he was. We told them, 'That's just the tip of the iceberg.'"
To donate to Hogue's fundraiser, click here.
Listen to "It's All Good: A Block Club Chicago Podcast" here: