CHICAGO — A business owner and Old Irving Park resident is suing Ald. Jim Gardiner after leaked text messages showed the alderman used city resources in a revenge plot against him.
James Suh, who owns Car Care Auto Spa near the Six Corners business district, is suing Gardiner for allegedly violating his First Amendment rights and for attempted retaliation.
The suit, filed Tuesday with the Circuit Court of Cook County, claims Gardiner abused his power by digging up police records naming Suh for minor offenses dismissed more than a decade ago. The alderman was allegedly not happy Suh organized a protest against Gardiner's decision to stall a development at Six Corners in 2019.
"It's disturbing that his immediate, instinctive reaction is to attack a constituent's constitutional rights," said Suh, a vocal critic of the alderman. "I feel that morally it is my obligation to stand up to that."
Leaked text messages between the alderman and his former staffer shared with Block Club in September and on Tuesday show Gardiner tried to retaliate against critics who did not agree with him, including Suh. According to the texts, the alderman had old police reports pertaining to Suh and planned to leak the records to a neighborhood Facebook group.
Suh's protest occurred the evening of Oct. 5, 2019. By Oct. 7, Gardiner had printed copies of two police reports involving Suh, according to the text exchanges.
In the message shared with Block Club Tuesday, Gardiner tells the former staffer, "Got some news about our friends down at 6c," meaning Six Corners.
About 20 minutes later, Gardiner texted his aide photos of the court records and said, "Maybe that gets leaked." When his then-aide suggested they would look for a mugshot, Gardiner replied, "Find that sh-t."
The time stamp on the court records shows they were pulled 8:53 a.m. Oct. 7, according to text messages.
Gardiner then directed his aide to send the records to others, writing, "Get JH on this too. Only happy to help. Give her the backdrop as to why we like to share."
According to the aide, "JH" refers to the administrator of the Facebook group Six Corners Neighbors.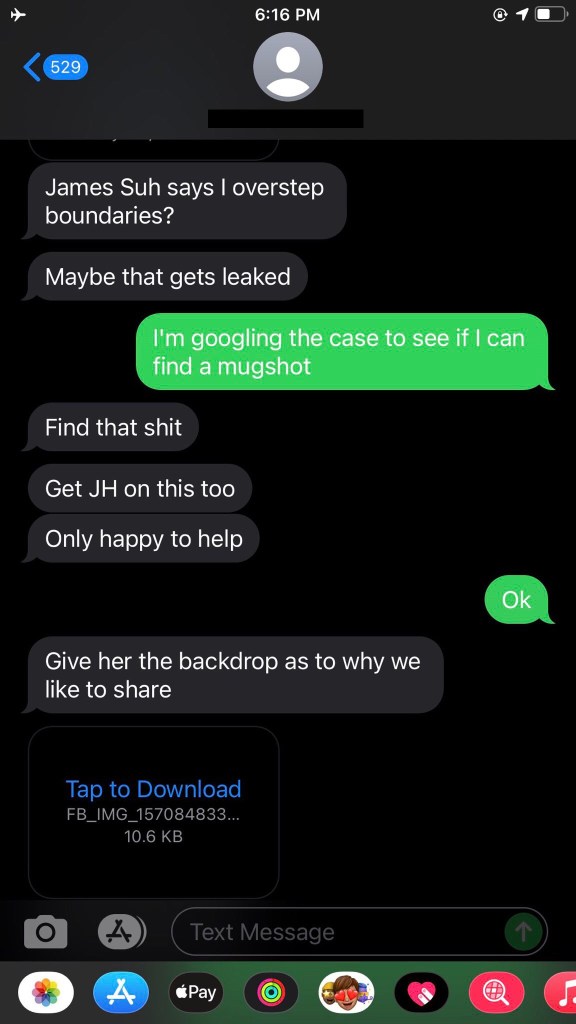 Suh said the court cases involved a 1998 fight and a 2007 charge for possession of a pocket knife — both dismissed years ago.
"It's been a stressful time, and I'm not happy to have any aspect of my personal life out there," he said, adding that people have referenced media articles about Suh's past on social media and in conversation.
Gardiner's "original intent has been achieved, so this [lawsuit] is disheartening but necessary," Suh said.
Scott Kane, a partner at law firm Cameron & Kane representing Suh, said the suit seeks to hold the alderman accountable for "spreading false claims of character" about Suh.
The suit also seeks monetary damages and an injunctive action to leave Suh alone.
The suit also alleges Gardiner's ward superintendent, Charles Sikanich, had his mother pull Suh's police records. Sikanich's mother works for the Clerk of the Circuit Court of Cook County and had access to court records unavailable to the general public, the suit alleges.
"He used government employees to carry out this work," Kane said of the alderman. "This was not Gardiner on his free time. He was telling his chief of staff and his [ward] superintendent to take out a retaliatory campaign against my client for doing nothing more than exercising his First Amendment rights."
Sikanich is under investigation by the local division of the Bureau of Alcohol, Tobacco, Firearms and Explosives after federal authorities seized a Steyr machine gun from him in August, according to ATF records.
Gardiner is also facing a series of allegations that include withholding ward services from his critics, using foul language to describe women and other potential misconduct.
The FBI, the Chicago Board of Ethics, the Circuit Court Clerk's Office and the Office of the Inspector General have launched investigations into Gardiner's conduct in office.
Tuesday's lawsuit is the third filed against the alderman since he took office in 2019.
Last year, former Far Northwest Side resident Benjamin George filed a federal lawsuit against Sikanich and Gardiner, alleging the two men inaccurately accused George of a crime, harassed him and had him arrested over a lost cellphone. In June, six residents sued Gardiner and the city for allegedly blocking them or deleting critical comments on his Facebook page.
Suh hopes the lawsuit will stop the alderman from lashing out against his critics and other constituents who oppose him.
"We have seen now how thin-skinned the alderman is and how he is unable to tolerate any criticism," Suh said. "I want the exposure of this and to see a court of law rule against this."
Gardiner's office did not return requests for comment.
Subscribe to Block Club Chicago. Every dime we make funds reporting from Chicago's neighborhoods.
Already subscribe? Click here to support Block Club with a tax-deductible donation.
RELATED ARTICLES
Ald. Jim Gardiner Boots Residents From Public Meeting For Asking About Investigations Into Conduct
Ald. Jim Gardiner Blasted For 'Obscene' Texts, Stripped Of Committee Positions By Cook County Democratic Party
Ald. Jim Gardiner Says Sorry For Foul-Mouthed Texts As Council Colleagues Call For Hearing To Investigate Him
'Do Not Help Her': After Texts Show Ald. Jim Gardiner Called Constituent A 'C-nt,' Council Members Want Him Punished
NW Siders Sue Ald. Gardiner For Blocking Them On Social Media, Saying He's Violating 1st Amendment By Silencing Critics
NW Side Alderman Had Staffer Falsely Report Cellphone Stolen — Then Had A Constituent Arrested, Lawsuit Alleges
Listen to "It's All Good: A Block Club Chicago Podcast" here: