GARFIELD PARK — Damon Lamar Reed has spent the past year creating vibrant murals of Black women and girls who have been missing from the Chicago area, some gone for decades.
Reed's effort to honor the women and girls is being chronicled in a documentary in the works. Now, the public can see the artwork itself, as it is on display for the next two weeks at 345 Art Gallery, 345 N. Kedzie Ave.
"Still Searching" features portraits of 19 women and girls, with the works based off family photos. The exhibit debuted late last week to a large crowd of admirers. Galleries in other cities have expressed interest in showing the murals, Reed said, and a website about the missing women and girls is planned.
"This isn't going to be it. We're going to keep it going," Reed said. "As long as there are people missing, there will be work to do, and I do my part."
RELATED: Bobby Rush Calls For Special Task Force To Find Missing Black Women And Girls
The portraits feature:
Tionda and Diamond Bradley, 10 and 3 when they went missing in 2001.
Jerrica Lizette Laws, 24 when she went missing in 2015.
Kierra Coles, 26 when she went missing in 2018.
Lashayla Sanders, 15 when she went missing in 2020.
Lilliana Boyd, 16 when she went missing in 2020.
Maliyah "Lee Lee" Eaglin.
Mercedes Crumpton, 13 when she went missing in 2020.
Yasmin Acree, 15 when she went missing in 2008.
Earneisha Shields, 15 when she went missing in 2019.
Nicole Johnson, 16 when she went missing in 2002.
Nigeria Hunter, 19 when she went missing in February.
Joanna Wright, 33 when she went missing in 2017.
Demetrice Brown, 17 when she went missing in 2017.
Lativia "Tivi" Johnson, 14 when she went missing in 2020.
Alexis Camry Scott, 20 went she went missing from Peoria in 2017.
Vinyette Teague, 1 when she was abducted in 1983.
Sonya Rouse, 50 when she went missing in 2016.
Linzer Franklin-Murray, 64 when she went missing in 2011.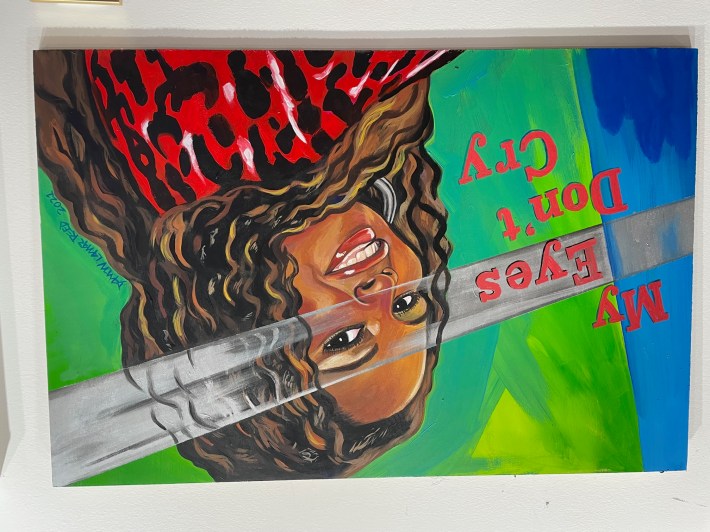 Community leaders, artists and others have spent decades raising awareness about missing and murdered Black women and girls in the area, organizing marches, launching online collections for the women's stories, demanding more police involvement and other initiatives to ensure the victims and their stories aren't erased.
It's only been in recent years that the issue has generated more mainstream media coverage and political action.
In September, Cook County Sheriff Tom Dart announced an investigative division devoted to old missing persons cases, saying women will take priority on the list. The same month, Mayor Lori Lightfoot announced a plan to combat sex trafficking and partner violence — but it remains to be seen whether it will stop more Black women from going missing.
The exhibit opening included a panel discussion featuring Reed; Tracey Bradley, mother of the Bradley sisters; Shekina Mays, Yasmin Acree's cousin; and Pablo Foster, the private detective working with Bradley to find her daughters.
One of the biggest myths in missing persons cases is the idea you have to wait 24 hours before filing a report, Foster said.
"Every minute a child is missing, you have to add an hour to it. Every hour an adult is missing, you have to add two hours," Foster said. "You have to demand that law enforcement take the report. There is no 'waiting 24 hours to see what happens.' You know your loved one better than anyone else."
Mays told the audience coverage of her cousin's disappearance had all but disappeared since the death of her aunt, Yasmin's mother, in 2014. The investigation into her case was roundly criticized. A Tribune investigation in 2011 showed how police failed to uncover that a convicted serial rapist lived in the same building as her and later admitted to having information about the teen's disappearance.
The man, Jimmie Smith, was sentenced to 110 years in prison for unrelated sexual assaults in 2017.
Bradley, who met Reed when he attended a vigil for her daughters last year, is still hopeful for a reunion with her girls. She told Block Club an updated sketch of Tionda and Diamond will soon be released, this one "more accurate" than the current rendering.
"It's a special night, and I'm grateful to Mr. Reed and his wife for inviting me," Bradley said. "What they're doing to help my children and other missing children is beautiful."
Listen to "It's All Good: A Block Club Chicago Podcast" here: