JEFFERSON PARK — Ald. Jim Gardiner's ward superintendent had a $15,000 machine gun seized by federal authorities in August, but he's still working for the beleaguered Northwest Side alderman.
Charles Sikanich, Gardiner's ward superintendent who oversees sanitation services in the 45th Ward, is under investigation by the local division of the Bureau of Alcohol, Tobacco, Firearms and Explosives after federal authorities seized a Steyr machine gun from him Aug. 18., according to documents released earlier this month.
The gun was seized as a penalty for wrongdoing, according to the ATF notice.
A spokesperson for ATF's Chicago office said the incident is under investigation. The spokesperson confirmed the seizure but would not provide further details.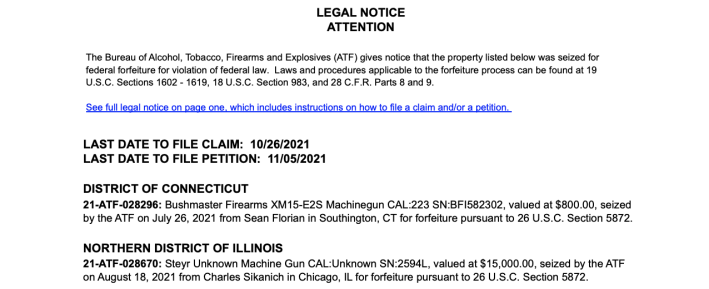 Under Illinois law, machine guns are illegal, and people caught with them could face three to seven years in prison. Sentencing guidelines vary, with recommendations between six and 30 years if the weapon is found to be loaded or in a vehicle.
The Steyr machine gun seized from Sikanich is a selective-fire gun that can be configured as a rifle or an automatic weapon.
Despite rumors circulating that Sikanich had been suspended, a Freedom of Information Act Request officer confirmed he is still on the job. Multiple residents said they've seen Sikanich driving his city truck in the past two weeks.
Block Club reached out to Mayor Lori Lightfoot's office for comment, but was referred to the Department of Streets and Sanitation. A spokesperson for Streets and Sanitation declined to answer questions about Sikanich's employment but said the matter was referred to the Office of Inspector General for investigation.
Sikanich makes $100,896 as a full-time ward superintendent, according to city data.
This isn't the first time Sikanich has been in legal trouble.
Last year, former Far Northwest Side resident Benjamin George filed a federal lawsuit against Sikanich and Gardiner, alleging the two men inaccurately accused George of a crime, harassed him and had him arrested over a lost cellphone. George found Sikanich's cell phone at a 7-Eleven and planned to return it to the police station at the end of his workday, according to the lawsuit, but Gardiner allegedly instructed Sikanich to report his phone stolen instead of lost.
According to the suit, police officers, Gardiner and Sikanich separately visited the man's apartment while he was still at work and used disparaging language about George to his roommate, who was his landlord.
"Gardiner then instructed Sikanich to 'have me locked up,'" George said in a statement to Block Club through his attorney. "After I was arrested, I know that Sikanich returned to my home to gloat, and then asked my roommate if he knew that he had a 'gypsy living in his basement.'"
George, who is Romanian and used to own a construction company on the Far Northwest Side, said he never personally interacted with Sikanich. He thinks the gun seizure is worrisome given Sikanich's past behavior.
"Being a gun owner should be for responsible people, and Charles Sikanich, by his actions, is obviously not a responsible person," George said. "As Sikanich is a city employee, it is embarrassing to the ward and to the people of Chicago for ATF to take his firearm away. The fact that Jim Gardiner hired him and continues to stand by him is absurd and a sad reflection on the office." 
Gardiner's office did not respond to requests for comment. When reached by phone Monday, Sikanich declined to comment.
A Streets and Sanitation supervisor, who asked for anonymity due to fear of retaliation, said he has seen Sikanich on the job recently and is shocked the city has not fired him for having an illegal weapon.
The supervisor said Sikanich's alleged actions toward George and the seizure should be red flags for the city to remove him.
"It's problematic, and [it] seems like he's getting away with it," the supervisor said. "When you have this cloud over your head, it's the alderman's responsibility to do something about this, and he has not. I know [department employees] that for lesser offenses have been reprimanded with the city."
The ATF investigation comes on the heels of a series of allegations against Gardiner, who has been accused of withholding ward services from his critics, using foul language to describe women and other potential misconduct.
The FBI, Chicago Board of Ethics, the Circuit Court Clerk's Office and the Office of the Inspector General have launched investigations into Gardiner's behavior.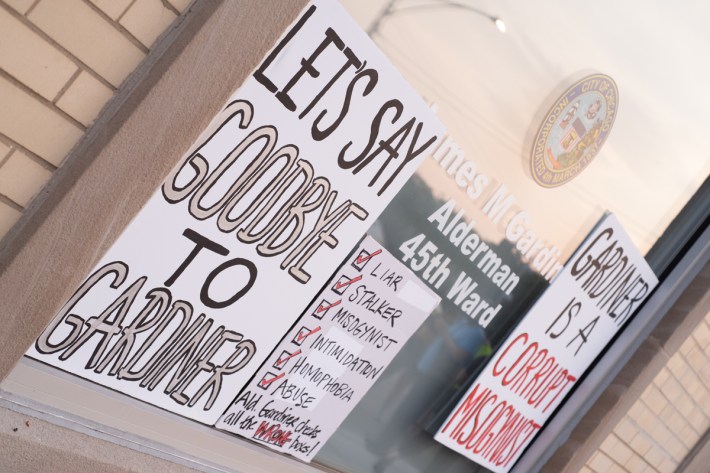 Independent political organization United Northwest Side, which has been vocal in calling for Gardiner to resign amid the scandals, said in a statement to Block Club that news of Sikanich's gun seizure points to a problematic leadership in the ward.
"We know that Charles Sikanich has worked closely with Ald. Gardiner to target perceived critics, and the revelation that he's been carrying out Gardiner's bidding while apparently also owning military-grade weaponry brings new urgency to our demands that Gardiner resign, his cronies be removed from positions of authority, and that members of the City Council investigate his actions," said Jacob Daneman, communications director for United Northwest Side.
Listen to "It's All Good: A Block Club Chicago Podcast" here: