KENWOOD — A few hundred migrants bused to Chicago could start moving into Kenwood this week, officials said as they prepare to reopen a temporary shelter at a lakefront hotel.
The Chicago Lake Shore Hotel, 4900 S. DuSable Lake Shore Drive, will soon house migrants again after the city reached an agreement with the hotel's owners, Ald. Desmon Yancy (5th) confirmed to Block Club Monday. The hotel and a nearby Best Western previously served as migrant shelters from January to April.
But some South Side neighbors oppose the plan, citing a lack of transparency and other concerns.
About 300 people now staying in overcrowded police stations, including families, are expected to move into the Lake Shore Hotel as early as Friday. The hotel will serve as a shelter for at least six months, officials said.
More than 13,000 migrants have arrived in Chicago since Texas Gov. Greg Abbott and other out-of-state politicians began sending them to Chicago in August 2022, setting off a humanitarian crisis and a rush to find housing and services for the asylum seekers.
About 6,700 migrants are now living in 16 temporary shelters across Chicago, according to Mayor Brandon Johnson's office. Nearly 1,700 more migrants are being housed in police stations, where many sleep on crowded floors and rely on donations from neighbors while they await available shelter space.
"Cities are not typically used to doing resettlement at this scale," said Jesus Del Toro of the city's Office of New Americans. "What we're being forced to do is create this infrastructure that just didn't exist."
Yancy and several city officials met with neighbors Wednesday at the Promontory, 5311 S. Lake Park Ave. West, to discuss the reopening of the Kenwood migrant shelter. A crowd of a couple hundred residents from Kenwood, Hyde Park and other South Side neighborhoods attended.
The meeting was tense throughout, as many neighbors took issue with a lack of transparency about the shelter plans and the idea of housing migrants in Black communities amid decades of racist divestment and treatment of Black Chicagoans.
"It's pretty clear that this is a divided community around this moment," said Yancy, who in May voted to approve $51 million for services at temporary migrant shelters.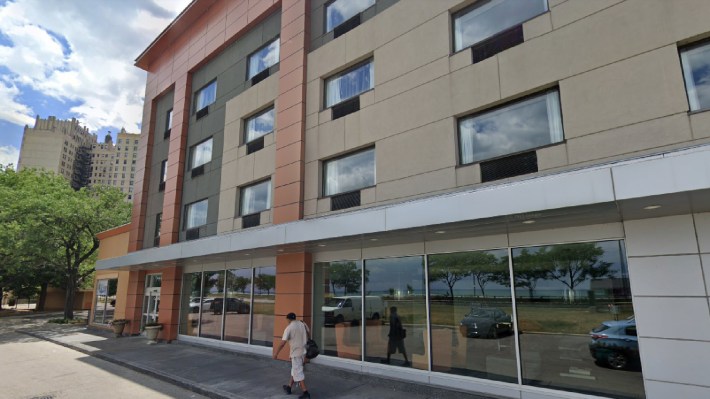 Some residents asked how to best serve the migrants once they arrive in Kenwood and demand that officials provide more direct assistance to grassroots organizations supporting migrants.
"This is a generous city," said Brenna Delgado of the Police Station Response Team, a mutual aid group. "… Every single time that I have made a request on public platforms or private ways that I can communicate with churches, I've always received generosity from Chicago."
Some attendees raised concerns about conflicts between migrants and long-term residents in other communities — like in Woodlawn, where a parking dispute near the shelter at the old Wadsworth school escalated into a fight, Police Deputy Chief Stephen Chung confirmed.
Others spread false, unverified and xenophobic information about the migrants. Officials were routinely shouted down by residents opposed not only to the shelter's opening, but to migrants' being in the U.S. — a raucous scene similar to meetings earlier this year on migrant shelters in South Shore and Woodlawn.
"I don't want them there," said Doris Lewis, who lives across the street from the hotel and got into verbal spats with attendees, Yancy and city staffers throughout the night. "Take them some place else or send them back to Venezuela, I don't care where they go."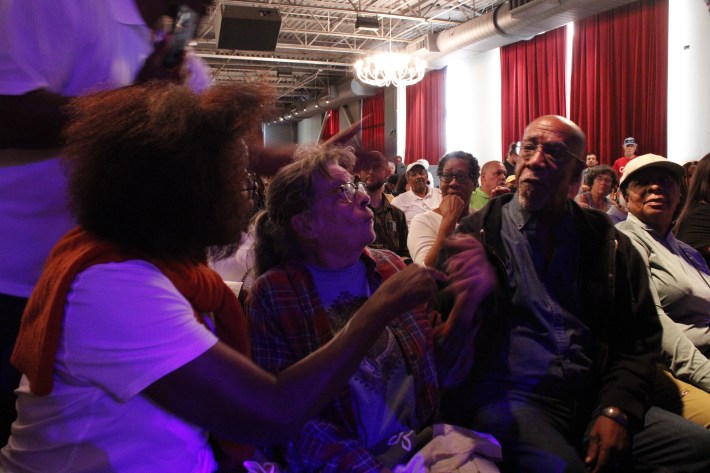 Many migrants have come to the United States from Venezuela, which has struggled with political and economic upheaval resulting in severe food and medicine shortages, surging inflation, rising unemployment and violent crime. 
A 3-year-old died this month on a bus from Texas, while some migrants have been without basic resources like housing, food and jobs during their rapid relocation to Chicago.
The influx of vulnerable residents needing social services has strained the city's already overloaded shelter system, as local officials scramble to find more places to temporarily house people and families.
"With the pace of buses, with no federal remedy, we have to think creatively to look at space" for migrants, Del Toro said. "Folks here are expressing this is not a sustainable system, and therefore the necessity of federal remedies [like approving Temporary Protected Status for Venezuelans] are there."
But the city's rollout of new shelters has been plagued by a lack of transparency with neighbors and local alderpeople — first under former Mayor Lori Lightfoot, and now under Johnson.
"I am hopeful about Mayor Brandon Johnson being more transparent than Mayor Lori Lightfoot," Corey Mason, executive director of grassroots organization Fearless Leading by the Youth, told Block Club Wednesday.
"But according to the patterns thus far, it seems like aldermen and community members will get hit last-minute with things that [the mayors] will do … without our acknowledgement and our OK," Mason said.
Yancy learned the Lake Shore Hotel would reopen last Wednesday, he said. His "biggest concern" about the shelter's opening is that Johnson's administration didn't consult neighbors ahead of time, the alderperson told Block Club Monday.
"This wasn't a consultation, this isn't something they were thinking about," Yancy said at Wednesday's meeting. "This was a deal that was already done. I was heated … to the point of feeling disrespected."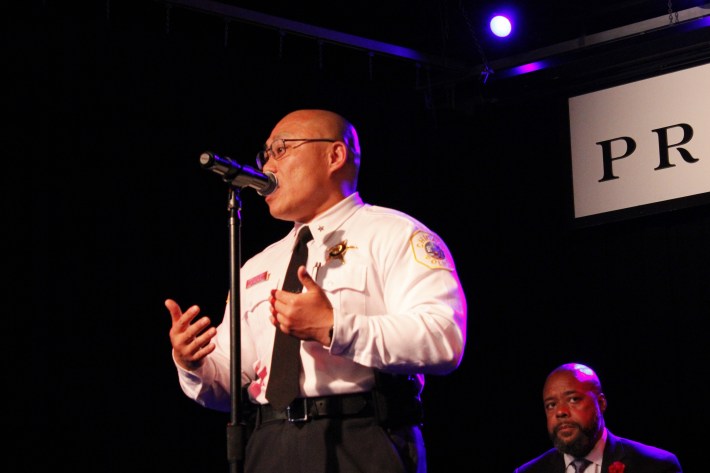 In July, neighbors rebuked Johnson administration leaders for opening a vacant health center in Douglas to house migrants and hosting a community meeting to inform neighbors less than 24 hours before they'd planned to move people in.
Fellow South Side Alds. Jeanette Taylor (20th) and Michelle Harris (8th) blasted Lightfoot's administration for opening or trying to open shelters in Woodlawn and South Shore without public input.
Ald. Andre Vasquez (40th), who is the chair of City Council's immigrant and refugee rights committee, said better communication from city officials is necessary in the face of Abbott's and others' political stunts.
The busing of migrants into Chicago "is an intentional attack meant to divide people here," Vasquez said. "… Every community deserves more than a week's heads up when [a shelter is opening]. This process needs to improve."
Watch our "On The Block" TV show on The U, CW26 and MeTV.
Listen to "It's All Good: A Block Club Chicago Podcast":