SOUTH SHORE — Frustrations over plans to use the old South Shore High School as a temporary shelter for migrants boiled over during a chaotic meeting that was as much a referendum on the city's responsiveness to neighbors' needs as it was a loud rejection of plans.
Several hundred people attended a public meeting Thursday on plans to use the former high school, 7627 S. Constance Ave., as a respite center for migrants before they can be placed in a shelter.
At least 250 and up to 500 migrants at a time will receive short-term, basic amenities at the old high school amid a "humanitarian crisis" that's pushed Chicago's shelter system to its limits, according to Mayor Lori Lightfoot's administration.
The temporary shelter could open by the middle of next week, officials said. That's despite a commitment from Mayor-elect Brandon Johnson, who takes office in less than two weeks, to hear from South Shore residents before making a decision on the respite center, according to WTTW.
Most migrants have come to the United States from Venezuela, which has struggled with political and economic upheaval. Others are from Middle Eastern, African and European countries, officials said.
RELATED: After The Buses: Meet The Migrants At The Center Of Texas' Manufactured Crisis
Some migrants have sheltered at Chicago police stations in recent weeks, where they've slept on floors and ate expired meals, according to the Sun-Times. Others slept last week at O'Hare Airport after a San Antonio shelter gave them one-way plane tickets.
RELATED: As Migrants Pack Police Stations And More Arrive, Exhausted Volunteers Say The City Needs A Better Plan
Yet for many South Shore residents who attended Thursday's meeting to oppose the city's plans, the migrants' plights rang hollow in the face of neighbors' fears and frustrations.
"While we recognize this is a humanitarian crisis [that] may constitute an emergency for the city of Chicago, it does not constitute an emergency for the South Shore community nor the residents of the 8th Ward," Ald. Michelle Harris said to start the meeting.
Harris, a close ally of the mayor who has been Lightfoot's floor leader for two years, voiced her opposition to the respite center plans and received cheers from the crowd. Harris wasn't "in cahoots with nobody" about the plans, as she found out about them from Lightfoot's office while on vacation last week, she said.
Minutes later, the crowd shouted down city officials' attempt at a presentation about the plans. One attendee held a "Build the Wall 2024" sign, while others said the migrants' arrival threatened neighbors' safety.
Officials abruptly shifted the meeting into an extended Q&A session. During the session, attendees aired a laundry list of frustrations both directly and tangentially related to the respite center plans.
They blasted the city for shuttering schools in Black neighborhoods, said police responses in the neighborhood are slow or nonexistent and demanded more services for people experiencing homelessness.
City officials have ignored residents' pleas for help around a myriad of issues in South Shore, a predominantly Black neighborhood, over the years, so it's insulting for the city to jump into action to help the migrants, numerous neighbors said.
A panel of officials attempted to underscore the severity of the migrants' situations and touted their investments in the neighborhood, but were drowned out by jeers from the crowd at nearly every turn.
The city's lack of communication before finalizing the old South Shore High plans made a difficult situation worse, South Shore resident Etta McChristian told Block Club.
Spokespeople for Lightfoot and Harris declined to answer Block Club's questions about the building's future Monday, though they later confirmed plans to house migrants there.
Officials previously opened a migrant shelter at a closed school in neighboring Woodlawn with a process that sowed confusion and led to months of outrage from neighbors and an apology from a city commissioner.
Despite Thursday's chaos, McChristian saw value in the meeting as it gave her neighbors a chance to speak directly to "the powers that be," she said.
It's a chance they didn't have as leaders made decisions about the South Shore respite center, she said as she cheered on her neighbors who asked questions.
McChristian shared photos of an event last week in which she and other neighbors bought food and supplies for Venezuelan migrants sheltering at the 3rd District police station in Greater Grand Crossing.
The effort shows "we are compassionate and we do have empathy," but doesn't change that she and other residents reject the respite center rollout, she said.
The migrants "come from a place where they didn't have nothing, so I know what that is," McChristian said. "But at the end of the day, if Chicago can't take care of its own, why should they take care of others? If the resources are given to others, why can't the resources be given to us?"
RELATED: Woodlawn Neighbors Stepping Up To Help Migrants Housed At School-Turned-Shelter
After the police department announced in 2020 it would open a police training center at the former South Shore High School, the respite center "is the second thing that [the city has] done in our community and not shared or asked how we felt about it — they just did it," resident Elaine Reeves Haywood said.
Reeves Haywood has no faith city leaders will find a balance between caring for migrants and for existing residents in need, she said. "It's one or the other for me," and she's on the side of her existing neighbors, she said.
"We've got homeless people here in our community, we've got people that need shelter and need food," Reeves Haywood said. "There was no answer for that."
City leaders said the respite center and migrant shelters across the city do not take away resources from unhoused Chicagoans. They will invest $35 million citywide to house 1,300 households and maintain housing for 1,000 more people moving forward, they said.
Thursday's meeting — held at South Shore International College Preparatory High School, 1955 E. 75th St. — took place just days after Lightfoot criticized Texas Gov. Greg Abbott's plan to resume bussing migrants to Chicago this week.
The mayor blasted Abbott's recent actions as "inhumane and dangerous," as Chicago is unable to help the new arrivals, she said last weekend.
Abbott, a Republican, began bussing asylum seekers and other migrants to Democrat-led cities on Aug. 31 to protest federal immigration policies. Since then, officials in Texas and other states — including Colorado, which has a Democratic governor — have sent more than 8,000 migrants to Chicago.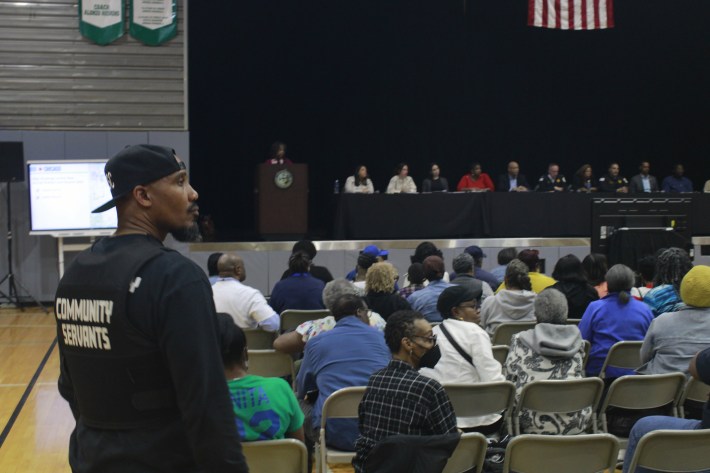 The South Shore Compact — made up of South Shore Works, the South Shore Chamber and the Neighborhood Network Alliance — also opposes the respite center plans, members announced ahead of Thursday's meeting. The compact was a driving force behind the neighborhood's quality of life plan released last year.
Among the group's demands are to use the former school "for community purposes only," for the city to prioritize its resources to "improve the quality of life" of existing residents and a temporary ban on accepting more migrants to Chicago.
"I understand this is a done deal, but we're asking you to reverse that deal," said Val Free, lead steward of the Neighborhood Network Alliance. "We're not playing over here."
Members held a press conference ahead of Thursday's community meeting to announce their demands, though other compact representatives were pulled into a last-minute discussion with Lightfoot about the shelter plans, Free said.
Some residents have for years called for the property to be a community school for the arts that would feed into South Shore International College Prep, Free said.
When the city instead opened the police center, the move initially ruffled feathers, though neighbors closest to the building eventually seemed "fine with it," she said.
The Neighborhood Network Alliance sent a newsletter two days before the community meeting sharing links on the topic of immigration. Included was a link to a video from the Center for Immigration Studies and unproven claims that migrants set to be housed at the former high school were "illegal" and "low-skilled."
The Center for Immigration Studies, whose co-founder was a white nationalist and showed support for eugenics, is designated a hate group by the Southern Poverty Law Center.
Free was not aware of the center's history prior to sending the newsletter, she said, adding that she would disavow its inclusion in the email. She crowdsourced the links from community members, she said.
Free did not clarify why she and the newsletter said migrants are "illegally" immigrating to the United States, even as most of them are asylum seekers, according to city officials. Non-citizens have the legal right to seek asylum.
"This is not about racism for us," Free said. "This is more about access to resources and stabilizing our neighborhood. … We shouldn't have to fight with people who don't live here over resources that we're not getting."
Subscribe to Block Club Chicago, an independent, 501(c)(3), journalist-run newsroom. Every dime we make funds reporting from Chicago's neighborhoods.