CHATHAM — Transforming the South Side's 6th Ward into a thriving, safe community is a "personal" mission for William E. Hall. 
As a boy, he rode his bike and scuffed his knees on the sidewalks on 84th and Wabash. Curving on a neighbor's lawn was a Chatham offense. 
As a teen, he cruised the neighborhood with his "curious and cool" friends, threw out trash for elderly neighbors and stacked boxes of donated food at church.
As a man, he served at Chatham's St. James Community Church, where he's been senior pastor for nearly a decade. 
On Monday, Hall took the oath committing to the grandest task for his community yet: serving as its alderman.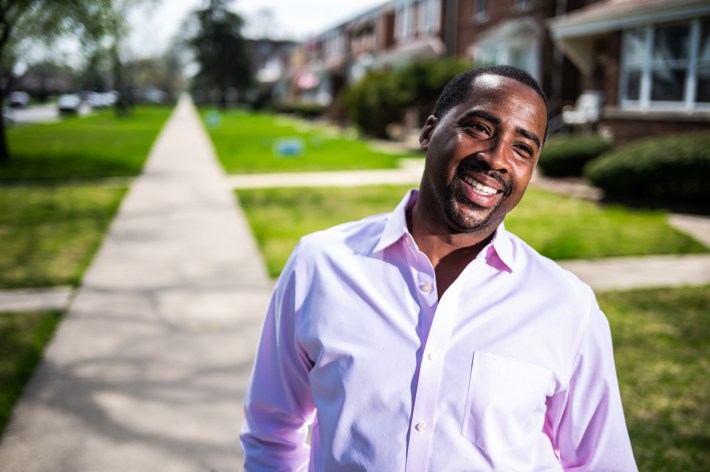 Hall emerged from a crowded field in February then beat Richard Wooten in the April runoff election to secure the 6th Ward seat vacated by Ald. Roderick Sawyer after three terms. The ward includes parts of West Woodlawn, Chatham, Park Manor, West Chesterfield, Auburn Gresham and Englewood.
Hall has vowed to work to restore public safety, economic opportunities, equitable city services and quality neighborhood schools. He's also advocated for adequate mental health services and youth programming, following in the footsteps of Mayor Brandon Johnson, 
After 38 years living in the community, Hall is ready to "build a new ward alongside great residents" — many of whom he's known his entire life, he said.
"I hope to build a ward that we can all be proud of and raise our kids in," Hall said. "I want an intergenerational, thriving, safe community. I don't think that's too much to ask for, but we're going to fight like hell to get it. It's going to be worth it when we do."
'I Grew Up With Black History'
During a recent interview near where he grew up, Hall pointed to every home to rattle off its history.
One home was owned by "Mr. Smith," a Tuskegee Airman who told stories to neighborhood children about his days as a fighter pilot. Another belonged to "Ms. Lucille," a union worker. "Mr. Clarence," an insurance man, had a business on King Drive. 
On his block, Mamie Elizabeth Till-Mobley, the late mother of Emmett Till, lived and told stories about her time in Mississippi and her love for her son. 
"All of these homes raised me," Hall said. "They were places that dropped a good seed of fight, wisdom and courage," Hall said. "I grew up with Black history. You couldn't tell me what was in the book. I was talking to it." 
Hall grew up "happy poor," he said. He'd sleep in coats in the wintertime and eat "hot dogs and pork and beans or mustard and bologna sandwiches" for dinner, he said. After his parents divorced, he was raised by his father, William H. Hall.
His father taught him to give back to his community, Hall said.
"My dad was never scared to show up," Hall said. "He was never intimidated by problems or people. He was just in it to help. His love was rooted in the bettering of somebody else's life — helping for the gain and strength of somebody else. It's the love I know because it's what I was taught."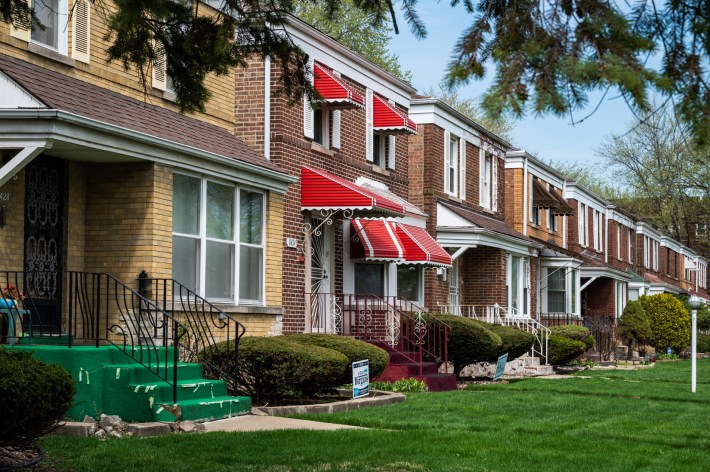 Hall's father was a "devoted, conservative Catholic with a liberal justice approach," Hall said. As a kid, Hall couldn't get his lunch money until he recited a Bible verse. 
Hall nicknamed his father "The Pope" because of his commitments to several Catholic churches, he said. In old photos, he often sported an afro and a raised fist, Hall said. 
"Living with him as a little kid, I was able to see an example of what I could be," Hall said. "He was this superhero of a Black man and a freedom fighter."
As a "principal in the projects" at the former St. Joseph's Catholic School in Cabrini-Green, Hall's father had two phone lines: one for his everyday life and another for assisting when something happened at the school, Hall said. It wasn't odd for him to leave their Chatham home in the early morning hours if there was a robbery or a student had been shot, Hall said. 
"That was my role model," Hall said. "His commitment to making sure the silent had a voice was his lifestyle. For me, it was partially trying to be like my dad. As I grew up, I rooted myself in what was true theologically and what we needed as a society." 
Hall would help his father pack boxes of food for people in need on Saturdays and drop them off, he said. After, they'd ride the "L" to Evanston and Skokie to walk and talk about life, Hall said. 
"It was an obligation to give back as a kid," Hall said. "As a grown man, it's the same thing. I don't know what life is like unless I'm defending, uplifting and restoring dignity to the poor. It's not a stunt, it's not a game. It's a love ethic for me."
'Everything Started Falling Into Place'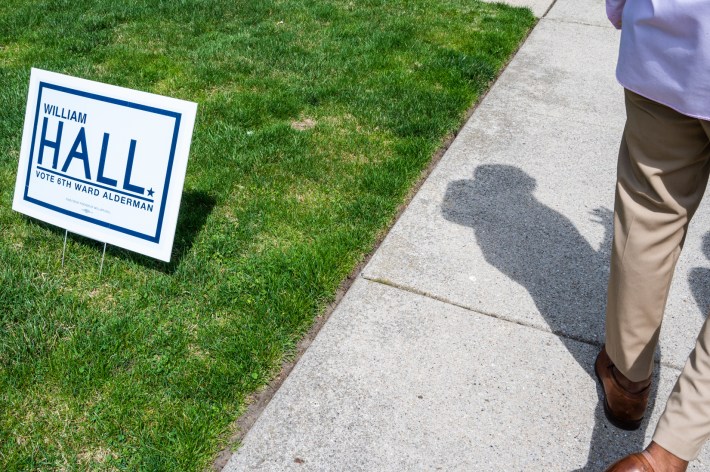 Like most teens, Hall started hanging out with friends, driving around and playing CDs while discussing the future, Hall said. But as he got older, he began to receive "harsh warnings" from his father, Hall said. 
One day, Hall went to work instead of joining friends to "go outside, smoke and chase girls," he said. That day, someone opened fire at his friend's car after mistaking it for someone else's. Bullets pierced the seat Hall normally sat in, he said. 
"We weren't hoodlums," Hall said. "We didn't look for or start trouble. We were raised to work hard. But I started to see the harsh reality that life wasn't going to be the way I thought it was going to be if things didn't change."
The shooting forced Hall to explore his relationship with God, he said. He was listening to "What's to Come is Better Than What's Been" by Bishop Larry Trotter, one of the CDs his friends routinely played, when he dedicated his life to ministry Sept. 11, 2002.
After he got Saved — a term coined by Christians when you give your life to God — "everything started falling into place," Hall said. 
Hall continued his journey at DePaul University, where he later received a degree in economics and religious studies. He received a Masters in divinity from the McCormick Theological Seminary. 
Connections in the faith industry led him to work at South Side churches until he landed at St. James — a two-minute drive from the homes and the people that raised him and elected him as alderman.
'Everything Started To Change'
Hall has lived on the same block in Chatham for nearly four decades. He grew up a "block club baby" — the son of one of its leaders until his father died.
But eventually he noticed that "everything started to change," he said. There was "no sense of togetherness," Hall said. Crime became rampant, Hall said.
"We went from a community where we knew and trusted each other to people being afraid to open their front doors," Hall said. "Everyone had a key to each other's house when I was a kid. Now, you don't give your keys to somebody like that."
"For me, the wrong was personal. I didn't want this beautiful ward to get to a point of dilapidation and then it's taken over by people who find money from city government or private entities and make it a dream for somebody else that didn't sweat to get here," Hall said.
The fight to fix years of historic wrongs inspired Hall to run for office, he said. Once Sawyer made his bid for mayor, Hall joined 10 other South Side candidates hoping to replace him.
Hall said his experience as a leader and a servant in the ward, and his ability to meld hope for the future with respect for the past help set him apart from the field. Hall and Wooten easily separated from the field, before Hall claimed 58 percent of the vote to win the runoff.
"We have a history that we are appreciative of, but we have work to do," Hall said. "For me, it was important to work hard to build a ward that we could all be proud of and where families would want to stay. I want to build a ward that attracts the next and the now generation while honoring those homeowners who didn't lose hope."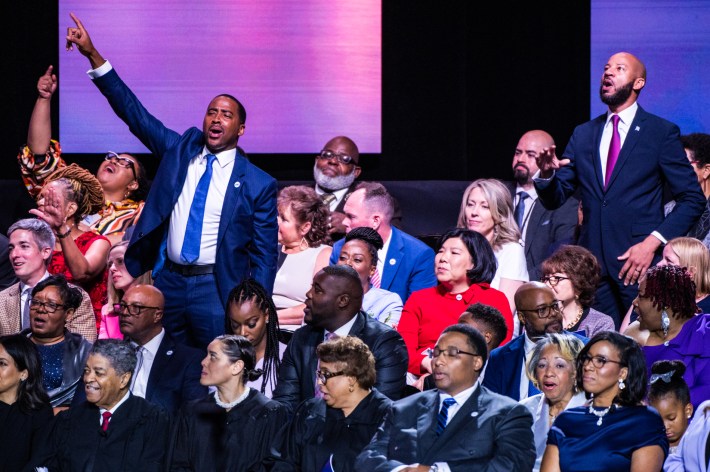 'The New Chapter Of This Ward'
At 38, Hall joins a young new cohort in City Council. He supported Johnson in the mayoral election — the most progressive mayor in a generation — and is ready to follow Johnson's lead, Hall said. 
He also is ready to give the 6th Ward " safer communities, better schools and a strong economic base that makes people want to stay and not just invest," he said. 
There was once a time you could drive through the ward and see thriving businesses and blocks rich with homeowners, Hall said. 
"Now when you drive down all of these spaces, they're dilapidated, abandoned and dark at night," Hall said. "Not on my watch."
The 6th Ward is the "Black middle-class beltway," Hall said. Under his leadership, he won't let it "go to the wayside," he said. 
"We can't continue to mourn over what we've lost," Hall said. "The new chapter of this ward is about coming back stronger and connected. That's the contribution I'm making." 
Listen to "It's All Good: A Block Club Chicago Podcast":