CHICAGO — As he took the stage Tuesday night at his election night party, Mayor-elect Brandon Johnson invoked the legacy of Martin Luther King Jr. 55 years to the day the civil rights leader was assassinated on a balcony in Memphis.
"The Civil Rights Movement and the labor rights movement has finally collided," Johnson said to roaring applause. "It's very clear that one bullet didn't kill a dream."
Johnson, a Cook County commissioner and Chicago Teachers Union organizer, cast his victory over former Chicago Public Schools CEO Paul Vallas Tuesday as the culmination of the work of King and other progressive leaders, including Chicagoans like labor activist Rudy Lozano, former Mayor Harold Washington and Jesús "Chuy" García.
Johnson tied his own campaign's success — and his wide-ranging plans to overhaul the way the city polices and educates — as a continuation of that legacy.
And Johnson's win coincides with a dramatically reshuffled City Council that leans younger and more progressive. Community organizer Angela Clay and business owner Leni Manaa-Hoppenworth claimed victory over moderate candidates Tuesday in their respective North Side wards.
"Let's take this bold progressive movement around these United States of America," Johnson said. "Chicago, we can show the country, we can show the world what's possible when we stand on our values as one people."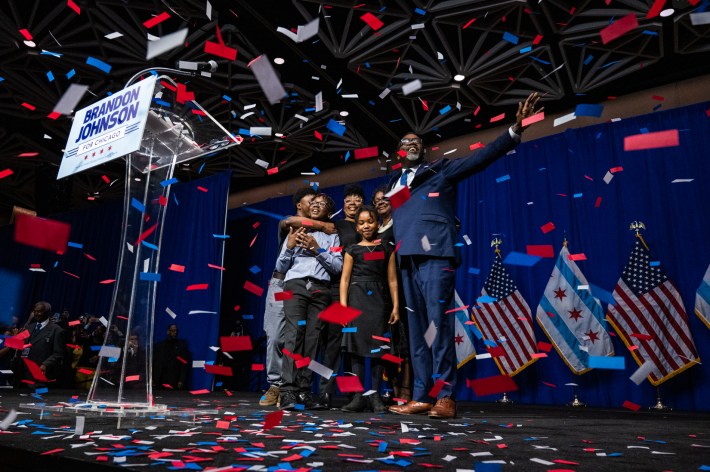 Johnson's path to the fifth floor of City Hall began as a longshot campaign for mayor that saw him polling in single digits last year.
On the campaign trail, Johnson often talked up his experience as a middle school teacher and living with gun violence in his West Side neighborhood.
Johnson's campaign began to surge over the winter as he built progressive support across the city — in part thanks to large campaign contributions from the CTU and branches of the Service Employees International Union.
Johnson ultimately notched 22 percent of the vote in the Feb. 28 election, second to Vallas' 33 percent, and both candidates advanced to the April 4 runoff. Incumbent Mayor Lori Lightfoot came in third and became Chicago's first one-term mayor in 40 years.
Johnson gained momentum over the past five weeks through an onslaught of campaigning and numerous televised debates, while also landing endorsements from prominent elected officials, unions and other groups.
In contrast to Vallas' promises to hire more police officers and fill department vacancies, Johnson pledged to focus on the "root causes" of crime by directing greater investment to neighborhood development and mental health resources. His budget plan includes a number of taxes aimed at the wealthiest Chicagoans, visitors and companies doing business in the city to pay for the expansion of city services. That includes upping the city's hotel accommodation tax and reinstating a corporate head tax, which would require companies of a certain size to pay a small amount per employee.
Johnson's also backed a series of policies proposed by City Council progressives, such as the Treatment Not Trauma initiative and the Bring Chicago Home ordinance to address mental health emergencies and direct more funding to homelessness prevention.
While Johnson stumbled around messaging over past comments about defunding the police and fielded last-minute attacks over unpaid water bills, it was ultimately not enough to sink his campaign.
During his victory speech Tuesday, Johnson even brought up the water bill attack — as evidence he'll be a mayor to all Chicagoans.
"And when I say all the people, I mean all the people — especially folks who have ever been on a payment plan," Johnson said.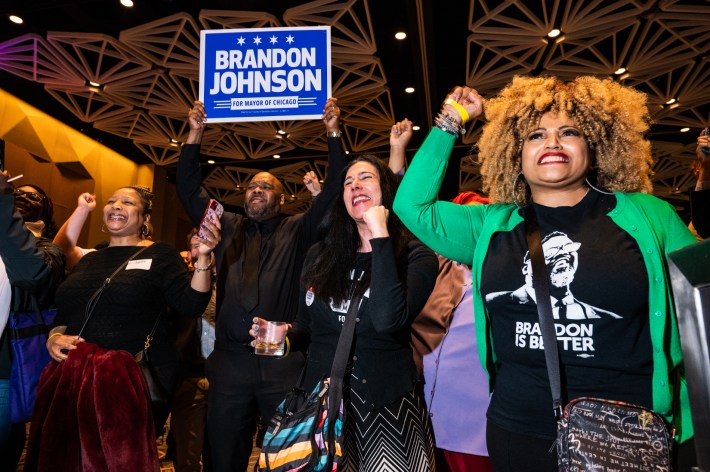 Johnson will be the fourth Black mayor in Chicago's history — and perhaps the most progressive since Harold Washington, if not ever.
It was that progressive platform and record that inspired optimism and dread in different corners of the city Tuesday night.
At Johnson's party in the South Loop, the mood was exuberant after 8 p.m. as the candidate overtook Vallas' early lead. Supporters screamed with joy, danced and cried as victory became imminent.
"This is remarkable. Because it proves that working-class people, poor people, people of color, people of consciousness, have really come together and defeated 'the alliance,'" said Monica Faith Stewart, who said she worked on one of Washington's campaigns.
Stewart also criticized prominent Black leaders like former Secretary of State Jesse White and retired Rep. Bobby Rush for backing Vallas in the runoff.
"But here we are despite them, because ordinary people went to the polls," Stewart said.
Before Johnson gave his victory speech, CTU President Stacy Davis Gates addressed supporters, saying the win will change the United States.
Johnson has faced repeated questions over whether he will truly be independent of the CTU — or if he'll be a pawn to the union that has been one of his largest financial backers. The mayor-elect has repeatedly said he would resign from his position as a union organizer if he wins.
"Brandon Johnson. A paid union organizer for the Chicago Teachers Union listened to Karen Lewis when [she said] you can't close 50 schools and not be held accountable," said Gates, referring to the widespread public school closures in 2013 under former Mayor Rahm Emanuel.
"His movement of community, love and justice is going to transform not just the city of Chicago, but the United States of America."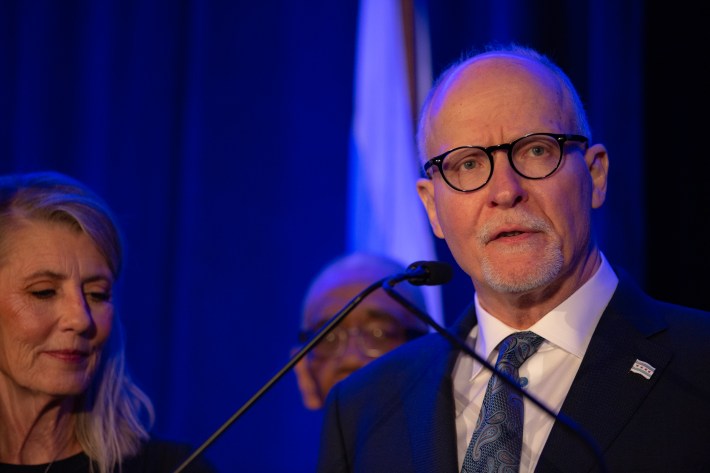 As Vallas conceded Tuesday at his election night party Downtown, his supporters and surrogates sounded a sharply different tune — one of deep frustration and fear for the future of the city.
Nathan Hoffman, a Downtown resident who works with conservative-leaning school choice groups and has been a critic of the CTU, said he's worried crime will continue under Johnson's administration, as the mayor-elect takes the city "in an even further direction to the left than we've been the last four years."
"If you're the teachers union, you're celebrating tonight. I think if you are individuals in the city who commit crimes, I think you're also celebrating tonight," Hoffman said. "I guess we'll see when he's mayor, but I don't think the city will be getting any less dangerous in the next four years."
Ald. Anthony Beale (9th), a vocal Vallas supporter, said he is "afraid for our city" and worries Johnson will allow unions to have outsized influence in his administration.
"When you look at the direction that the city is going and you look at the agenda in which the city is going, business is going to leave. The police are going to leave. Taxes are going to go up drastically. And what's that going to leave for the people here in the city of Chicago?" Beale said.
But prominent Vallas surrogates Ald. Rod Sawyer (6th) and activist Ja'Mal Green, who came up short in their own bids for mayor, were more subdued in their disappointment.
Sawyer said the role unions played in Johnson's victory was "interesting" but said he wishes him the best as he takes power.
"It's an interesting dynamic, it's never been that way before where a small group of unions were able to pull off a race like this," Sawyer said. "But it is what it is. It's a democratic process, and we have to respect it."
Green, who attacked Johnson on social media as he stumped for Vallas over the past month, said he hopes Johnson will concentrate city investment in the neighborhoods while spending responsibly.
"I think it's going to be a tough time for him, honestly. But I'm hoping that he can get some good people around him so he can he can start to build the team that he needs to build to move the city forward," Green said. "I think it could be a tough four years economically for Chicago."
Retiring Ald. Tom Tunney (44th) said he had "no reaction" to Johnson's win as he left Vallas' election night party.
"I'm not happy," said Tunney, who has frequently campaigned with Vallas in recent months.
Vallas stayed positive in his concession speech as he was joined onstage by family and supporters.
"The only pathway forward in our great city is together," Vallas said. "It's time for all Chicagoans to put aside their differences and to walk and to work together supporting the daunting work ahead for our next mayor. I am optimistic that better, brighter days are on the horizon."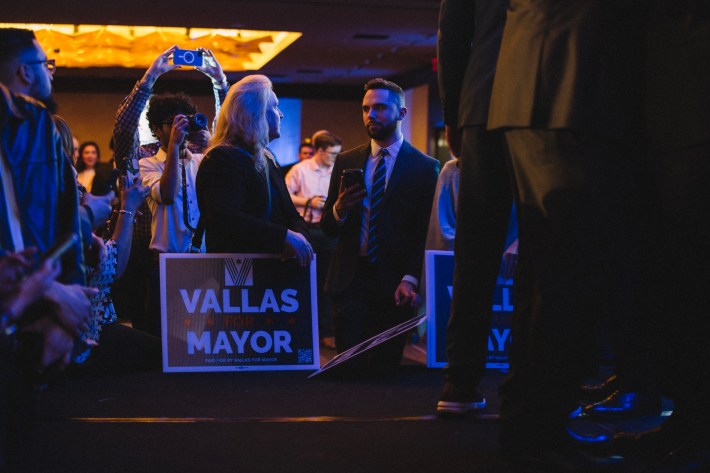 Tuesday's runoff also saw two progressive newcomers notch City Council wins in Uptown and Edgewater on the North Side.
In the 46th Ward, Angela Clay beat challenger Kim Walz in the battle to replace retiring Ald. James Cappleman.
Walz was backed by significant donations from business groups and endorsed by prominent Illinois and local Democrats like Gov. JB Pritzker and Sen. Dick Durbin.
But it was not enough to hold back Clay, a community organizer and Uptown native.
At Clay's victory party Tuesday night, she said special interests spent $250,000 opposing her candidacy — but voters saw through the noise.
"The voters rejected the misinformation," Clay said. "You really put the community first. … I'm gonna work every single day to make sure your voices are heard."
Clay was the lone non-incumbent Chicago Democratic Socialist of America candidate to make a runoff race in the Feb. 28 election.
Clay will be the sixth Democratic Socialist member of the City Council, joining alds. Daniel La Spata (1st), Jeanette Taylor (20th), Byron Sigcho-Lopez (25th), Rossana Rodriguez-Sanchez (33rd) and Carlos Ramirez-Rosa (35th).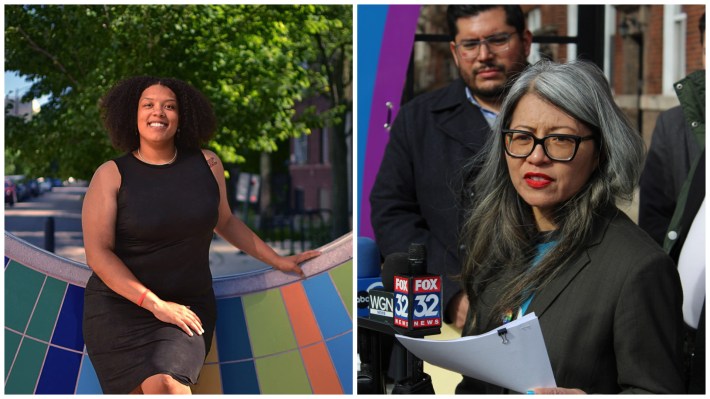 In the 48th Ward, Leni Manaa-Hoppenworth claimed victory Joe Dunne in what started as a 10-candidate race to replace outgoing Ald. Harry Osterman (48th).
Dunne was the preferred candidate of establishment Democrats, while Manaa-Hoppenworth was backed by progressive public officials and groups, including state Rep. Theresa Mah and Ald. Maria Hadden (49th).
Manaa-Hoppenworth, an Andersonville-based business owned and political organizer, was also endorsed by Johnson.
Manaa-Hoppenworth Tuesday said she's excited to work with a more progressive City Council and advocate for affordable housing and mental health support for Chicagoans.
"I'm just ready to do the work; we've been doing it for so long, but now we can do it in a way that can enact real structural change," Manaa-Hoppenworth said.
While City Council is set to face a shakeup, Johnson supporters like Ald. Matt Martin (47th) and Rodriguez-Sanchez said Tuesday they were confident in the mayor-elect's ability to be able to work with all alderpeople, regardless of who they supported in the election.
"I wish luck to everybody in City Council who has been there doing transactional politics for however long, because we don't play like that. We don't do transactional politics. We came here to change the way that City Council operates," Rodriguez-Sanchez said.
As Johnson addressed the city for the first time Tuesday as mayor-elect, he underscored the political sea change underway in Chicago.
"Chicago, tonight is just the beginning," he said. "With our voices and our votes, we have ushered in a new chapter in the history of our city."
Johnson and all alderpeople will be sworn in May 15.
Subscribe to Block Club Chicago, an independent, 501(c)(3), journalist-run newsroom. Every dime we make funds reporting from Chicago's neighborhoods.
Click here to support Block Club with a tax-deductible donation. 
Thanks for subscribing to Block Club Chicago, an independent, 501(c)(3), journalist-run newsroom. Every dime we make funds reporting from Chicago's neighborhoods. Click here to support Block Club with a tax-deductible donation.
Listen to "The Ballot: A Block Club Chicago Podcast":