CHICAGO — Paul Vallas and Brandon Johnson are headed to an April 4 runoff for mayor of Chicago after Mayor Lori Lightfoot conceded defeat Tuesday night, sealing her fate as a one-term mayor.
With 98 percent of precincts reporting, Vallas secured 34 percent of the vote, followed by Johnson with 20 percent and Lightfoot with 17 percent. Under city election rules, if no one candidate gets more than 50 percent of the vote, the race will go to a runoff.
Jesús "Chuy" García was in fourth place with 13 percent of the vote, followed by businessman Willie Wilson with 9 percent of the vote. No other candidate received more than 3 percent of the vote.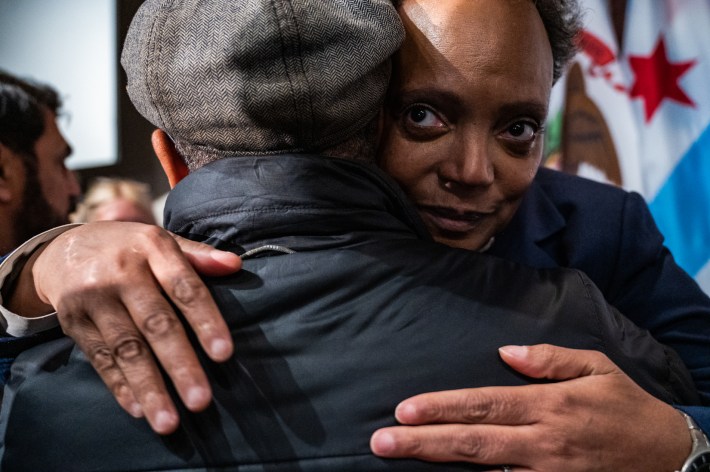 Lightfoot conceded in a Tuesday night speech after calling Vallas and Johnson.
"Four years ago, I looked into the camera and spoke directly to young people of color, who look like me, and to every kid who looked like me, when I grew up. And I'm going to do that tonight," the mayor said.
"Obviously we didn't win the election today, but I stand here with my head held high, and a heart full of gratitude."
During his impassioned speech at his election-night party at the City Hall restaurant in the West Loop, Vallas praised the mayor for calling him.
In his speech, he also pushed his law-and-order message while surrounded by friends, a family that included four police officers and a backdrop that interspersed his name with the words "public safety first."
"I will support our law enforcement officers, but I will also support, and have a zero tolerance, when it comes to violating the law and violates the constitution," Vallas said. "We will have a safe Chicago. We will make Chicago the safest big city in America."
Although opponents attacked Vallas as a conservative during the campaign, he affirmed his support for abortion rights during his speech, and pledged to be a mayor for "all Chicago."
"I am a lifelong Democrat," Vallas said. 
He expressed confidence heading into the runoff.  "Tomorrow, I'm on the road, early morning. Five weeks to the finish line," Vallas said. 
CLICK HERE FOR LIVE ELECTION RESULTS
Johnson, a Cook County commissioner representing the county's 1st District on the West Side, thanked the unions that buoyed his campaign in his speech, including the powerful, progressive Chicago Teachers Union. He said he would work to level out Chicago's historic inequities, and spoke in personal terms about his background and his progressive vision for the city.
"I know what it's like to have a long orange extension cord from our window to our neighbor's window," Johnson said. "We are finally going to retire this tale of two cities, and usher in a much better, stronger, safer Chicago."
Johnson also took the opportunity to criticize Vallas, saying he ran the city's teacher pension fund "into the ground" when he was the CEO of Chicago Public Schools and is supported by people who sympathize with Jan. 6 rioters.
"Chicago, we cannot have this man as the mayor of the city of Chicago. Our children and our families across Chicago cannot afford it," Johnson said.
The race marks the third consecutive mayoral runoff, after García faced off against incumbent Rahm Emanuel in 2015 and Lightfoot defeated Cook County Board President Toni Preckwinkle in 2019. The city switched to non-partisan elections in 1999, allowing for runoffs if no candidate receives 50 percent of the vote.
Turnout was sluggish early in the day before picking up by evening. As of 7 p.m. Tuesday, 507,852 votes had been cast, which works out to about 32 percent of registered voters, according to the Chicago Board of Election Commissioners. Four years ago, turnout in the mayoral election was 35 percent.
Lightfoot's defeat is the first time in four decades a sitting Chicago mayor has lost a reelection bid. Jane Byrne lost her reelection bid in 1983, and Eugene Sawyer lost a special election to Richard M. Daley in 1989.
After voters elected Lightfoot in 2019 on an anti-machine platform, the 2023 mayoral race has been dominated by changes that shook the city over the past four years, starting with the COVID-19 pandemic and the surge in crime that accompanied it, as well as ongoing calls for police reform and racial justice.
Candidates attempted to distinguish themselves with differing visions for how to tackle the city's public safety problems, ranging from increasing mental health and emergency services to putting more cops on the streets.
Lightfoot's City Council allies touted her commitment to the city's South and West sides, payments on the city's pension debt and leadership during the pandemic. But the mayor faced widespread criticism for her frequently combative leadership style, poor service and rising crime on the CTA and frequent clashes with the Chicago Teachers Union.
By Election Day, Lightfoot, Vallas, Johnson and García emerged as front-runners.
Results Tuesday showed that Lightfoot was unable to recreate the historic coalition that pushed her to victory in 2019, as her opponents siphoned off voters to both her right and left. Johnson's emergence as a progressive candidate in the race also likely hurt García, who entered the race late after winning his seat in U.S. Congress.
Ja'Mal Green came in sixth, garnering about two percent of the vote. He was trailed by state representative Kam Buckner and Alds. Sophia King (4th) and Roderick Sawyer (6th), the son of former Mayor Eugene Sawyer.
The Runoff
The matchup between Vallas and Johnson offers a striking contrast in priorities, styles and supporters.
While describing himself as a Democrat, Vallas, the former Chicago Public Schools CEO, challenged Lightfoot from the right with a tough-on-crime message that won him the endorsement of the local lodge of the Fraternal Order of Police that represents rank and file officers.
In recent weeks, he tried to distance himself from its lightning-rod leader, John Catanzara, who has expressed sympathy for people who stormed the Capitol on Jan. 6 and vocally supported Donald Trump for president.
In a city with a long history of racial politics, Vallas also ended up being the only white candidate for mayor. Four years ago, Vallas and six other white candidates split the vote in predominantly white areas.
Vallas' campaign also benefited from a flood of big-money donations from wealthy business leaders, including many who previously supported Lightfoot or Republicans.
Johnson, meanwhile, portrayed himself as the true progressive in the race. His campaign was funded almost entirely by progressive labor groups, including the Chicago Teachers Union, which he works for as an organizer.
He will almost certainly have to answer questions about whether he's beholden to the union, which has gone on strike twice in the past decade.
Johnson has said that his experience as a teacher and CPS parent will inform his negotiations with the union more than his experience as its paid employee.
One of seven Black candidates in the race, Johnson stressed that he is a longtime West Side resident.
Both Johnson and Vallas have said they are backed by groups of diverse supporters, but will have to expand their bases to prevail on April 4.
The candidates also offer stark contrasts in their vision for policing, education and taxes. Vallas promised to put more cops on the street; Johnson was the only mayoral candidate who has not vowed to do so.
While Johnson said he would bolster neighborhood schools and limit selective enrollment schools, Vallas outlined plans to expand selective enrollment and promote school choice.
Both candidates have said they will not raise property taxes, although Johnson has proposed a slate of taxes focused on businesses and the city's wealthier residents to fund large-scale social programs.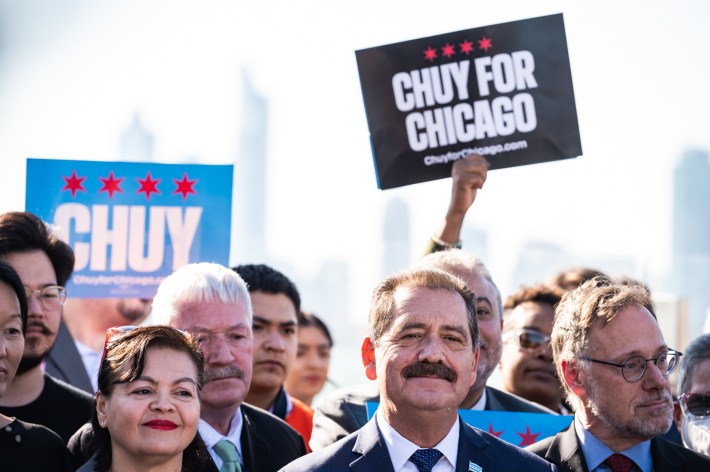 The Campaign
Tuesday's results capped the first round of an unusual and turbulent mayoral election in which a crowded field of businessmen, activists and local politicians challenged Lightfoot for the city's top job.
After a historic victory in 2019 in which Lighfoot ran an outsider's campaign to win all 50 of the city's wards in the runoff, the former lawyer, prosecutor and head of the city's police accountability board struggled to consolidate her own political power during her first term in office.
With concerns about Lightfoot's pugilistic leadership style, service issues on public transit and, most notably, rising crime across the city in the forefront, challengers saw a unique opportunity as the election approached, eyeing Lightfoot as a vulnerable incumbent who hadn't amassed a campaign warchest large enough to stave off opponents.
The issues extended to City Hall, where a historically large number of sitting aldermen who supported Lightfoot in 2019 declined to run for reelection. Many have stayed silent in the mayor's race or endorsed other candidates, including Vallas and Johnson.
By October, eight challengers had entered the mayoral field, with Lightfoot, Vallas, Garcia and Johnson all jockeying for front-runner status after the New Year.
As Lightfoot tried to convince voters to let her "finish what she started," her campaign suffered a variety of self-inflicted wounds, including revelations that a staffer had used Chicago Public Schools teacher emails to solicit students as campaign volunteers in exchange for class credit.
Lightfoot apologized and called the emails "a mistake," but they proved good fodder for challengers, who hammered the mayor for prompting the kind of ethics violation she had promised to ferret out four years prior.
As the campaign entered its later months, the most formidable challenge came from Vallas, who received an endorsement from the city's largest police union and centered his platform around "law and order" and public safety reforms.
Tuesday's results showed that his strategy resonated with residents who felt crime was their main concern in the election.
Vallas outraised the field in the race's final month, receiving large donations from wealthy business leaders — including some who previously supported Lightfoot. He weathered a variety of controversies, including questions about his residency and revelations that his son shot a man while working as a police officer in San Antonio.
With García's late entry, the powerful teachers union endorsed Johnson early on in the race, giving him a big publicity boost, financing his campaign with hundreds of thousands of dollars in contributions and providing a key base of support.
As Johnson surged, García, once a front-runner, saw his campaign stall as he faced attacks for his previous donations from Sam Bankman-Fried, the disgraced crypto-currency mogul, and alliance with Michael Madigan, the indicted former state Speaker of the House. While García struggled to articulate his own progressive vision for the city, Johnson seized the proverbial baton, rising in the polls while García's campaign faded.
In his speech Tuesday, García, flanked by his fellow politicians on the city's Southwest Side, said that he poured his heart into the race — and that there was still work to do.
"I believe in this city. And tonight I still believe that Chicago has more of a future than ever before," García said. "We have so much more to do, and I will never stop fighting for Chicago."
Despite efforts to turn out establishment liberals dissatisfied with Lightfoot, Sophia King struggled to expand beyond her base in Hyde Park and South Shore. Roderick's Sawyer's campaign never got off the ground, and Ja'Mal Green, who was the youngest candidate in the field and had never held political office, wasn't able to improve his visibility across the city.
Willie Wilson, always a wildcard in mayoral elections, enjoyed popularity among voters who appreciated his populist streak, folksy style and gas giveaways early in the race. Ultimately he wasn't able to expand his base beyond 10 percent of the vote — similar to his performance in prior elections.
Subscribe to Block Club Chicago, an independent, 501(c)(3), journalist-run newsroom. Every dime we make funds reporting from Chicago's neighborhoods.
Click here to support Block Club with a tax-deductible donation. 
Thanks for subscribing to Block Club Chicago, an independent, 501(c)(3), journalist-run newsroom. Every dime we make funds reporting from Chicago's neighborhoods. Click here to support Block Club with a tax-deductible donation.
Listen to "The Ballot: A Block Club Chicago Podcast":