AUBURN GRESHAM — Ald. David Moore sailed through the election Tuesday, reclaiming his seat on City Council as 17th Ward alderman. 
Moore ran uncontested in the race.
Moore first won the 17th ward seat in 2015, beating two other candidates hoping to take then-Ald. Latasha Thomas' seat after she served four years in office. He won again in 2019 against patient care facilitator Raynetta Greenleaf. 
Moore ran for the secretary of state seat this year, hoping to fill the seat held by Jesse White for more than 20 years. He lost in the Democratic primary to general election winner Alexi Giannoulias. 
The 17th Ward includes parts of Auburn Gresham, Englewood, Marquette Park and Chicago Lawn under the new ward map.
"The thing I'm most proud of is making sure that my residents are informed and involved," Moore told Block Club Tuesday. "That's why I'm running unopposed. It has nothing to do with how good I am, it has more to do with how good my residents are and making sure I'm aware of things going on in the community."
Moore, alongside the group Black Heroes Matter, was key in renaming Lake Shore Drive. Moore introduced the ordinance to change the name to Jean Baptiste Point DuSable Drive in October 2019 but faced months-long pushback from City Council colleagues and Mayor Lori Lightfoot. 
City officials voted to rename the 17-mile stretch after the city's first non-Indigenous resident in June 2021, after months of heated debates. Lightfoot joined Moore to unveil the new signs together in October 2021. 
In Auburn Gresham, several businesses closed under Moore's tenure, including a Save-A-Lot grocery store, CVS pharmacy and a Bank of America. In June, an Aldi closed unexpectedly, removing a low-cost option for fresh food in the community. 
Moore told the Sun-Times at the time the store's lease lasted until the end of the year, and the location had recently received a liquor license. Moore joined Ald. Raymond Lopez (15th) in June to introduce a City Council resolution "to examine the failure of the city of Chicago food access policies to meet the needs of underserved residents"  following the closure of the Aldi and an Englewood Whole Foods.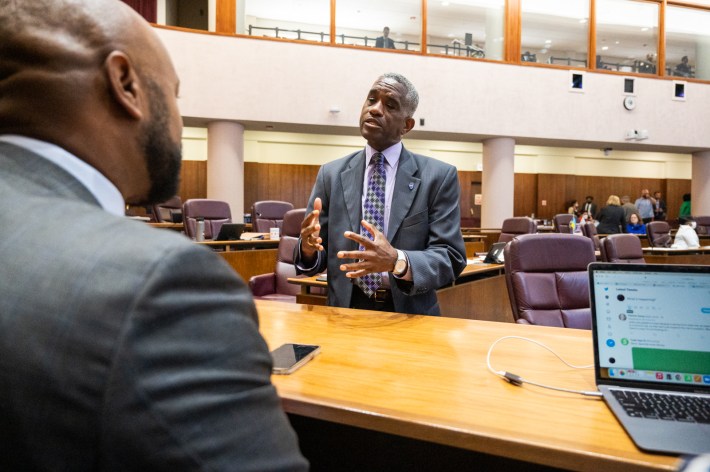 New developments have also sprouted in Auburn Gresham under Moore's leadership. 
Local officials held a ceremonial groundbreaking in August for Auburn Gresham Apartments, a controversial $43 million affordable apartment complex on 79th Street created under Mayor Lori Lightfoot's Invest South/West initiative. Several neighbors spoke against the development for months, requesting neighborhood necessities such as a grocery store, pharmacy or bank.
The Healthy Lifestyle Hub, led by Greater Auburn Gresham Development Corporation, answered the call by bringing restaurants, a bank, a medical center and more to the community. The hub, which won the first $10 million Chicago Prize, opened with Moore's support in November. 
Yellow Banana, a Black-owned company that owns and operates stores under the Save-A-Lot name, received $13.5 million in tax-increment financing to lease and rehabilitate six grocery stores across the South and West sides, including the closed Auburn Gresham location.
Moore said he wants to bring another "high retail store" to the community to replace the vacant Aldi. He's in talks with representatives from Amazon to revamp the store, he said.
A $35 million Metra stop 16 years in the making will also open in Auburn Gresham as soon as 2024. Auburn Park Metra station will operate at 79th Street and Lowe Avenue across from a newly renovated Jamaican Jerk Villa.  Fifty-One 50 Fusion, a restaurant with an eclectic menu, opened in the ward late last year.  
Moore said he's looking forward to welcoming new residents added to the 17th Ward under the new map. Transparency is critical in the next four years, he said.
Moore also wants to bring new developments to his ward, starting in Englewood, he said. He's "already spoken to administration" about redeveloping city-owned vacant lots on 69th Street between Damon and Ashland and Ogden Park, Moore said. He would also bring a "state of the art field house" to the South Side park to impact youth in surrounding wards, Moore said.
Moore will also elevate the fight for more menu funds, he said. Streets and alleys in the community are "horrible," and he'll fight for infrastructure dollars from the state and federal government "so we're fixing streets with focus and intentionality," Moore said.
Moore endorsed Ald. Sophia King (4th) for mayor, saying the South Side alderperson had more of a "collaborative spirit" than Lightfoot. 
Subscribe to Block Club Chicago, an independent, 501(c)(3), journalist-run newsroom. Every dime we make funds reporting from Chicago's neighborhoods.
Click here to support Block Club with a tax-deductible donation. 
Thanks for subscribing to Block Club Chicago, an independent, 501(c)(3), journalist-run newsroom. Every dime we make funds reporting from Chicago's neighborhoods. Click here to support Block Club with a tax-deductible donation.
Listen to "The Ballot: A Block Club Chicago Podcast":