CHICAGO — Twenty-two million dollars.
That's how much the nine candidates for Chicago mayor have reported raising since the beginning of 2022. 
Under state election law, the campaigns can accept an unlimited amount of money from their supporters. That's because one of the candidates, business owner Willie Wilson, put $5 million of his own money into his campaign fund in April, which lifted the donation caps for everyone in the race.
Since then, several of the candidates have received a series of checks for more money than most Chicago households make in a year. Other mayoral hopefuls have been shut out of the big contributions from unions and wealthy business leaders, relying instead on family, friends or their own resources.
In each case, the flow of money shows who the candidates have turned to — and who wants to influence them — as they try to get to the fifth floor at City Hall.
Money doesn't always add up to votes, but it helps. At one time, the course of Chicago politics was shaped by patronage armies: government employees who knew that if they wanted to keep their jobs, they had to get voters to support their political bosses.
Those days are gone. Some campaigns still have volunteers willing to knock on doors and talk to people in person, but most rely on paid staffers, TV and internet ads and mailers. 
All of it requires money.
As the incumbent, Mayor Lori Lightfoot has attracted contributions from some unions and powerful people who support her leadership — and who have received benefits from her administration. That includes the owners of pro sports teams. 
Paul Vallas, a former schools chief and mayoral aide, has been boosted by rich business executives, including many who backed Republican politicians and Chicago mayors in the past. In fact, some previously supported Lightfoot.
Rep. Jesús "Chuy" García and county Commissioner Brandon Johnson are funded primarily by progressive unions — but different ones. Organized labor is a traditional source of campaign money in city elections. This time, with so many people in the mayor's race, the unions are divided in their support.
Wilson has drawn on his personal fortune to finance his campaign. Activist and business leader Ja'Mal Green is also largely self-funded, though with a fraction of the money Wilson gave himself. And Ald. Sophia King (4th) has counted on the support of her husband, Alan, who is her top campaign donor.
Meanwhile, as sitting elected officials widely deemed longshots for mayor, state Rep. Kam Buckner and Ald. Roderick Sawyer (6th) have drawn on existing campaign funds to finance their mayoral bids.
Block Club analyzed records from the Illinois State Board of Elections to track fundraising for all the mayoral candidates from Jan. 1, 2022, to Jan. 31, 2023. Here's what we found.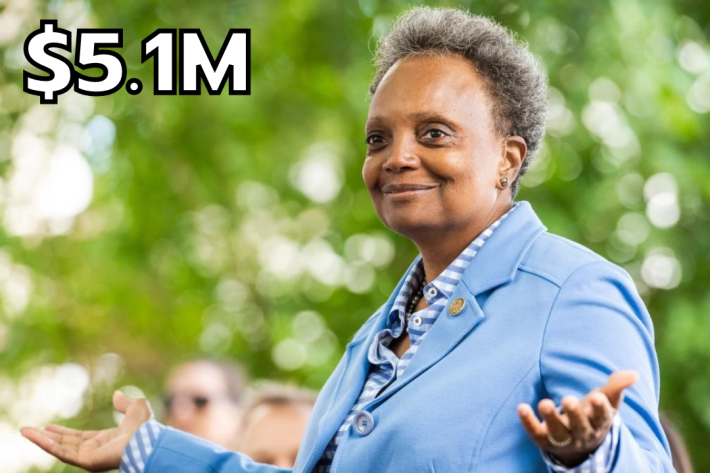 The Incumbent
Four years ago, as a first-time candidate, Lightfoot counted on donations from attorneys and other professional contacts from her work as a trial lawyer. But the top donor to her campaign was Lightfoot herself, who contributed more than $266,000.
After Lightfoot finished first in the initial round of voting in 2019, millions of dollars poured into her campaign fund, including six-figure donations from unions and wealthy business executives. Lightfoot then crushed county board President Toni Preckwinkle in the mayoral runoff.
After slowing during the first half of Lightfoot's term, her fundraising picked up again over the last year. Since the start of 2022, her campaign received $5.1 million, led by the carpenters' and plumbers' unions as well as affluent investors and business owners.
Many of her backers have benefited from city policies and decisions. One example: Lightfoot has received a series of contributions from the owners of professional sports teams that picked up big wins through the help of her administration.
In December 2021, the City Council approved an ordinance backed by Lightfoot that allows sports betting at Wrigley Field, Soldier Field, Guaranteed Rate Field, the United Center and Wintrust Arena. Wrigley could have a sports book this coming season, and the United Center reportedly has one in the works, as well.
Laura Ricketts, whose family owns Wrigley Field and the Cubs, has given Lightfoot's campaign more than $201,000 since the start of 2022, making her the mayor's largest individual contributor during that time. Ricketts' spouse, tech executive Brooke Skinner Ricketts, gave another $6,000. The couple also donated to a separate political fund, Light PAC, run by allies of the mayor.
Laura Ricketts also contributed to Lightfoot's campaign fund before the betting ordinance passed, though at a lower level, giving $57,500 in 2019. She told Greg Hinz at Crain's it's "absurd" to suggest her donations to the mayor were tied to the gambling legislation.
"All of my activism has been about backing queer women for office who historically have had trouble raising money," Ricketts said to Hinz. "Lori Lightfoot is an obvious person to support — and significantly. She's a competent, effective, fair mayor. Her reelection is a one-in-a-three-or-four-times-in-your-life event."
In addition to the donations from Ricketts, Lightfoot's campaign got $30,000 from Jerry Reinsdorf, owner of the Sox and the Bulls and co-owner of the United Center. His son, Michael, the Bulls president and chief executive officer, contributed another $5,000, as did Michael's wife, Nancy, head of Bulls charities.
Members of the Wirtz family, which owns the Blackhawks and shares in ownership of the United Center, gave Lightfoot's campaign $18,000 last year.
Lightfoot also received $25,000 last fall from Joe Mansueto, the billionaire owner of the Fire soccer team. At Lightfoot's behest, the Chicago Housing Authority has agreed to lease 20 acres to the Fire so the team can build a practice facility. For two decades, the CHA promised to build affordable homes on the site. It never did.
Mansueto has said he and Lightfoot share a "vision" to bring investment to "historically disinvested parts of Chicago."
The Lightfoot campaign did not respond to requests for comment.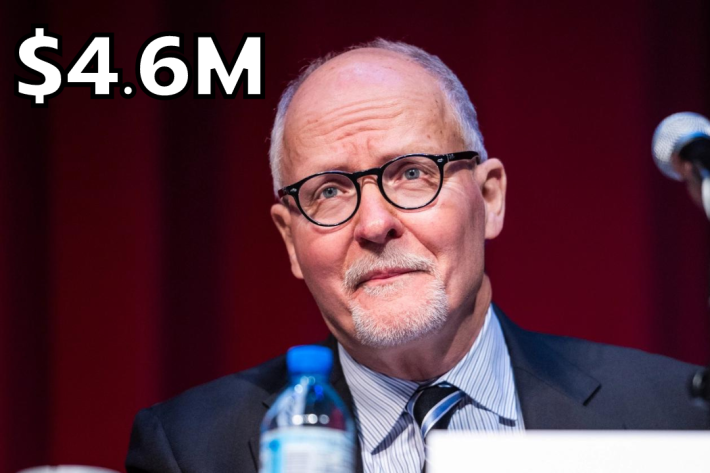 The Investors' Investment
When Vallas ran for mayor four years ago, he raised more than $1 million, largely from small businesses. But he finished ninth out of 14 candidates, far from the runoff.
Vallas' fundraising fortunes have improved greatly this election season. Since the beginning of 2022, Vallas has collected more than $4.5 million in campaign donations. Most of it has come in the past month, largely from a handful of wealthy individuals from investment and financial firms. Many of them previously backed Lightfoot, former mayors Richard M. Daley and Rahm Emanuel or Republican officials.
For example, Vallas' top contributor over the past year was millionaire Michael Keiser, co-founder of Recycled Paper Greetings, a card company, and developer of golf courses and resorts. A prolific campaign donor, he has given frequently to Republicans, including former Gov. Bruce Rauner. Keiser sent the Vallas campaign $700,000.
Vallas also received more than $1 million from executives at the private equity investment firm Madison Dearborn Partners, led by $450,000 from managing director James N. Perry Jr. In 2019, Perry donated to Lightfoot, as did two other Madison Dearborn leaders. Both have since joined Perry in donating to Vallas.
In addition, a number of prominent Republican supporters have sent money to the Vallas campaign. They include Ron Gidwitz, who served as state finance chair for Donald Trump's 2016 presidential campaign; in 2018, Trump named him ambassador to Belgium. Gidwitz gave Vallas $25,000.
Based on his fundraising, it's clear Vallas has also emerged as the favorite of many City Hall insiders from the Daley and Emanuel eras. For instance, Forrest Claypool gave $2,500 to Vallas' campaign. At different times, Claypool served as chief of staff to both mayors as well as head of the Park District, CTA and Chicago Public Schools. Claypool resigned from CPS in 2017 after the district's inspector general said he lied during an ethics investigation.
The Vallas campaign also took $7,500 from Deborah Quazzo, as WBEZ's Dan Mihalopoulos reported. An Emanuel appointee to the school board, Quazzo quit after the Sun-Times revealed she had a financial interest in companies that did business with the school district. 
Vallas has been endorsed by the Chicago local of the Fraternal Order of Police. According to campaign records, the police officers' union did not given his campaign money through Jan. 31, but a former officer tied to misconduct in the Laquan McDonald shooting investigation sent $5,000 to Vallas' mayoral fund, Mihalopoulos reported. After news coverage of the contribution, the Vallas campaign said he would donate the money to charity.
"Chicago is at a crisis point," the Vallas campaign said in a written response. "Business and civic leaders and those invested in Chicago are supporting Paul Vallas because they are looking for a new and trusted leader who will prioritize investments in public safety, education and economic development to restore Chicago as a safe and economically viable city that works for everyone."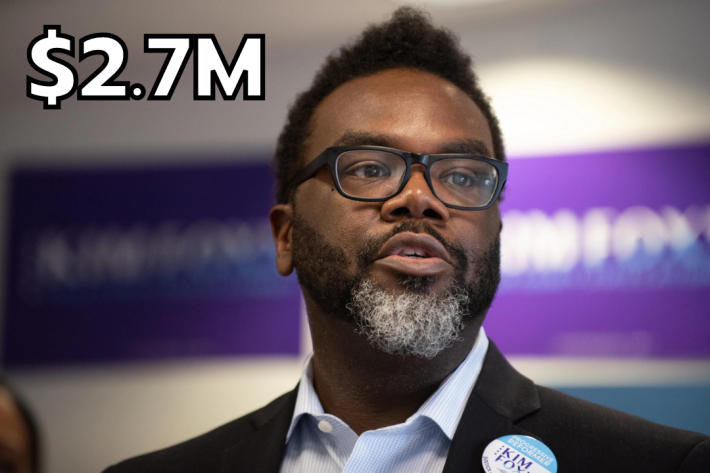 The Union Men
When García pushed incumbent Emanuel into a runoff before losing in 2015, he had the backing of progressive groups such as the CTU and locals of the Service Employees International Union. 
But this time, many of those unions lined up behind Johnson before García got into the race in November. And their money went with them.
Johnson's mayoral campaign has received more than $2.7 million since the beginning of 2022 — 96 percent of it from teachers unions, SEIU locals or affiliated groups. Leading the way are the American Federation of Teachers, which gave more than $1 million, and the CTU, which contributed more than $600,000. Johnson, a Cook County commissioner, has worked as a teacher and CTU organizer. 
In an interview, Johnson said those unions include "teachers, teachers' assistants, crossing guards, health care workers, child care workers [and] community college professors."
"These are people who are in every single ward in the city of Chicago," Johnson said. "My campaign is fueled by working class people."
García had his own union allies ready to step up. The top funder of his mayoral campaign is Local 150 of the International Union of Operating Engineers, which gave his campaign $1 million through its Fight Back Fund. That's almost half the $2.3 million he collected since last year.
Separately, García also has a committee for his congressional campaigns, and he transferred $103,000 of it into his mayoral fund. 
As with his mayoral campaign, most of García's top congressional supporters were unions.
"Our campaign is proud of the support we have received from grassroots Chicagoans, progressive elected officials, labor unions and prominent members of the Latino community," Antoine Givens, a García spokesperson, wrote in a statement.
But among scores of other donations, García's congressional fund received money from controversial figures. Lightfoot has slammed him for receiving support from Samuel Bankman-Fried, the cryptocurrency exec who was indicted last year on federal fraud charges. García said he would send the money back to former clients of Bankman-Fried's.
García's congressional campaign also received $2,000 in 2021 from Pericles Abassi, a Chicago lawyer who recently made headlines for his work on behalf of the Fraternal Order of Police and for racist social media posts.
García's mayoral campaign didn't comment on those donations.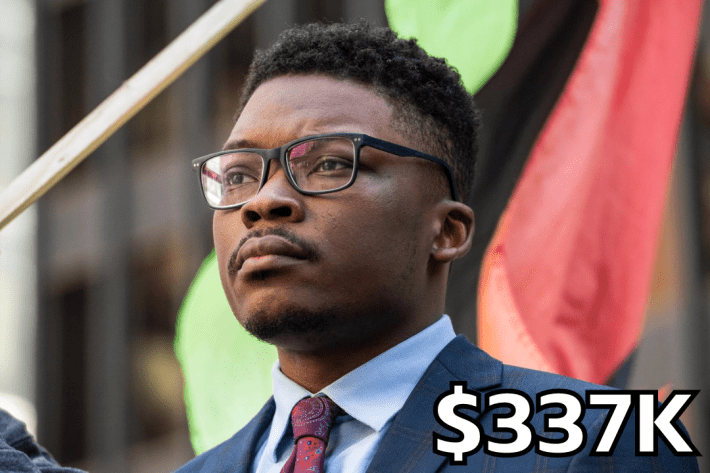 The Self-Funders
Green and Wilson have gone after each other throughout the campaign, starting with efforts to knock each other off the ballot. But they share something in common: both count themselves as their top financial backers.
Green's leading donor is his own business, Majostee Marketing, which reported $180,000 in contributions through the use of a campaign bus. Green also put nearly $18,000 of his own money into his campaign. 
In a statement, a campaign spokesperson said Green has also received scores of other donations that average about $55 apiece.
"Our campaign is a grassroots movement, and we rely on regular people to fund our operations," the spokesperson said.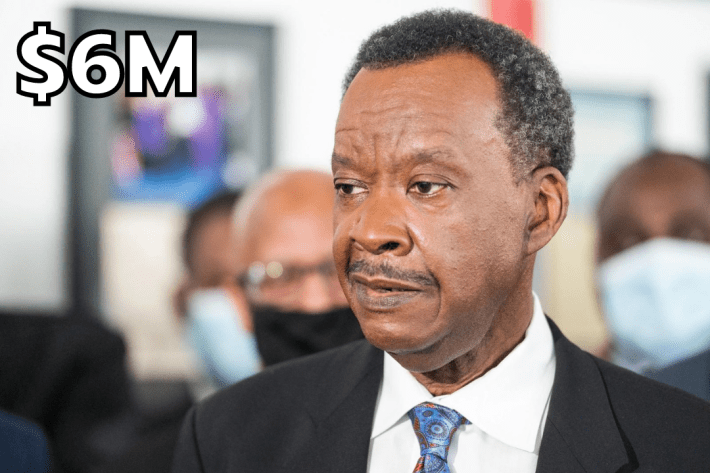 Wilson's giving to himself is on another scale. Over the past year, he has poured $6 million into his campaign, accounting for 99 percent of the money in his political fund.
Richard Boykin, a former Cook County commissioner now serving as a spokesperson for the campaign, said Wilson self funded to maintain his independence.
"He wants to be able to do the work for the people of Chicago without being influenced by special interests," Boykin said.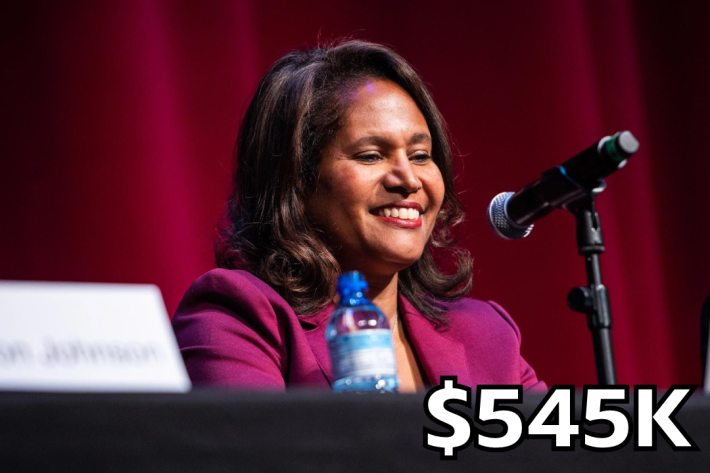 King, meanwhile, relied on the support of someone else she knows well: Her husband, Alan, an attorney. He gave her campaign $150,000. King's campaign didn't respond to a message from Block Club.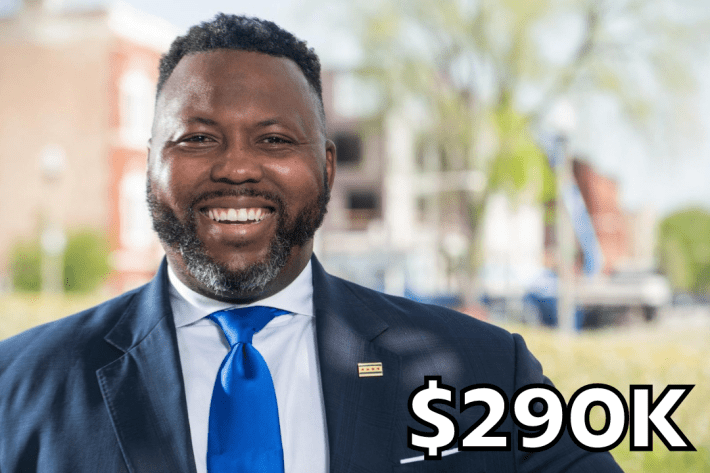 The Existing Warchests
Buckner and Sawyer have trailed in fundraising since they got into the race last year. Both have instead relied on money they raised in campaigns for their current offices.
For example, Buckner transferred about $194,000 from Friends of Kam Buckner, his legislative campaign fund. Many of the donors to that fund were unions, including some that now support his rivals, like the Illinois Federation of Teachers, which is backing Johnson, and the carpenters' union, which is behind Lightfoot.
Buckner's campaign didn't get back to Block Club.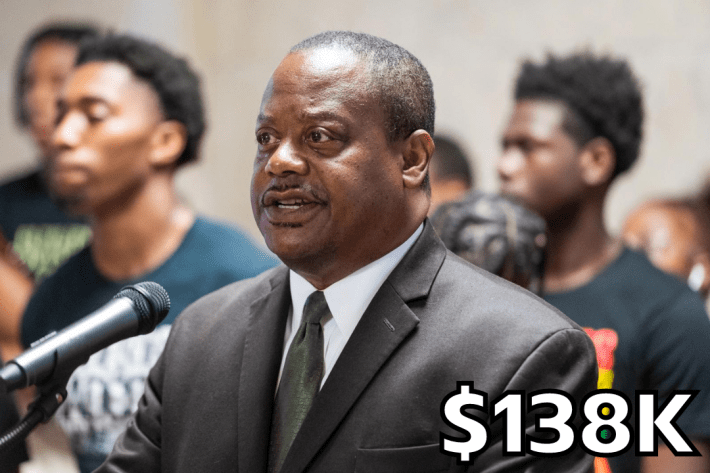 Sawyer, meanwhile, moved $18,000 from the Sixth Ward Democratic Organization, which he leads. Donors to his 6th Ward campaign fund included local businesses; the plumbers' union, which is supporting Lightfoot for mayor; and Gov. JB Pritzker, who has not endorsed anyone in the mayor's race.
"I'm an independent candidate, not being run by any one group or agenda, so I haven't been the beneficiary of any of the big donations some of my opponents have gotten," Sawyer said in a written statement.
Artists' Choice
A number of well-known artists and entertainers have donated to mayoral candidates:
King received contributions from artist Theaster Gates ($16,000) and actor Harry Lennix and his wife, Djena Graves Lennix ($16,000 total).
Actor Susan Sarandon sent $2,000 to Green's campaign.
García's campaign received $100,000 from Cardenas Marketing Network, which books shows for top Latin acts such as Bad Bunny and Marc Antony.
Political Football
In college, Buckner was a defensive lineman for the Illinois Fighting Illini. And his campaign pulled in $2,000 from another college football veteran, Louis Bertuca, who played at Lake Forest College. Bertuca served as an aide to former Gov. Pat Quinn, who appointed him executive director of the Illinois Sports Facility Authority, a state body that provides oversight of Guaranteed Rate Field.
Still, Buckner didn't wrap up all of the support from former football stars. Investor Brian Musso, once a receiver and punt returner for the Northwestern Wildcats, gave $20,000 to Vallas.
Like Father, Not Like Son
Ald. Walter Burnett Jr. (27th), one of Lightfoot's leading City Council allies, gave the mayor's campaign $10,000 from his own political fund. 
But Burnett's stepson, state Rep. Jawaharial "Omar" Williams, donated $200 to Johnson.
Burnett said Williams had not told him about his support for Johnson. He joked, "I'm going to have a talk with him." 
Compare Top Donors
Search For Yourself
Search all the donations made to mayoral candidates since Jan. 1, 2022:
RELATED: Want to search donations made to aldermanic candidates? Click here.
Subscribe to Block Club Chicago, an independent, 501(c)(3), journalist-run newsroom. Every dime we make funds reporting from Chicago's neighborhoods.
Click here to support Block Club with a tax-deductible donation. 
Thanks for subscribing to Block Club Chicago, an independent, 501(c)(3), journalist-run newsroom. Every dime we make funds reporting from Chicago's neighborhoods. Click here to support Block Club with a tax-deductible donation.
Listen to "The Ballot: A Block Club Chicago Podcast":