Tune in to our live interview series with the candidates vying for Chicago's top job: mayor. Our interviews will be hosted by Tribune contributing columnist and ABC7 political analyst Laura Washington. Click here to learn more.
CHICAGO — When Mayor Lori Lightfoot ran for the city's top job in 2019, she did so as an outsider, garnering 70 percent of the vote in a runoff election in which she pledged to ferret out corruption in City Hall. 
Four years — and a pandemic — later, Lightfoot is no longer an insurgent, but an incumbent, fighting to make the runoff in a crowded election as she asks voters for a second term. 
"Of course it feels different because of what we've been through," Lightfoot said in a livestreamed interview Friday with Block Club board President and Tribune columnist Laura Washington. "But it also feels different because I have a great record of accomplishment and delivering for the people of Chicago."
Recent polls have shown a tight race between Lightfoot, former CPS CEO Paul Vallas, Rep. Jesús "Chuy" García and county Commissioner Brandon Johnson. If no candidate receives 50 percent of the vote Feb. 28, the top two vote-getters will head to a runoff election April 4. 
Lightfoot rejected the notion that she couldn't get things done because of what critics and her challengers have called a "combative" leadership style. She touted her administration's commitment to ending aldermanic prerogative, closing the budget deficit, landing Chicago's first casino, shepherding the city through the pandemic and investing on the South and West sides.
"People may not like my delivery. But I don't buy votes," Lightfoot said. 
Watch the interview:
Lightfoot also talked about crime, under-enrollment in Chicago Public Schools, unreliable CTA service and critiques about her leadership style. 
A lawyer who led the city's police accountability board, Lightfoot campaigned in 2019 on an anti-machine platform. She received a boost when Ald. Ed Burke (14th) was indicted, tarnishing the campaign of frontrunners who had significant connections to the alderman.
Burke is leaving City Hall in May, opting not to see reelection after more than 50 years.
Lightfoot said Burke's presence should not detract from significant ethics reforms she has instituted during her tenure, including an executive order to end aldermanic prerogative and to put more public safety data and public zoning information on accessible, online dashboards. She said more work needed to be done, including on zoning reform. 
"I'm not going to sit here and tell you that we've rooted out all the vestiges of the machine," Lightfoot said. The alderman's "voice is very important, but they cannot have unchecked veto power over how development happens or doesn't happen in the city of Chicago."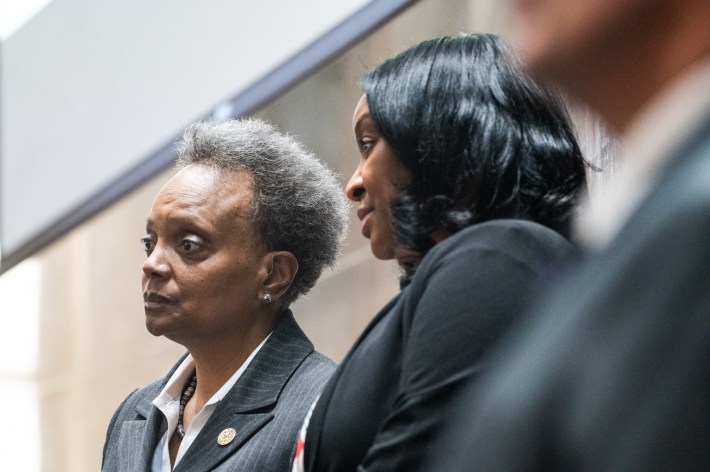 Lightfoot said she feels criticisms of her working style are emblematic of a double standard facing women of color in leadership. Lightfoot is Chicago's first Black female mayor and first openly gay mayor.
"There absolutely is a different standard," Lightfoot said. "When somebody says, essentially, 'The mayor is mean. She says mean things' — give me a break."
Lightfoot said her tough-nosed politics are no worse than those of former mayors Richard J. Daley and Rahm Emanuel, who were lauded for their "toughness."
"Neither of them are going to win Ms. Congeniality contests," Lightfoot said. "I've not done or said anything any differently than any of my male predecessors. And yet it's a thing … when a woman exhibits the same kind of qualities, we're shrill and difficult to deal with. It is what is. I don't let that deter me from making sure I get done what needs to get done on behalf of the residents of the city."
Listen to the interview:
Lightfoot defended one of her signature programs, Invest South/West, which has pledged $2.2 billion to 10 underserved communities for developments but faced criticism that it has been slow-moving and has not adequately included community voices. Criticisms about it being "warmed-over hash" are "offensive" and "nonsense," and it is far broader than anything done by prior administrations, she said.
"I've heard from people all over each of these communities that they've never seen anything like it before. They've never seen an administration who listens as much," Lightfoot said. "This is a game-changer."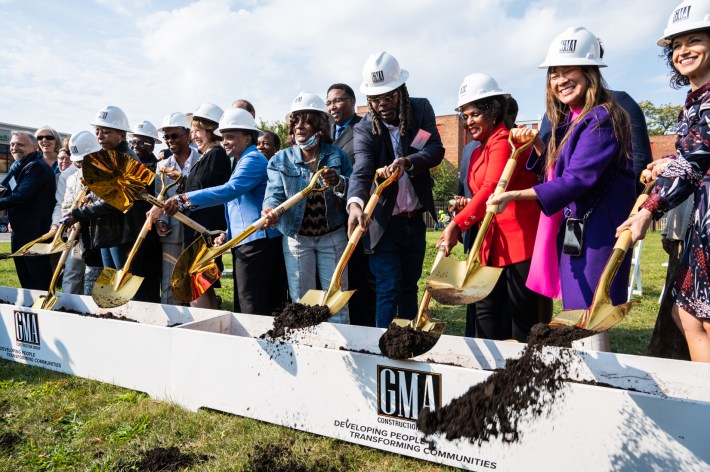 Lightfoot said she will continue the work already being done with Invest South/West.
Lightfoot also said she'll fight for CPS students, despite her clashes with the Chicago Teachers Union. The powerful union went on strike after Lightfoot's election in 2019, leading to a two-week school closure and a sour relationship on both sides; the union also clashed with the district and city in January 2022 after teachers expressed concerns about returning to classes without certain COVID-19 safety procedures, leading to the delay of classes returning.
The union has endorsed Brandon Johnson in the mayoral election. 
"I'm always going to be on the side of our students, and our parents," Lightfoot said. "It takes two to tango. The Chicago Teachers Union is not just a union. There are 40 unions across city government. I've got very strong and deep relationships with all of them, except the Chicago Teachers Union, and the Fraternal Order of Police, which I find to be an interesting thing given where they are on the political spectrum."
The Fraternal Order of Police, the city's largest police union, has endorsed Paul Vallas in the race. 
When Lightfoot was asked if she would fire police Supt. David Brown — which all eight of her challengers have said they will do — she said the department took 1,200 illegal guns off the street in 2022, more than in Los Angeles or New York, and shootings and homicides have declined since sharp rises during the start of the pandemic. 
Although shootings and homicides did decline in 2022 from 2021, other types of violent crime saw increases during the year. She said fixing those issues will involve much broader community policing initiatives and ongoing culture shifts inside and outside the department than simply firing the superintendent. 
"It's easy for folks who don't know the inner workings of law enforcement or the Police Department to say, you know, off with his head," she said. "What I'm focused on is what is the degree of accountability, what are the results that we are seeing, not only in policing, but what are the results that we're seeing as some of the other big culture change issues that have to happen within the Police Department? Not the least of which is making sure that we continue to see progress meeting our obligations under under the consent decree."
Lightfoot pointed to her buildout of the Englewood Nature Trail as an example of her administration handling vacant lots on the South Side. She said the city will continue to build concrete bike barriers and work to lower speed limits, and she promised to propose the restart of the city's defunct Department of the Environment for the Fiscal Year 2024 budget. 
Lightfoot refused to comment on recent revelations that Paul Vallas' son was one of three San Antonio officers who shot a man Black man, saying she wouldn't drag a candidate's child into the race. But she did not hold back on his platform, saying it is too far right for Chicago. 
A resident of Logan Square, the mayor said she's anti-dibs.
"Everybody needs to shovel their walks," Lightfoot said. "I think the bottom line is we have to make sure we're working together, not just for ourselves."
The conversation with Lightfoot is the latest in Block Club's series of livestreamed talks with all nine mayoral candidates as the Feb. 28 election approaches. Block Club has hosted conversations with Ja'Mal Green, Kam Buckner, Roderick Sawyer, Sophia King and Brandon Johnson. Washington will speak to Vallas at 2:30 p.m. Monday.
If no candidate receives at least 50 percent of the vote, the top two candidates will go to a runoff April 4.
Subscribe to Block Club Chicago, an independent, 501(c)(3), journalist-run newsroom. Every dime we make funds reporting from Chicago's neighborhoods.
Click here to support Block Club with a tax-deductible donation. 
Thanks for subscribing to Block Club Chicago, an independent, 501(c)(3), journalist-run newsroom. Every dime we make funds reporting from Chicago's neighborhoods. Click here to support Block Club with a tax-deductible donation.
Listen to "The Ballot: A Block Club Chicago Podcast":