CHICAGO — Voters have bounced a sitting mayor for the first time in nearly four decades in Chicago.
Election night results showed Mayor Lori Lightfoot in third place, with about 16 percent of the vote. She conceded in a speech about 8:30 p.m. after failing to make it out of the crowded field of candidates to secure a spot in the April 4 runoff election.
Former Chicago Public School CEO Paul Vallas will head to the runoff, receiving 35 percent of the vote. He will face Cook County Commissioner Brandon Johnson, who got about 20 percent of the vote in preliminary returns.
By late Tuesday night, Lightfoot trailed Johnson by more than 17,000 votes.
Lightfoot's historic loss marks the first time since Jane Byrne's loss to Harold Washington in 1983 that the city has not elected a sitting mayor who ran for reelection. 
RELATED: Vallas, Johnson Poised To Advance To Mayoral Runoff As Lightfoot Concedes Defeat
Lightfoot's loss also marks the first time since 1989 that an incumbent mayor has lost an election. That year, Eugene Sawyer, who was picked to be mayor by the City Council after Washington's death, lost in a special election to Richard M. Daley.
Daley went on to win reelection five times before declining to run for a seventh term in 2011. 
In her concession speech, Lightfoot said she called Johnson and Vallas to congratulate them on advancing to the runoff. 
"We were fierce competitors in these last few months, but I will be rooting and praying for our next mayor to deliver for this city in the years to come," she said.
"Four years ago, I looked into the camera and spoke directly to young people of color, who look like me, and to every kid who looked like me when I grew up. And I'm going to do that tonight.
"Obviously, we didn't win the election today, but I stand here with my head held high and a heart full of gratitude.
"I am grateful to the millions of Chicagoans who came together as we made tough decisions, saw the struggles of our frontline workers and beat back a deadly pandemic."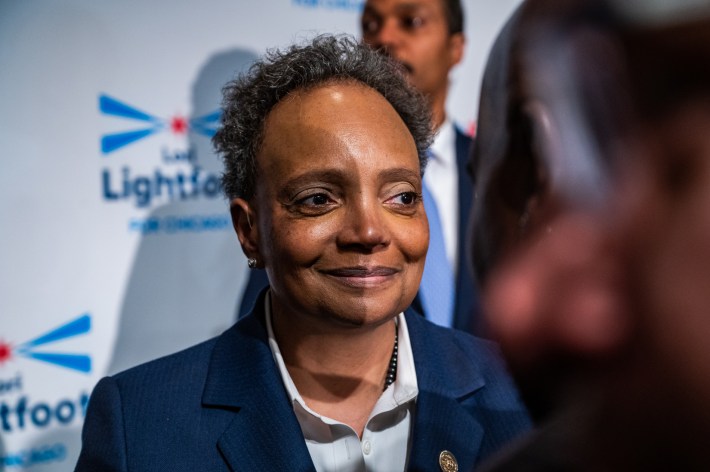 Lightfoot touted her accomplishments, including investments in the South and West sides, affordable housing and special education. 
"We took on the machine and entrenched forces that held back the city for far too long," she said.
"Regardless of tonight's outcome, we fought the right fight and put this city on a better path, no doubt about it.
"Now as we all know in life, in the end, you don't always win every battle. But you never regret taking on the powerful and bringing in the light.
"It's been the honor of my lifetime to be mayor. There's more work to do."
After emerging from a crowded field of 14 candidates in 2019, Lightfoot stormed to victory in a runoff, winning more than 70 percent of the vote against county board President Toni Preckwinkle. 
Lightfoot's 2019 victory represented a rare coalescence of voters in a city known for political tribalism, as she was able to capture majorities in all 50 wards en route to becoming the city's first Black female mayor and first gay mayor. 
Although the 2019 race included big names in Chicago politics — including Preckwinkle, former White House chief of staff and mayoral brother Bill Daley, and former City Clerk Susana Mendoza — Lightfoot was able to win running an outsider's campaign, juxtaposing her experience leading the police accountability board with candidates whose campaigns were tainted by their ties to recently indicted Ald. Ed Burke. 
But after Lightfoot's historic victory in 2019, the former lawyer and prosecutor struggled to establish her own political power during her first term in office. 
While the mayor's allies touted her leadership during the COVID-19 pandemic, she faced attacks from all sides regarding rising crime in the city. 
Vallas led the charge, promising to overhaul the Police Department and receiving the endorsement of the city's largest police union. Johnson came at Lightfoot from the other direction, arguing that the city needed to focus its resources on violence prevention rather than hiring more cops, as she and other candidates promised. 
Lightfoot's opponents also attacked her as having a combative personality, framing the mayor as unnecessarily contentious with unions, alderpeople and other civic leaders. She faced a protracted teacher's strike shortly after her election and grappled with the police union leadership throughout her term.
Many of Lightfoot's 2019 supporters, including alderpeople, accused her of backing down from her progressive promises, such as supporting an elected school board.
Lightfoot argued she deserved a second term after leading the city through the pandemic. She said she was no more prickly than her white and male mayoral predecessors, and she touted recent reductions in crime after numbers peaked in 2021.   
But Lightfoot suffered a few self-inflicted wounds, including revelations that her campaign attempted to solicit Chicago Public School students as volunteers in exchange for class credit. Lightfoot called the emails a "mistake" and apologized, but opponents jumped on them, hammering the mayor for prompting the kind of ethics violation she had promised to ferret out four years prior.  
All eight mayoral candidates vowed to fire Lightfoot's handpicked police superintendent, David Brown, while the mayor stood by her choice. 
Voters ultimately sided with Lightfoot's two most starkly-contrasted opponents. 
Subscribe to Block Club Chicago, an independent, 501(c)(3), journalist-run newsroom. Every dime we make funds reporting from Chicago's neighborhoods.
Click here to support Block Club with a tax-deductible donation. 
Thanks for subscribing to Block Club Chicago, an independent, 501(c)(3), journalist-run newsroom. Every dime we make funds reporting from Chicago's neighborhoods. Click here to support Block Club with a tax-deductible donation.
Listen to "The Ballot: A Block Club Chicago Podcast":