PILSEN — Mayoral candidate Brandon Johnson said Wednesday he would not defund the police if elected to lead Chicago, but he would steer city dollars to implement a more "holistic approach to public safety."
Johnson made the comments in a wide-ranging interview about his candidacy and policy positions as part of Block Club Chicago's The Ballot Live series hosted by Laura Washington, a ABC 7 political analyst, Tribune columnist and Block Club board president.
A Cook County commissioner, Johnson is going head to head with former Chicago Public Schools CEO Paul Vallas in the April 4 runoff election.
RELATED: Join Block Club And Mayoral Candidate Paul Vallas For 'The Ballot Live' At Thalia Hall
Vallas came in first of nine candidates in the Feb. 28 election, receiving 33 percent of the vote. Johnson followed with about 22 percent.
Watch the interview:
Public safety and crime have emerged as the top issue in the mayor's race, with Johnson and Vallas presenting starkly different platforms on policing and violence intervention.
Throughout Johnson's campaign, he has been asked about past comments he's made seemingly in support of reducing police funding.
In a 2020 radio interview, Johnson described defunding the police as an "actual, real political goal," which has been brought up repeatedly at recent debates. Vallas released an attack ad referencing the interview and slamming Johnson for his comments.
When Johnson was pressed for his stance on the issue at a public safety forum Tuesday, he said while he "said it was a political goal. I never said it was mine." He said he would examine the Police Department budget as mayor to see if it's been funded in an "equitable way."
During Wednesday's interview, Johnson said he does not support defunding the police, but he does support a more holistic approach to public safety.
"As far as my vision for public safety, I'm not going to defund the police," Johnson said. "But what I am committed to doing is to make sure that we are actually investing in a smart way.
"The fact of the matter is that we are asking too much of law enforcement, and we also have a disconnect between law enforcement and communities which they have been assigned to. And so we have to fix that."
Listen to the interview:
Johnson has said Chicagoans will not be any safer with increased police funding or more officers, but he has promised to promote 200 detectives from the rank-and-file officers to solve more crimes.
"We have to respond with immediacy and urgency, which I'm prepared to do," he said. "But we also have to make sure that we're reopening our mental health centers so that individuals who are experiencing a great deal of trauma — and that includes law enforcement — have the support systems that need to be in place."
Johnson has supported efforts to scale back funding for policing as a Cook County commissioner.
In 2020, Johnson introduced the Justice For Black Lives resolution, which advocated redirecting dollars away from incarceration and policing and toward initiatives such as health care, restorative justice and job creation to reduce crime.
Proponents, including Johnson, did not offer the ordinance as a direct response to organizers' demands to "defund the police," he said at the time. The non-binding resolution "was not about laying people off, consolidations or closures," but rather "calling for an expansion of government services," he said in 2020.
In contrast, Vallas has advocated to fill Police Department vacancies and rehire retired officers and those who have transferred out of Chicago. He's also proposed running two police academy classes in one year to expedite getting officers into the city's neighborhoods.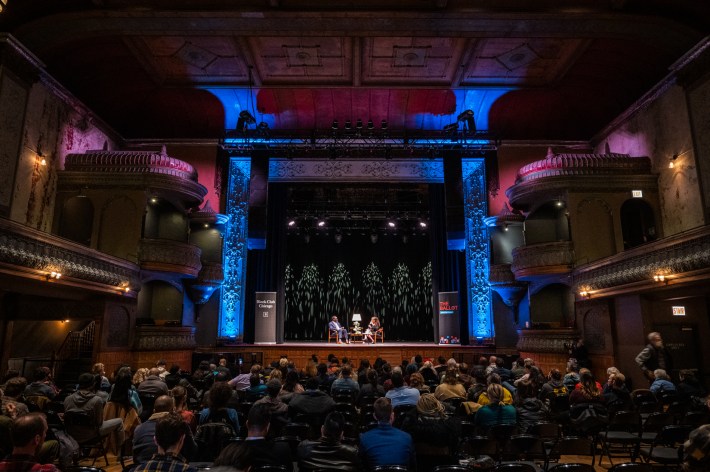 Another major campaign issue in recent months has been the myriad problems with Chicago's public transportation system, including long wait times for trains and buses, inconsistent schedules, crime and uncleanliness.
Vallas has called for a dedicated CTA police unit to replace the unarmed security guards who patrol the system.
Johnson said he's not opposed to to police "along our transportation system," but simply adding more police to CTA stations and trains will not solve the issue of crime or deteriorating conditions.
"Much like our neighborhood policing, if that is our only strategy, then we're not dealing with it in a very comprehensive way," he said. "Because this dynamic that somehow the only way you can serve the people of Chicago is through surveillance and policing, I hope the city of Chicago recognizes, that is not a world class city."
Over the past year, commuters and alderpeople have channeled their frustration with the city's trains and buses directly at CTA President Dorval Carter. In November, commuter advocacy group Commuters Take Action called for Carter to resign.
When Johnson was asked Wednesday if he would change "leadership at the top of the CTA," he stopped short of saying he would oust Carter.
"There is a leadership problem there," Johnson said. "Under my leadership, here's what I expect: people to be compassionate, collaborative and competent. And if you can't demonstrate those very basic fundamental traits of a leader, then we will have to look elsewhere to find that."
Johnson also discussed his views on school funding, property taxes, rent control and other issues in Wednesday's interview.
Vallas and Johnson have spent the past two weeks racking up endorsements from elected officials, unions and other groups. See our round up of mayoral endorsements here.
The runoff is April 4. Early voting starts March 20.
Vallas will be interviewed as part of The Ballot Live at 4 p.m. March 27 at Thalia Hall, 1807 S. Allport St. in Pilsen.
Subscribe to Block Club Chicago, an independent, 501(c)(3), journalist-run newsroom. Every dime we make funds reporting from Chicago's neighborhoods.
Click here to support Block Club with a tax-deductible donation. 
Thanks for subscribing to Block Club Chicago, an independent, 501(c)(3), journalist-run newsroom. Every dime we make funds reporting from Chicago's neighborhoods. Click here to support Block Club with a tax-deductible donation.
Listen to "The Ballot: A Block Club Chicago Podcast":