LOGAN SQUARE — Terracotta Plants is hosting a sale to thank supporters who donated to a fundraiser to help the shop reopen after settling business debts.
Customers who shop at Terracotto Plants, 3056 W. Diversey Ave., by the time the store closes Friday can receive 20 percent off their purchase. You can shop at Terracotto noon-7 p.m. Thursday and noon-8 p.m. Friday.
Cotto, the store's founder, is holding the sale after supporters donated $11,208 to his GoFundMe campaign after financial hardships and problems with his business license forced him to temporarily close the store.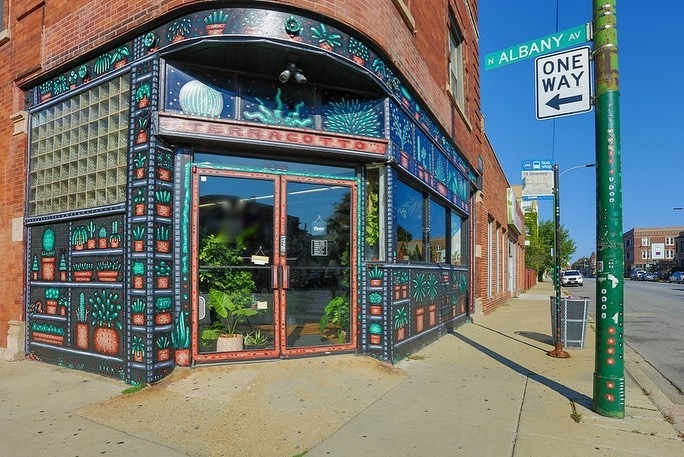 Cotto was originally looking to raise $12,000 to renew Terracotto Plants' expired business registration, pay back taxes and pay employees for the days the shop was closed. He was able to negotiate with the state to reopen and has closed the fundraiser to contributions, he said.
"This is the absolute least we could do to give back to the community and we are brainstorming ways we can continue to give back to the community and supporters in the spring and summertime," Cotto said of the plant sale.
Cotto said he felt extremely vulnerable after making his fundraiser to ask for help, but he has been also overwhelmed "in the best way possible."
"I just couldn't believe how kind people were being," Cotto said. "I saw how much the community wanted to keep us in the neighborhood and I just knew that they weren't going to let us go.
"Even now, I'm crying thinking about it. I don't know exactly why people felt compelled to donate. I like to think our team is very kind and helpful. I don't do this for the money; I do this because I like plants and I like helping people become better plant parents."
Cotto believes people donated because of the Terracotto building itself, which he said many people have told him feels "spiritual" or "like a dream."
"Recently I have become quite a spiritual person myself, and I'm glad it's been able to be reflected in the store," Cotto said. 
Terracotta Plants celebrated its anniversary last summer, but business slowed during the winter, Cotto said.
Cotto also struggled to renew his business certificate in time and was making weekly payments to catch up on the business' outstanding tax balance, Cotto said. Then, state officials required him to pay the shop's remaining debts at once, Cotto said on his GoFundMe campaign. 
"When all of this happened I had two options: stay silent and suffer alone and potentially lose the store or speak up and ask for help," Cotto said. "I've never been able to accept help, let alone ask for help so this was a huge step for me."
Terracotta Plants was closed for five days before reopening Tuesday, Cotto said. The business will be open daily from now on, and Cotto said customers can expect big changes. 
"I'm a first-time business owner, and I've learned a lot since August 2021, but I still have so much more to learn, and some lessons hurt far more than others," Cotto said. "Thankfully I decided not to stay silent, and thankfully I didn't have to go through this alone. 
"I am forever grateful for the community of Logan Square, the Chicago community, the plant community, our friends down in Ecuador, and everyone else that helped us get through this extremely difficult time. From the bottom of my heart, thank you."
Terrocotto's regular hours are 12-6 p.m. Monday-Tuesday, 12-7 p.m. Wednesday-Thursday, 12-8 p.m. Fridays, 11 a.m.-8 p.m. Saturdays and 11 a.m.-6 p.m. Sundays.
Listen to "It's All Good: A Block Club Chicago Podcast":