CHICAGO — A group of commuters will call on CTA President Dorval Carter to resign amid long-running problems with the transit agency.
The CTA has been under intense scrutiny for months, with officials, residents and employees blasting the transit system for long wait times, deteriorating conditions, security issues and "ghosts": buses and trains that show up late or don't at all.
Carter was slammed by aldermen for skipping a council hearing in September about increasing complaints. He also bailed on a budget meeting for his agency in January.
A group of riders who started tracking CTA reliability, Commuters Take Action, are now organizing to get Carter to resign, member Olivia Gahan said.
The group has received more than 3,000 reports of late trains and buses in six months, Gahan said.
"It's time for Carter to step down after the lack of transparency," Gahan said. "To build back the CTA system and ridership after the pandemic, trust needs to first be restored. And at this point, Mr. Carter doesn't have it as the leader."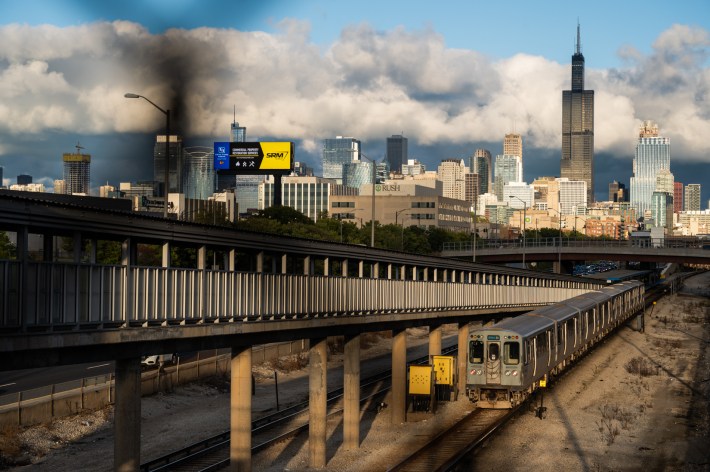 Ald. Andre Vasquez (40th) met Sunday with Commuters Take Action to drum up more support around an ordinance he proposed last week that called for the CTA president to answer questions publicly on a quarterly basis. Funding to the transit agency would be withheld if the president didn't show up under the proposed ordinance.
About 27 alderpeople signed on as co-sponsors, but Alds. Scott Waguespack (32nd) and Jason Ervin (28th) moved to send Vasquez's measure to the Rules Committee, where legislation typically is sent to die.
Waguespack and Ervin said they would not support any measure that held up major CTA financing projects, such as the South Side expansion of the Red Line.
"You can't throw out the baby with the bathwater," Ervin said. "But I am concerned by the fact the transit president is not coming to meetings."
Vasquez said he's since worked the floor and now has support from 42 of the 50 aldermen. He's met with Waguespack, and the two have "ironed those problems out and are close to finalizing a working ordinance," Waguespack said.
Vasquez — who mockingly dressed as a ghost train during last week's council meeting — said they're "going to get it over the finish line, one way or the other."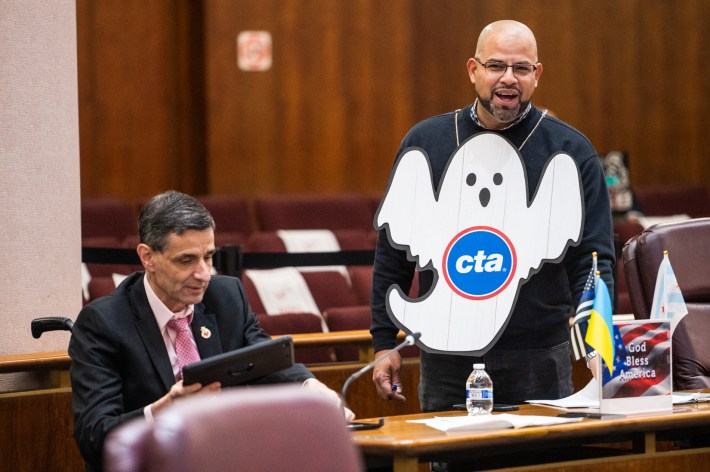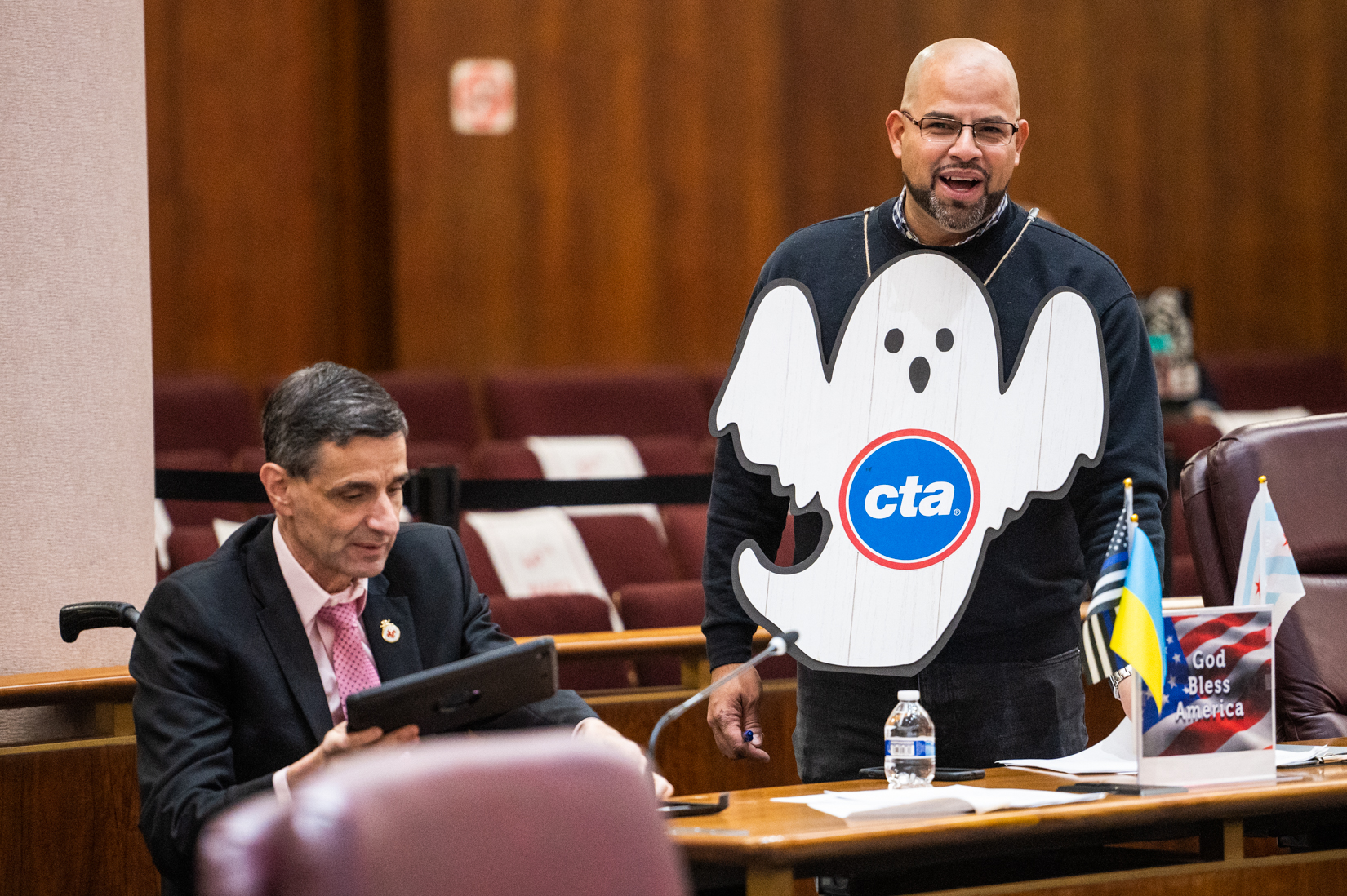 Vasquez said he's been "forced to go this route" as CTA leaders have patched up safety issues with private security and push schedules that don't match arrival times.
"The buck stops at the top. I understand the enormity of the problem and how COVID exacerbated it, but let us know where you're at," Vasquez said. "We'll find out if Carter is doing a good job or not when he comes to council and answers questions."
CTA spokesperson Maddie Kilgannon said Carter "has always maintained an open line" with alderpeople and the CTA now publishes monthly scorecards of service performance.
The agency continues to struggle with staffing shortages felt by transit systems nationwide, Kilgannon said.
Workers previously told Block Club they often staff trains by themselves, feel unsafe and are suffering from burnout. Carter told the Sun-Times he will not answer calls to bring back two-person crews for trains, saying unarmed private security is "just as effective as conductors."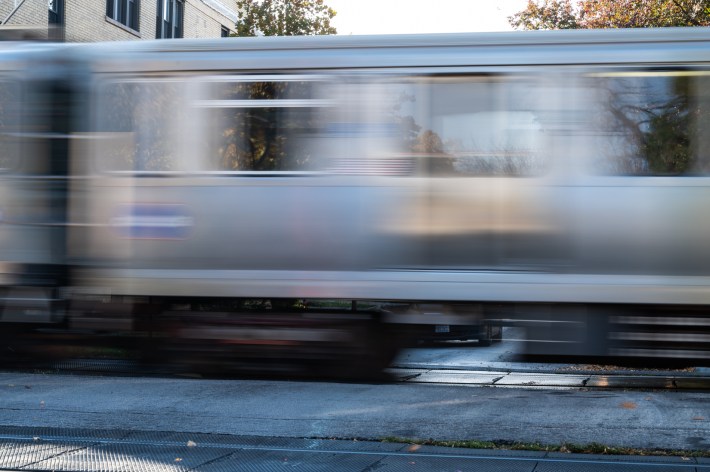 In August, after months of criticism, the CTA unveiled its Meeting The Moment plan, which includes new schedules that promise "more consistent, reliable service," Kilgannon said. The CTA fulfilled more than 75 percent of its rail schedule and more than 83 percent of its bus schedule in September, Kilgannon said. The agency also hired 80 bus drivers in August, she said.
"While we're making progress toward improving service, we recognize there is a lot more work to do," Kilgannon said. "Since the start of the pandemic, the CTA has kept our customers and the public informed about the challenges we're facing, and the many steps we're taking to address them. That commitment to transparency remains strong."
Brandon McFadden, who uses publicly available data to track CTA train arrivals systemwide, said new schedules have moderately improved reliability. On a typical day, CTA is now providing 66-74 percent of train arrivals it promises, compared to 59-74 percent after schedules were changed in August.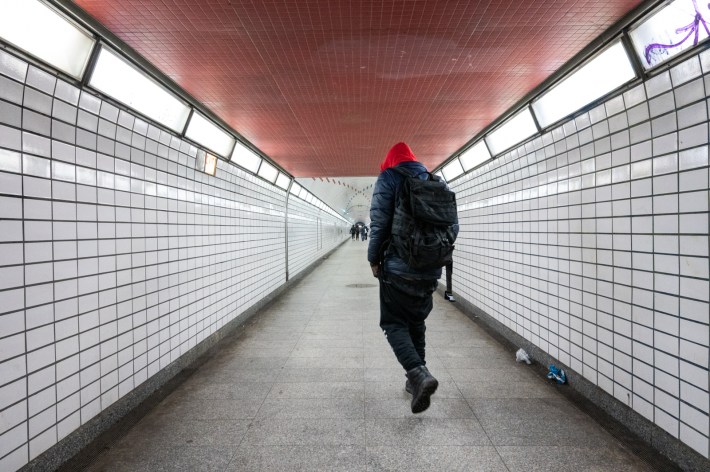 Gahan said service changes "are headed in a good direction," but Commuters Take Action wants Carter to appear publicly so he can be held accountable.
The group protested outside CTA headquarters last month and had a meeting with a top CTA executive who "expressed interest in meeting monthly and then stopped following up," Gahan said.
Many in the group are still being ghosted by trains, buses and leaders, Gahan said.
"We're seeing public pressure working, and that we now have more space for people to have their voices heard," Gahan said. "We just want leaders to be honest with riders about what's happening."
Watch our "On The Block" TV show on The U, CW26 and MeTV.
Listen to "It's All Good: A Block Club Chicago Podcast":