CHATHAM — William Hall will face Richard Wooten in the runoff to succeed Ald. Roderick Sawyer as the leader of the 6th Ward.
With 26 of 27 precincts reporting Tuesday night, Hall had received 24 percent of the vote to Wooten's 23 percent. Candidates needed at least 50 percent of the vote to avoid a runoff. 
Wooten and Hall beat nine candidates in a crowded race to represent parts of West Woodlawn, Chatham, Park Manor, West Chesterfield, Grand Crossing, Auburn Gresham and Englewood in City Council. New alderman will get an annual salary of $142,772.
The two hopefuls will head to a runoff April 4 to determine who will replace Sawyer, who mounted — and lost — a bid for mayor.
Sawyer announced in June that he'd step down as alderman to run for mayor, aiming to follow in the footsteps of his father, Eugene Sawyer, who served as mayor after Harold Washington's sudden death in 1987. The elder Sawyer had also served as alderman of the 6th Ward. 
Hall has lived in Chatham for 38 years. He's been a senior pastor at St. James Community Church for nearly a decade.
Hall also serves as the director of faith and community partnerships for the child welfare advocacy group at UCAN Chicago, and is a field director for the Rainbow/PUSH Coalition under Rev. Jesse Jackson.
Hall celebrated the election with plates of soul food at Oooh Wee It Is on 83rd, he said. He was surrounded by friends, family and the community that raised him, he said.
"It was like a big family reunion," Hall said. "The energy of unity is heavy in the ward now. I care about this community, and I'm going to continue to work hard to build a ward that we can all be proud of."
If elected, Hall said, he will spend four years addressing public safety, education, economic growth and equitable city services, he said.
He would work with city and state leaders to improve infrastructure in the ward, including repairing street lights and cleaning up the streets, Hall said. He'd also advocate for investments in local mental health centers and violence prevention groups to curb crime, he said.
Hall was endorsed by Gov. JB Pritzker and former state Attorney General Roland Burris. His campaign received $50,000 in donations from the Service Employees International Union (SEIU) and $35,000 in donations from the Chicago Teachers Union.
Wooten, a former police officer, was born in Englewood and raised in Auburn Gresham. He now lives in Chatham. This is his third consecutive bid for the 6th Ward seat, having challenged Sawyer in 2015 and 2019. 
Wooten is the pastor at Gather Point Universal Ministries in Brainerd and president of the Greater Chatham Alliance. 
Wooten's priorities will center around improving education and reducing crime, he previously told WTTW. As a former police officer, he will foster relationships with the commanders of the police district and support legislation that cracks down on repeat gun offenders.
He'll also bring trade programs back to local schools, and support grants for social-emotional learning in the classroom, Wooten said.
"I want voters to understand that this is going to be a ward that is going to be people-powered and they're going to have a choice of how their ward is going to be run in the future," Wooten said.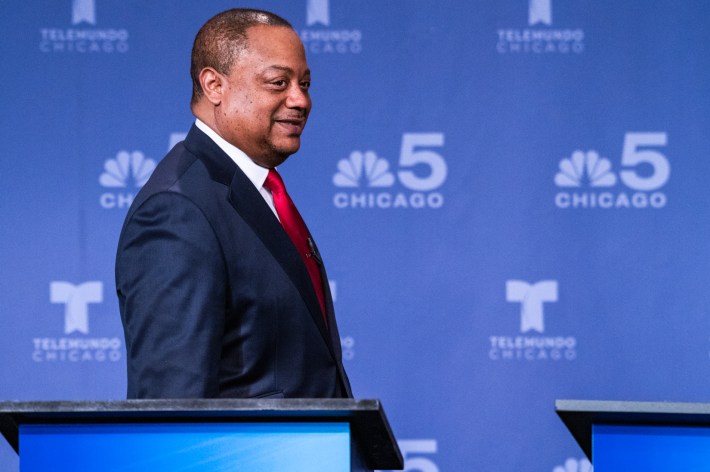 Sawyer was first elected to lead the 6th Ward in 2011,  besting incumbent Freddrenna Lyle, a Richard M. Daley loyalist, by 104 votes.
He was reelected in 2015 and again in 2019 after defeating challenger Deborah Foster-Bonner with 53 percent of the vote. 
In 2013, Sawyer joined nine of his City Council colleagues to found the City Council Progressive Reform Caucus. He chaired the Aldermanic Black Caucus from 2015 to 2019. 
As the leader of the Black Caucus, Sawyer led the charge to call for the resignation of then Supt. Garry McCarthy following the fatal shooting of Laquan McDonald. He also backed an ordinance to create a commission to study possible reparations for Black Chicagoans after the murder of George Floyd in 2020. In 2019, he was chosen by Mayor Lori Lightfoot to chair the City Council Committee on Health and Human relations. 
Sawyer worked alongside community organizations like the Greater Chatham Initiative to make 75th Street a booming location for restaurants and outdoor entertainment.
Under Sawyer's leadership, the 6th Ward welcomed the Mahalia Jackson Court, a pop-up plaza named after the Gospel music icon. In October, he joined the Englewood Five — a coined name for the five alderpeople in the community — to demand an affordable, reliable grocer replace the now-shuttered Whole Foods. 
"I idolized my father, always did. He was an amazing man to me. But he was also a regular guy that called Chicago his home," Sawyer said in June. "I know I'm not perfect, I can't do everything. I'm not Superman. But we're all community members trying to make a difference in what we're doing out here, and I take that very seriously." 
Sawyer faced eight candidates in the race for mayor. With 1,215 of 1,291 precincts reporting Tuesday night, he received under 1 percent of the vote.
Candidates Paul Vallas and Brandon Johnson are poised to advance to a mayoral runoff in April. Incumbent Mayor Lori Lightfoot conceded the race Tuesday evening to Johnson, making her the first one-term mayor in four decades.
Subscribe to Block Club Chicago, an independent, 501(c)(3), journalist-run newsroom. Every dime we make funds reporting from Chicago's neighborhoods.
Click here to support Block Club with a tax-deductible donation. 
Thanks for subscribing to Block Club Chicago, an independent, 501(c)(3), journalist-run newsroom. Every dime we make funds reporting from Chicago's neighborhoods. Click here to support Block Club with a tax-deductible donation.
Listen to "The Ballot: A Block Club Chicago Podcast":