NEAR WEST SIDE — As Brandon Johnson delivered his inaugural address as the 57th mayor of Chicago Monday, he cast the moment as a "culmination" of decades of activism before pledging to enact much of the wide-ranging progressive platform he was elected on last month. 
"We all are here because of the work of giants who came before us," Johnson said of prominent Chicago activists and organizers like Jane Addams, Karen Lewis, Ida B. Wells and Rev. Jesse Jackson. 
Johnson, a Cook County commissioner and longtime Chicago Teachers Union organizer, took the oath of office Monday morning in front of thousands of Chicagoans at the Credit Union 1 Arena, 525 S. Racine Ave., on the University of Illinois at Chicago's campus.
In his address, Johnson broadly discussed tackling numerous issues while bringing together disparate communities and parts of the city. He highlighted improving public safety, transportation and schools as well as economic recovery from the COVID-19 pandemic and tackling the city's migrant crisis.
"As we debate and discuss the solutions to these crises, I want to remind us as we have these conversations that the soul of Chicago is alive and well in each of us," Johnson said.
He walked on stage to a standing ovation and cheers of "CTU!" and "SEIU," two unions that became some of Johnson's largest financial backers during the mayoral election. The program also featured an African American traditional dance performance and the singing of the Black National Anthem, both enthusiastically received from the audience.
Johnson took office five weeks after defeating former schools chief Paul Vallas in the April 4 runoff. The two candidates emerged at the top of a nine-candidate field in the Feb. 28 election, which saw incumbent Mayor Lori Lightfoot finish third.
Lightfoot officially gaveled in her final City Council meeting as mayor.
"Welcome to the peaceful transfer of power," Lightfoot said Monday to a cheering crowd. 
All 50 alderpeople, City Clerk Anna Valencia and Treasurer Melissa Conyears-Ervin were also sworn in Monday.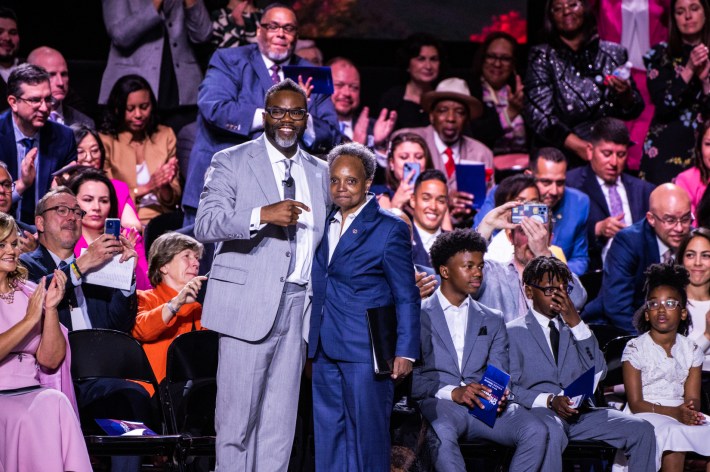 Johnson ran on an unapologetically progressive platform, with promises to increase taxes on the wealthiest Chicagoans, rethink how the city polices and renew investment in the city's neighborhood schools.
On Monday, he committed to reopening Chicago's shuttered mental health clinics, which were closed in 2012 by Mayor Rahm Emanuel and have since become a rallying cry for progressives in recent years. 
"I want to make sure that no one ever has to suffer because they do not have access to mental health services," Johnson said in his speech. 
He also touted his support for policies supported by City Council progressives such as the Bring Chicago Home initiative and Treatment Not Trauma. 
Johnson repeatedly mentioned the migrant crisis unfolding across Chicago. Thousands of people have arrived in the city in recent weeks from the southern border, overwhelming the city's shelters and forcing hundreds of migrants, including children, to sleep on the floors of police stations. 
Johnson said earlier this month he's put together a small team to address what many leaders have called a humanitarian crisis, but he hasn't yet released specifics of his plan. 
"We don't want the story to be told that we were unable to house the unhoused or provide safe harbor for those who are seeking refuge here, because there is enough room for everyone in the city of Chicago," Johnson said.
The new mayor also emphasized the need to revitalize neighborhoods that have lost people and resources by "rerouting the rivers of prosperity to the banks of disinvestment." He rejected the "zero-sum game" of pitting the needs of migrant families against the needs of longtime residents to live in "a fully funded neighborhood."
Johnson renewed commitments to reverse problems with the city's public transit system and to build more public and affordable housing.
He also linked two high profile cases of gun violence that occurred during Lightfoot's term: the 2021 fatal police shooting of 13-year-old Adam Toledo in Little Village and the May 6 fatal shooting of police officer Aréanah Preston in Avalon Park.
Johnson said Preston joined the police department for the same reason he ran for mayor: to act as a "conduit for justice."
"The tears of Adam Toledo's parents are made of the same sorrow as those of Officer Preston's parents," Johnson said.
Johnson also referenced criticism he received just days ahead of the April 4 runoff for a backlog of unpaid water bills. Some critics argued it showed him unfit to manage the city's budget, while defenders said it made the candidate more relatable.
"We have a structural deficit and we have to invest in people. And we have to do that without breaking the backs of working people with fines, fees and property taxes," Johnson said. "You can't make people feel bad because they have a payment plan. You can't stop someone with a payment plan from becoming mayor of the city of Chicago."
Throughout his speech Monday, Johnson took several moments to "take in" the moment around him, while also calling out by name Chicago and Illinois officials he hopes will aid him in enacting his agenda around public safety, education, childcare and more. 
"Some say we have to wait 20 years for the efforts to take dividends. I don't believe that. We can change the lives of people in Chicago right now," Johnson said.
To advance his expansive agenda, Johnson will need buy-in from the new City Council, a body which now leans younger and more progressive after a record number of alderpeople announced their retirement last year. It will also have the most LGBTQ-identifying officials out of any city council in the United States.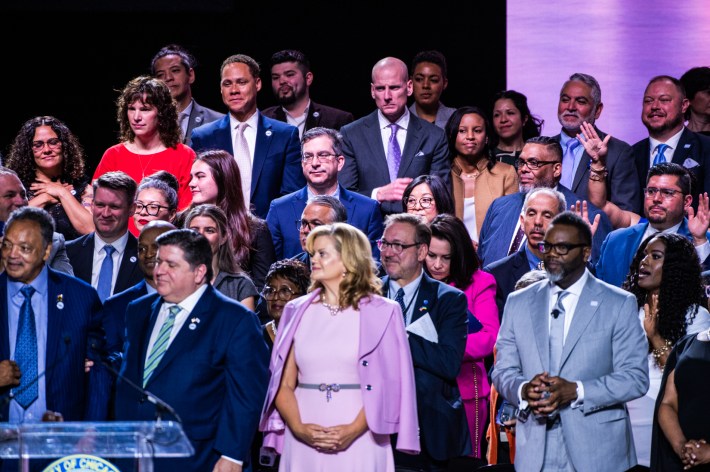 Johnson's relationship with alderpeople is being closely watched as he works to set a tone for his first term in office in contrast with Lightfoot's often combative approach to dealing with the city's legislative branch. 
At her 2019 inauguration, Lightfoot railed against corruption in Chicago and the practice of aldermanic prerogative, promising that after decades of bad behavior, "reform is here."
"These practices have gone on for far too long, and this practice breeds corruption. Stopping it isn't just in the city's interest, it's in the City Council's interest," she said in her inaugural address in 2019. 
She then turned to alderpeople sitting behind her and encouraged them to clap — a gesture many have cited as the beginning of a contentious and occasionally hostile relationship between Lightfoot and City Council members. 
In contrast, Johnson extended an olive branch to alderpeople early in his speech Monday, including a not-so-subtle reference to Lightfoot's dig four years ago.  
"You deserve recognition, and I'm going to turn around and clap for you," he said to alderpeople. "We won't always agree, but I won't ever question your boldness or your commitment, and I'll always do my part to find common ground." 
He also thanked Lightfoot for her service. 
"Mayor Lori Lightfoot made history twice as the first Black woman and first openly LGBTQ Mayor. You broadened the imagination of so many young people across this city, including my daughter. Lori, I am grateful to you for your service and your sacrifice," Johnson said.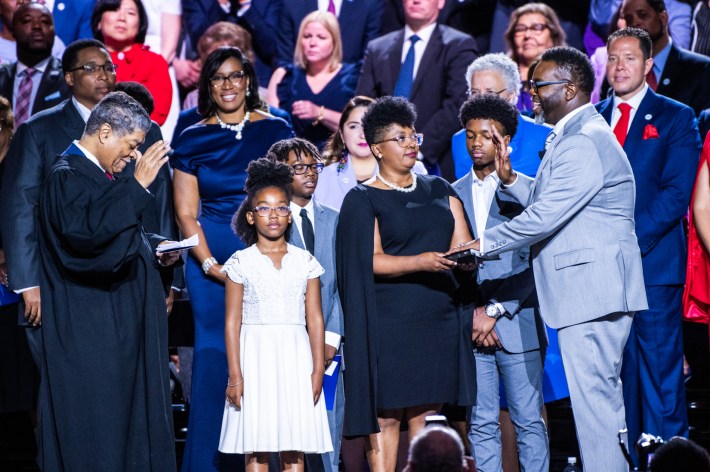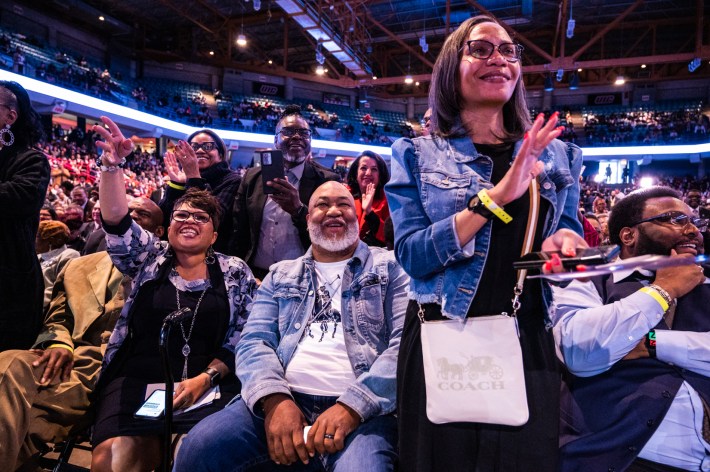 Arriving at City Hall immediately after Monday's inauguration, Johnson signed four executive orders concerning labor relations, immigration, public safety and youth employment. The text of each order was not immediately available online.
Johnson will oversee his first official City Council meeting May 24, where alderpeople will vote on the mayor's picks to lead the Council's individual committees.
In March, alderpeople approved a controversial plan to increase the number of City Council committees and to choose leaders from their own ranks in a bid to declare independence from the Mayor's Office.
Chicago's mayor has historically hand-selected committee chairs to maintain control over legislation moving through the Council.
But Johnson last week announced his own plan to install many of his allies to lead council committees, scuttling the structure passed in March.
Potential committee chairs include Johnson allies Ald. Pat Dowell (3rd) to lead the finance committee and Ald. Carlos Ramirez-Rosa (35th) to head the influential zoning committee. 
As he concluded his remarks Monday, Johnson acknowledged the myriad of issues facing the city as he takes office. Each challenge should be seen as a "tremendous opportunity," he said.
"When we come together, we show up with the belief that what unites us and how powerful our differences are and the differences is what makes us the amazing city that we are," Johnson said. "There is no limit, Chicago, to what we can achieve when we do it together." 
Listen to "It's All Good: A Block Club Chicago Podcast":