ALBANY PARK — Voters in three Chicago wards resoundingly backed a referendum to expand mental health care in the city, and Albany Park's alderperson wants to use that momentum to revive her stalled plan to give more resources to city-run clinics.
Tuesday's ballot asked Chicagoans in the 6th, 20th and 33rd wards on the South and Northwest sides if the city should reopen all of the closed Chicago Department of Public Health mental health centers so they can support a citywide crisis response program.
That program would also dispatch mental health professionals and an EMT to mental health emergency calls instead of police.
At least 92 percent of voters in each ward voted yes, according to unofficial results from the Chicago Board of Elections. The referendum questions are advisory.
Ald. Rossana Rodriguez-Sanchez (33rd) is an outspoken advocate of allocating funds to city-run mental health clinics and creating a network of social workers and medical professionals to answer mental health crisis calls.
Rodriguez-Sanchez introduced her "Treatment Not Trauma" ordinance two years ago based in part on the Crisis Assistance Helping Out On the Streets program, known as CAHOOTS, which has been used in Eugene, Oregon, for more than 30 years.
The measure has languished in the City Council's Committee on Health and Human Relations. 
Rodriguez-Sanchez said she hopes the referendum results can compel a hearing to introduce a revised version of her plan, she said. 
"This is very popular. It got over 90 percent of the votes in every place where it was put. It makes the case for the urgency and the popularity of a measure like this," Rodriguez-Sanchez said.
Previous efforts to call a hearing to propose the ordinance again have not been successful, Rodriguez-Sanchez said. 
"Unfortunately, we have a City Council where if the mayor does not want to something to be discussed, then usually the chairs are not going to bring it up. So the idea of putting items like this on the ballot has to do with sending a message, right? That people want this," Rodriguez-Sanchez said.
To that end, Rodriguez-Sanchez is asking Chicagoans who supported the ballot questions to reach out to City Hall and Ald. Roderick Sawyer (6th) to demand a hearing on her proposal.
Sawyer, who is running for mayor, chairs the health committee. More than 98 percent of people who voted in his ward Tuesday supported the referendum, according to unofficial results.
"I think [Sawyer would] love to know the people want a hearing on this," Rodriguez-Sanchez said. 
Former Mayor Rahm Emanuel closed half of the city's 12 mental health clinics in 2012 to bridge a $369 million budget gap. 
Rodriguez-Sanchez's ordinance would direct more funding and staff to three of the city's five remaining mental health centers so they can become 24-hour walk-in crisis centers, she said. 
While Rodriguez-Sanchez proposal hasn't gotten off the mat, the city did launch the Crisis Assistance Response and Engagement pilot program last year to create a first response mental health team involving a plainclothes police office, a paramedic and a mental health professional dispatched to help people in crisis.
The three teams covered Uptown, North Center and Lakeview; Auburn Gresham and Chatham; and Chicago Lawn, Gage Park, West Elsdon and West Lawn area.
The city also partnered with Harvard University and a Texas-based mental health policy institute to help expand CARE's alternative responses to 911 calls. 
Rodriguez-Sanchez said she appreciates CARE as a first step, but it still relies on the city's 911 system, which she says is understaffed and can lead to delays in calls for service. 
"You could actually save a lot of that stress by just having mental health workers, clinicians, case managers and support workers in the spaces where a crisis is most likely to happen and even could prevent a crisis from happening," Rodriguez-Sanchez said.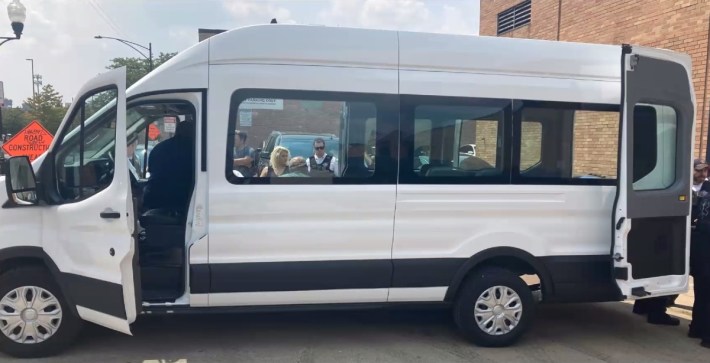 Voters also supported advisory questions Tuesday asking if the city should form mental health service areas in West Town and Humboldt Park as well as the Southeast Side, and if they'd back a small property tax increase to support free and direct mental health services for any resident needing assistance. The measures got support from 80-93 percent of voters, according to election data.
The referendum questions are the latest effort from the Chicago Coalition to Save Our Mental Health Services to expand the city's mental health services. The coalition previously helped open The Kedzie Center in 2014 and has since helped open other mental health centers across the city. 
"We've been working on this for months. Getting to know community residents and nonprofits in the area to make sure everyone knew what they were voting on," said ccoalition Assistant Director Rebecca Jarcho. "To see that come to fruition and have such overwhelming support at the polls was really a wonderful thing to see." 
The city's outsourcing to nonprofits over the past decade is a "Band-Aid" solution to a mental health crisis that the city's clinics would be better positioned to address if they were given more city resources, Rodriguez-Sanchez said.
"There is a fundamental disagreement right now in terms of what the responsibility of government is," Rodriguez-Sanchez said.
City-run clinics could offer higher wages and union protections to mental health professionals and would be subject hearings where City Council could evaluate milestones and performance goals, Rodriguez-Sanchez said.
"Nonprofits have a really important place in our society. The problem is that our mental health crisis is really, really intense right now," Rodriguez-Sanchez said. "… The turnover rates of a lot of these big nonprofits are really high. It's really hard to address something as hard as mental illness and trauma when you are not able to have a really strong workforce that can also take care of themselves."
Listen to "It's All Good: A Block Club Chicago Podcast":