CHICAGO — The new City Council will soon have Chicago's highest-ever representation of lesbian, gay and bisexual alderpeople, offering key opportunities to strengthen the city's reputation as a beacon for LGBTQ rights while protecting the most vulnerable members of the community, they said.
The number of openly LGB-identifying alderpeople in Chicago will grow from seven to nine, comprising one-fifth of the council, when members are sworn in May 15. No openly transgender or nonbinary alderpeople have been elected in Chicago.
The representation grew even as Alds. Tom Tunney (44th) and James Cappleman (46th) retire this month.
New to the LGBT Caucus are alderpeople-elect Lamont Robinson (4th), Jessie Fuentes (26th), Bennett Lawson (44th) and Leni Manaa-Hoppenworth (48th).
The four fresh faces join Ald. Timmy Knudsen, who won his first election since being appointed to the 43rd Ward seat last fall, and reelected Alds. Raymond Lopez (15th), Rossana Rodriguez-Sanchez (33rd), Carlos Ramirez-Rosa (35th) and Maria Hadden (49th).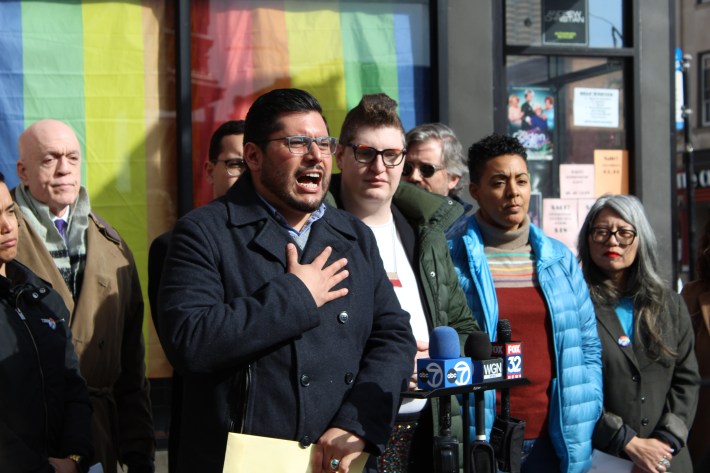 Chicago now has the most LGBTQ-identifying officials out of any city council in the United States, according to the LGBTQ+ Victory Fund, a political action committee dedicated to helping elect LGBTQ-identifying candidates.
All nine of Chicago's LGB-identifying alderpeople talked to Block Club about why this representation is significant, what priorities they hope to tackle and how they think Mayor-elect Brandon Johnson's administration will support the LGBTQ community.
"This is a great thing because it makes the city of Chicago more reflective of the true diversity in our neighborhoods," said Lopez, who will now be the most senior member of the caucus, which formed in 2015. "Issues that have long gone unresolved or unconsidered simply because they weren't someone else's issues may actually be addressed."
Building LGBTQ Resources 'Across The Whole City'
The election further diversified the LGBT Caucus in terms of gender, race and ethnicity, as well as the parts of the city they represent, incorporating more of the South and West sides.
Manaa-Hoppenworth is the first openly queer Asian-American alderperson and first Filipina on City Council. She takes over for retiring Ald. Harry Osterman, representing Uptown and Edgewater.
"I'm really proud to be part of the Asian-American community, which has rallied behind me across the globe," Manaa-Hoppenworth said. "The LGBTQ community crosses race, class, ethnicities and wards, so it's exciting to be part of a City Council that reflects that."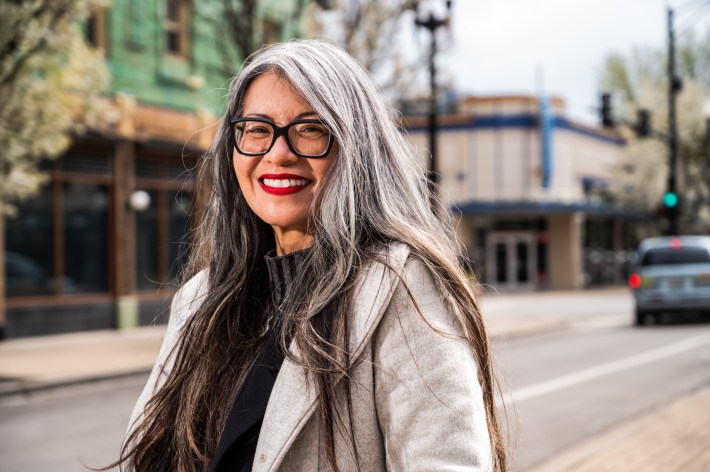 Robinson is the first Black, openly gay man on City Council. He takes over for Ald. Sophia King, representing parts of South Loop, Bronzeville, Kenwood and Hyde Park.
Robinson said he wanted to work closely with Hadden, the first queer Black alderperson, to "be the voice that the queer Black community needs in City Council." Hadden's ward includes Rogers Park and the Far North Side.
As a state representative, Robinson helped secure $15 million in funding for Black-led organizations tackling HIV and $15 million in state funding for Howard Brown Health to build a South Side LGBTQ Center.
"The Black LGBTQ community still faces high rates of unemployment, HIV and housing instability, so those are all issues that I want to be able to work on," Robinson said.
Fuentes joins Lopez, Ramirez-Rosa and Rodriguez-Sanchez as the LGBT Caucus' fourth Latinx member. Her 26th Ward includes Humboldt Park and parts of Logan Square, Hermosa, West Humboldt Park and West Town.
"This allows for us to think about the types of institutions and spaces that we need to be building across the whole city," Fuentes said. "When we think about safe spaces for LGBTQIA+ members, we often think about Boystown, but [the LGBT Caucus'] wide geographical representation calls on us to think about how we build spaces like that in all our communities."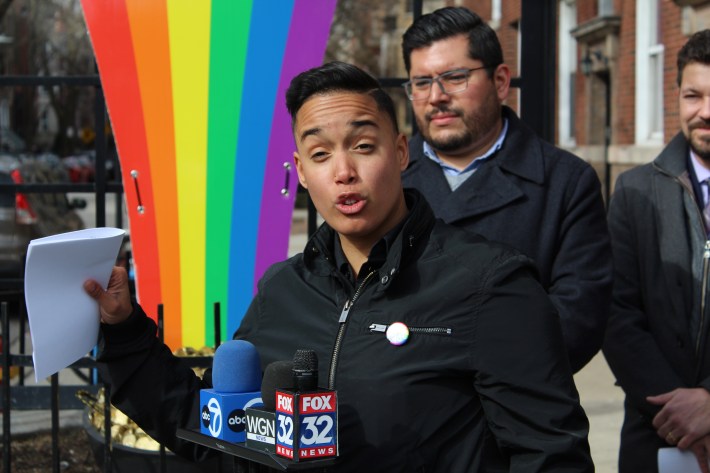 Lopez, who had been the only gay alderman south of North Avenue, said he agrees the broader diversity of the LGBT Caucus can "raise awareness that there is LGBTQ life outside of Boystown."
Issues like LGBTQ community relations with police need to be tackled from a citywide lens now, instead of acting "like LGBTQ police officers are something only for the Wrigleyville district," Lopez said.
North Side LGBTQ organizations also need to put in the work to reach people on the South and West sides, Lopez said.
"You cannot simply say anymore that LGBTQ issues are just a North Side thing," Lopez said.
Lawson, whose ward represents the Northalsted LGBTQ district with the Center on Halsted and Howard Brown Health, said he would prioritize making sure social services for LGBTQ people are available everywhere.
"We need to work together to take those services that I host in Lakeview that are welcoming, affirming and culturally competent and make sure people have access to them throughout the city," Lawson said. "Having a council that is truly citywide and multiracial will help with that mission."
Knudsen, who founded a pro bono practice at his law firm to represent LGBTQ asylum seekers before joining City Council, also said he hopes to collaborate with the other alderpeople on immigration-related issues.
Another wave of migrants from Central and South America are being bussed to the city from Texas, intensifying the need for more housing, resources and services to help them.
"I'm really going to lean in substantively on how we can make the process for asylum and the transition into Chicago life easier," Knudsen said. "We are a sanctuary city for immigrants, but I have plenty of stories of people who have applied for asylum and still can't get here."
While many of the alderpeople see eye-to-eye on some initial priorities, the new LGBT Caucus has ideological differences that could pose challenges as they collaborate, Lopez said.
"We run the political gamut here, probably with me to the furthest right of everybody in the group," Lopez said. "We're a reflection of the larger LGBTQ community, and if we want to show people what it means to lead in love, that's going to be the challenge for all nine members."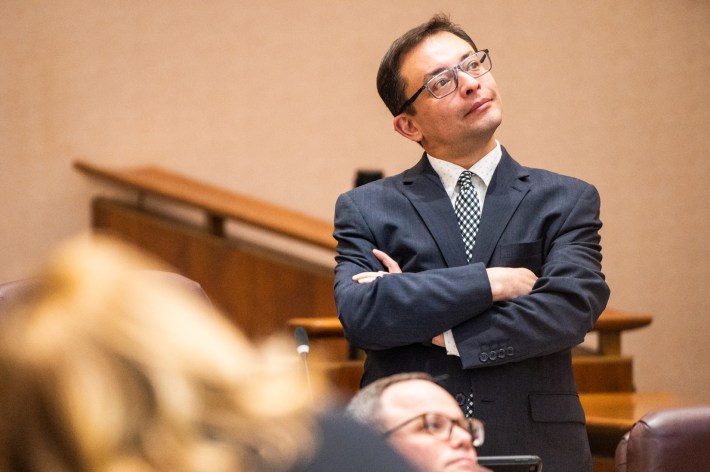 How Will The New Mayor Put His LGBTQ Platform Into Action?
Many of the LGBT Caucus' members rallied behind Mayor-elect Brandon Johnson throughout his campaign, and the nine aldermen said those connections will help them enact policies that strengthen Chicago's reputation as a welcoming city for LGBTQ people.
Hadden, Fuentes, Manaa-Hoppenworth, Ramirez-Rosa and Rodriguez-Sanchez endorsed Johnson, praising the candidate's LGBTQ platform during a March news conference denouncing challenger Paul Vallas.
Lawson, Tunney's long-time chief of staff, followed in the outgoing alderman's steps by endorsing Vallas, as did Lopez. Knudsen and Robinson did not endorse a candidate.
"A lot of Brandon Johnson's supporters have been stalwarts in the caucus already and active on raising LGBT issues," Lawson said. "I think their support of Johnson will be a definite benefit for the work that we do on the council."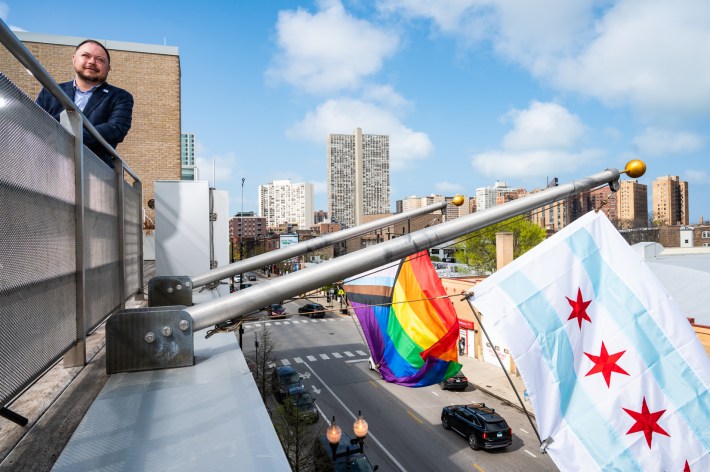 Ramirez-Rosa, one of Johnson's fiercest supporters, said the caucus should meet early to decide which issues its members want to prioritize. He also said the caucus could partner with Johnson to enact the LGBTQ agenda he campaigned on.
"Mayor-elect Johnson ran on a bold platform that had a very robust policy agenda for the LGBTQ community that was created with the support and input of LGBTQ leaders, so I'm really excited to see him move forward with that agenda," Ramirez-Rosa said.
Johnson's platform emphasized the wave of anti-LGBTQ legislation across the nation and promised to further invest in Chicago as a "regional hub for LGBTQ community and culture."
At the top of Johnson's plan is a promise to protect LGBTQ people by ensuring hate crimes are fully investigated and solving more murders of transgender people in Chicago, which have been on the rise in recent years, according to data collected by the Human Rights Campaign.
Several alderpeople highlighted the murders of trans women of color as one of the top issues Chicago needs to address. More than a dozen trans women of color have been killed in Chicago since 2010, according to a recent Tribune analysis. Of that, only a small percentage of their murders have been solved.
"That violence is occurring with impunity, and it must stop," Ramirez-Rosa said. "Protecting trans women, particularly trans Black women, needs to be at the top of the list."
Part of this work is preventative, Johnson said during a March fundraiser at Sidetrack in Northalsted. The city can protect transgender people by making sure they are affirmed and have access to mental health, housing and other supportive services, he said.
Manaa-Hoppenworth said ensuring transgender people have stable jobs is also crucial. Her ward includes the Chicago Therapy Collective, a nonprofit that launched the Hire Trans Now initiative to promote transgender inclusion in work opportunities. Hire Trans Now was also listed in Johnson's LGBTQ Rights platform.
"I'm so proud that the Chicago Therapy Collective's Hire Trans Now initiative is being pushed up at the city level," Manaa-Hoppenworth said. "But it can't stop there. We need to keep going and make sure transgender people are infused in all the things that we do."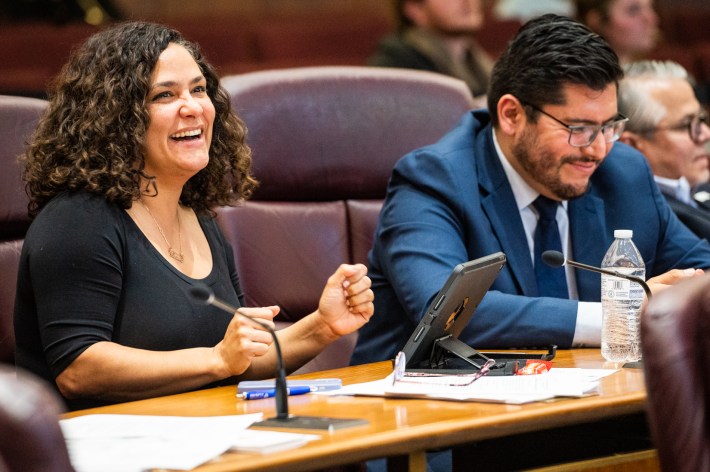 Rodriguez-Sanchez, who worked on the Bodily Autonomy Sanctuary Ordinance aimed at protecting people who come from other states to get an abortion, said she hopes to work with the LGBT Caucus to continue passing legislation that strengthens Chicago as a safe place for vulnerable people.
"The context of that ordinance was the reversal of Roe v. Wade, but it also was a response to all these transphobic laws that are being passed around the country to prevent gender-affirming care," Rodriguez-Sanchez said. "I think doing things like this is going to be part of our agenda."
Hadden said she expects LGB alderpeople will work to establish Chicago as a model for other cities looking to protect LGBTQ people.
"Just like with the bodily autonomy ordinance, we're going to have to be called upon to continue affirming Chicago as a safe place to have a continued positive influence on policies," Hadden said.
Listen to "It's All Good: A Block Club Chicago Podcast":